The Voices Together core team decided Wednesday (September 24) that Voices Together 2015 will take place at the Pacific Coliseum on Canada Day.
Some 10,000 people from a wide range of churches joined together for a Voices Together gathering at Rogers Arena on July 1 last year (for some of the highlights, go here). The first Voices Together event took place in 2008, with 7,000 in attendance.
The core team, led by Giulio Gabeli, senior pastor of Westwood Community Church in Coquitlam, determined that the Pacific Coliseum on the PNE grounds in East Vancouver would work well for the 2015 gathering. The seating capacity is between 13,000 and 17,000, depending on how it is set up.
At a Voices Together meeting earlier this year, Dave Koop, senior pastor of Coastal Church, said of the gatherings: "The primary object is to lift up Jesus, but if we can come together we can speak into our city . . . unity is very attractive." Ken Shigematsu, senior pastor of Tenth Church added, "It's great to have a band of brothers and sisters around us as we work for the cause of Christ and the good of the city around us."
Metro Vancouver Festival of Hope?
Also discussed by the Voices Together core team was the possibility of a Metro Vancouver Festival of Hope in 2016. Several in the room had attended the Greater Toronto Festival of Hope September 12 – 14, and returned with positive reports.
Some 600 churches cooperated to host more than 40,000 people at the Air Canada Centre in downtown Toronto; another 60,000 observed online. Organizers recorded about 3,000 decisions for Christ during the three-day event.
Two representatives from the Billy Graham Evangelistic Association of Canada – which spearheaded the Toronto event – were at the Voices Together meeting to answer questions about possibility of such a gathering in Vancouver, probably in 2016. David Macfarlane and David Ingram are also meeting with a number of other local leaders during their Vancouver visit.
Macfarlane said some of the main responses in Toronto were: enthusiasm about the way the event brought churches together; a strong buy-in from many of the ethnic churches; and an embrace of training that "puts evangelism on the front burner and makes a city-wide statement."
Ingram said: "I'm not saying [Festival of Hope] evangelism is the only way to proclaim the gospel, or even that it's the best way, but it is a way." While no decisions were reached during the meeting, there was clearly a consensus that a Festival of Hope could be good for Vancouver.
Casting Crowns: Thrive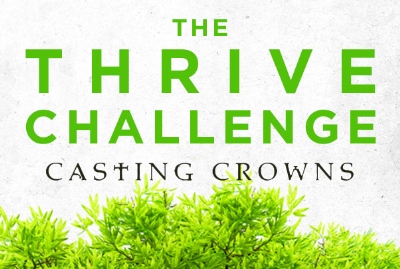 "We were meant to do more than just survive. We were meant to thrive." That is the theme of Casting Crown's current tour, but it is also in line with their approach to music and ministry, ever since they formed in 1999.
Casting Crowns will be in concert as part of their Thrive Tour at Abbotsford Centre this Sunday (September 28). Whether you go to the band's concert or not, though, they'd like you to take The Thrive Challenge.
Mark Hall, Baptist youth pastor and lead singer, says:
What we're going to do on this site is . . . to challenge you to dig in a little bit into the word . . . so what we're going to do is go song by song through the Thrive record and turn those songs into Bible studies. All these songs started out as sermons to my teenagers and families here at our church . . .
The songs always really start out with what we're teaching, and for years I've been using Psalm 1 in showing them what a believer looks like. It says: 'Blessed is the one who does not walk in step with the wicked or stand in the way that sinners take or sit in the company of mockers, but whose delight is in the law of the Lord, and who meditates on his law day and night. That person is like a tree planted by streams of water, which yields its fruit in season.'
Pray for TWU Law School
The Law Society of British Columbia will make an important decision about whether it will maintain its decision to approve the Trinity Western University School of Law on Friday (September 26). Please pray that they uphold their approval. 
For extensive background on the law school proposal from Trinity Western go here. We have also written several articles about the situation.
Christ Church celebrates 125 years

Christ Church Cathedral is holding a number of events to celebrate its 125th anniversary this year. On Sunday (September 28), choristers from across the Anglican Diocese of New Westminster will lead a Choral Evensong to celebrate the Feast of St. Michael and All Angels.
Brigid Coult, director of music for St. Mary's Kerrisdale, will lead them, and Bishop Melissa Skelton will preach. Brigid says:
The music for the Diocesan Evensong service on September 28 will mostly be the richly romantic music of the late 19th century. It began with my choice of the iconic anthem by Stainer, I Saw the Lord, depicting a vision of heaven and the angels. It's a double-choir anthem, so I decided to match it with the Magnificat and Nunc Dimittis of the Collegium Regale service in F by Charles Wood (written for King's College Cambridge).
We will open the service with an introit written by the Dean of Hereford Cathedral, Michael Tavinor, using the words of Jacob after his ladder dream. Our responses will be from an earlier period – by 17th century composer Richard Ayleward, which will be familiar to many people. It's going to be a wonderful afternoon of angel-music!
Sep 2014
Dawkins-Lennox Debate
– September 22, 2014 at 4:00 pm - 5:30 pm
En-kata Maasai Choir
– September 22, 2014 at 7:00 pm - 9:00 pm
Canadian Council of Christian Charities: More Than a 'Human Resource'
– September 23, 2014 at 1:00 pm - 4:00 pm
Canadian Council of Christian Charities: The Board's Most Important Relationship
– September 23, 2014 at 6:30 pm - 9:30 pm
International Christian Response: Cuban Brothers
– September 24, 2014 at 12:00 pm - 1:30 pm
Canadian Council of Christian Charities: More Than a 'Human Resource'
– September 24, 2014 at 1:00 pm - 4:00 pm
Reign Foundation Pub Night
– September 24, 2014 at 6:00 pm - 10:00 pm
World Maritime Day Banquet
– September 24, 2014 at 6:00 pm - 9:00 pm
Canadian Council of Christian Charities: The Board's Most Important Relationship
– September 24, 2014 at 6:30 pm - 9:30 pm
Miriam Jones Concert
– September 24, 2014 at 7:00 pm - 9:00 pm
Plumbline Conference 2014
– September 25, 2014 - September 28, 2014 at All Day
The 8th Verge Conference: Arts + Re/Search
– September 25, 2014 - September 26, 2014 at All Day
Water for Life Initiative Fundraiser
– September 25, 2014 at 7:30 am - 9:30 am
Anti-Trafficking Forum with Eddie Byun
– September 25, 2014 at 11:00 am - 12:00 pm
Community Dinner by Sharing Abundance
– September 25, 2014 at 5:30 pm - 6:30 pm
Vancouver School of Theology: Chancellor's Dinner with Stevie Cameron
– September 25, 2014 at 5:30 pm - 7:30 pm
Christ and Cascadia Conference
– September 26, 2014 - September 27, 2014 at All Day
Steve Harvey Live
– September 26, 2014 at 7:00 pm - 9:00 pm
Voice and Drum: Choir and Percussion
– September 26, 2014 at 8:00 pm - 10:00 pm
Aging Matters Conference
– September 27, 2014 at 9:00 am - 5:00 pm
International China Concern: Walk the Wall
– September 27, 2014 at 9:00 am - 1:30 pm
Springboard: Vocational Discernment
– September 27, 2014 at 9:00 am - 5:00 pm
Class Brass & Friends Concert in the Oasis
– September 27, 2014 at 7:00 pm - 9:00 pm
Son of God Movie
– September 27, 2014 at 7:00 pm - 9:00 pm
Choral Evensong with Diocesan Mass Choir: In Celebration of Christ Church Cathedral's 125th Anniversary
– September 28, 2014 at 3:30 pm - 5:30 pm
Casting Crowns Thrive Tour
– September 28, 2014 at 6:00 pm - 9:00 pm
International Christian Response: Dr. Vila from Cuba
– September 28, 2014 at 6:30 pm - 8:30 pm