Christians are gathering again – and I don't just mean they're going back to church in person.
Several ecumenical events this month are drawing together Christians of all types. One took place last week, but several more opportunities are coming up soon.
24-7 Prayer Gathering
A marathon four-hour Prayer Gathering organized by 24-7 Prayer Canada and partners took place at Westside Church May 27.
The evening featured worship (led by members of The Way Church and Village Church and possibly others), several good addresses from the stage and, of course, time for prayer in the pews.
Keynote speaker Danielle Strickland put her finger on a shared mood, or the move of the Spirit, when she reminded the several hundred participants that any plans – for unity, for works of justice, for sharing the gospel – must be properly grounded:
Prayer is an invitation to partner with God. At this time in our world I can't think of anything else to do, but pray. And I mean, I'm an activist; I do stuff . . . . But at this time, in my life, in these circumstances, in this world that we're in right now, I can't think of anything better to do – than to pray. I'm all out.
Which is great, 'cause my partner – God – He's all in. He's got a lot of ideas, and some incredible creative capacity. I don't know if you've looked around; He can make stuff, out of nothing! Even more than that, he can make beautiful things, out of chaos. . . .
I need that kind of power. I need that kind of partner. I need that kind of reminder that I'm invited to partner with a God that can create beautiful, beautiful things. Prayer is saying yes to partnership with God.
Go here to see a video of the Prayer Gathering.
The Prayer Walk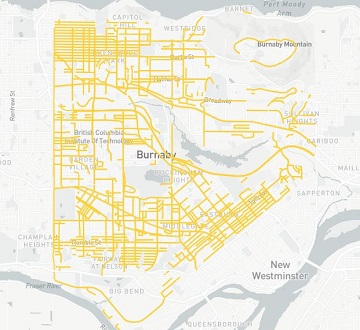 All this week (May 29 – June 4), committed Christians are walking the streets of Burnaby, Ridge Meadows and Abbotsford as part of the annual Prayer Walk: "A unified prayer movement centred on the person and work of Jesus."
In Burnaby, 202 out of 983 streets are covered.
In Ridge Meadows, 173 out of 724 streets are covered.
In Abbotsford, 345 out of 1,280 streets are covered.
The prayer on the Facebook page June 1 reads:
Every place matters.
"Father, we pray that you would BLESS the homes and places (eg. Businesses, parks, schools etc.) of this street today. BLESS them with the revelation of You that turns us away from sin to a reconciled relationship with you. BLESS each home with relationships of peace. BLESS in health and strength. BLESS with provision and safety. BLESS with protection from all evil and harm."
City Impact Tour
WayBase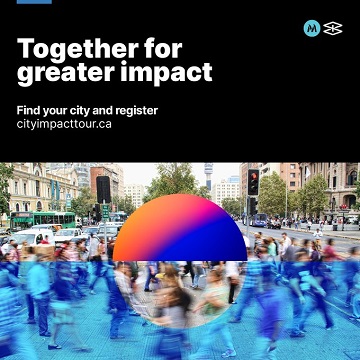 has been working diligently for the good of the church in Canada during the pandemic – and will be back in town for two morning events:
June 7 (for Surrey, Langley and Abbotsford) at Christian Life Assembly in Langley
June 16 (for Metro Vancouver) at Tenth Church
They have built up a tremendous database related to churches and ministries right across the nation, and are nearing the end of a multi-location City Impact Tour.
Here is what to expect:
A three-hour event for Christian leaders and pastors, designed to foster a fresh sense of mission and working together for good in Vancouver.
Connect with local Christian leaders and share ideas.
Gain insights from the WayBase 2022 national survey about opportunities to revitalize churches and ministries.
Learn about the current needs in our city and ways to respond to these needs.
New resources and tools to help engage your people and better serve your city.
The City Impact Tour is a collaborative effort involving city networks and ministerials, as well as national associations and ministries, including Alpha Canada, A Rocha Canada, 24-7 Prayer Canada, Cardus, World Vision, International Justice Mission, Youth Unlimited and many others.
City Summit recalled
On the same day as the Vancouver City Impact meeting, several leaders will meet to discuss the Vancouver City Summit convened in 2016, and to consider:
The continued relevance of the key themes and next steps identified through the 2016 Consultation

Whether and how best to convene, communicate and coordinate collaborative work across the church in the city and region around those priorities and next steps.
Stay tuned for future developments.
BC Leadership Prayer Breakfast
Tickets sold out quickly for the 55th annual BC Leadership Prayer Breakfast featuring our favourite-son-local-billionaire Jim Pattison.
Close to a thousand people will gather June 10 at the Hyatt Regency to hear from Pattison and a number of local political and social leaders about the importance of prayer in business, politics and life generally.
Here is what is on offer:
Now, more than ever, we acknowledge the value of prayer, community and leadership. The BC Leadership Prayer Breakfast attracts people from all walks of life and spiritual backgrounds. Together we offer support and prayer for our leaders and we look forward to hosting you in-person in 2022.
We are honoured to feature Mr. Jim Pattison, Chairman and CEO, Jim Pattison Group.
The Jim Pattison Group is Canada's second largest privately held company. Mr. Pattison was appointed to the Order of Canada in 1987 and the Order of British Columbia in 1990. Among many other awards, he is also the recipient of the Governor General's Commemorative Medal for the 125th Anniversary of Canada. Jim and his wife Mary have been married for 70 years and are deeply engaged in the community.
Worship Central Conference
The sixth annual Worship Central Conference (having skipped a couple of years because of Covid) will no doubt again attract hundreds of participants from many local churches when it convenes June 24 – 25.
Keynote speakers include:
Brooke Ligertwood (Fraser): Global Leader of Hillsong Worship, platinum recording artist & Grammy-award winning songwriter ('Hosanna,' 'What a Beautiful Name,' 'Oceans' . . .)
Darrell Johnson: Pastor, author & theologian, preacher of the Gospel for 50+ years.
Tim Hughes: Worship leader, songwriter, pastor and founder of Worship Central.
After a long and disorienting season, how do we become aware that despite circumstance, God is still at work? In this unique moment, we will gather together as the church; broken, battered but still being built. We will worship Jesus as a people carrying many hardships, praises, joy and sadness, and most ultimately as a people who are not without hope.
We will not pretend like things aren't different. We will not fake it.
But we will quiet ourselves just long enough to be reminded that He is still at the centre, and that He never left. Then the quiet will turn to praise. And soon, we will have a new song on our lips.
Will you see Him? Come meet with the Living God. Come rest your soul, renew your spirit, and revive your desire to worship Jesus above all else.
Go here for more information or to register.
Voices Together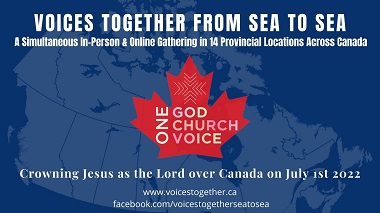 For the first time in several years, Voices Together will take place in-person, July 1.
Jack Taylor interviewed Giulio Gabeli, Executive Director of the event. He wrote in The Light Magazine:
Gabeli, who is also senior pastor at Westwood Community Church in Coquitlam, gives tribute to Yani Lim who approached him in 2007 with the vision for a city-wide prayer and praise event. The churches of Vancouver were called into joint assembly at Rogers Arena that first year, but five years went by before the urgency surfaced again.
The largest Voices Together event took place at the Pacific Coliseum in 2015, drawing some 10,000 people. Francis Chan addressed the gathering. The next one took place in 2017 and then a delayed one became a national movement in 2021.
Taylor said:
With things opening up after Covid, Gabeli, Dave Carson (VP) and other leaders felt it was time to gather in person again. They have partnered with Cry Canada, Faytene, the Chinese Renewal Network, Lower Mainland Intercessors, BC One Heart and other influential leaders and ethnic movements. This time they have organized 14 provincial hubs across the nation where people will assemble.
In Metro Vancouver, Westwood Community Church in Coquitlam [not Glad Tidings in Vancouver as originally stated] will host the event. This will become a simultaneous in-person and online gathering with voices together from sea to sea to sea. Livestreaming on Youtube and Facebook will also be available. The worship event will conclude with communion for all. . . .
In the future, the hope is to regather in a larger Arena setting as momentum grows across the provinces. By faith, the leadership team trusts that the movement will grow exponentially. Coming out of the pandemic, the body as a whole will be encouraged, will be strengthened, inspired and mobilized.
Gabeli says, "There is no one leader that will win this city for Christ – it is the body together."
In short, there will be plenty of opportunities to join with other Christians this month.