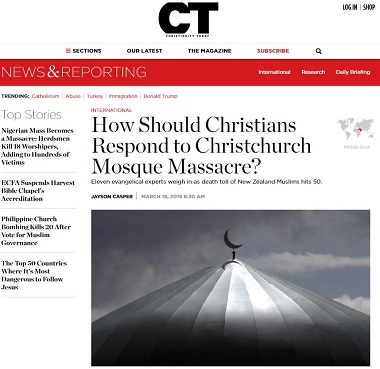 The horrifying killing of 50 Muslims at prayer in two Christchurch mosques is anything but an 'Around Town' story, of course. But the response has, rightly, been worldwide, and there are things we can and should do locally.
Some in the church are already on the right track. See the accompanying story, 'Journey through Lent and beyond – with refugees,' for example.
Among the many responses I read, one of the most helpful was Christianity Today's How Should Christians Respond to Christchurch's Mosque Murders?
The magazine sought out responses from 11 evangelical experts. They are all good, but I particularly appreciated the one by Bob Roberts, founding pastor of North Wood Church in Texas. I heard him deliver similar sentiments a couple of years ago during the Multiply Conference at Westside Church.
His comments made an impression then and they do again now; each time he reminded me of the big (biblical) picture. Though aimed at Americans, they apply here as well:
First, Christians should unequivocally condemn this as a terrorist act that is wrong. No quasi- or weak supporting statements that could be construed as less than condemnation of this act of terror. A verbal full-throated rejection of "white supremacy" is also very important. Let there be no doubt where we stand.
Second, Christians should intentionally reach out and verbally affirm Muslims' right to worship and their personal support of that as well. This should be a moment to reach out to your Muslim neighbors and invite them to your home and build those bridges.
Third, Christians should stand up against hate speech any time and any place they hear it. Our country's intense polarization, unrestrained speech, and incivility has created a culture that is destroying all of us. Dehumanizing, labeling, and the belittling of races, religions and hurting people at the lowest levels of society is the ultimate sin of arrogant and self-centered people. Social media has taken hate to new levels.
Fourth, your church should visit a mosque on Friday and pass out flowers or statements of support. The pastor could also invite the imam to church Sunday and publicly tell him they support their right to religious freedom – and pray for them.
And don't forget all that Jesus stuff about loving God and your neighbor, the "least of these" in hunger, thirst, shelter, prison and homeless, and that you'll be judged before God for what you do.
Another of the 11 comments was a joint statement made by Bishop Efraim Tendero, Secretary General of the World Evangelical Alliance, and the New Zealand Christian Network. Go here for the original statement.
Here is a portion:
Bp. Efraim Tendero, Secretary General and CEO of the WEA, said: "With this terrorist attacks at Christchurch, we are once again reminded of the intertwined and deadly nature of prejudice and extremism, how it seeks to destroy and sow enmity among peace-loving people and communities. As followers of Jesus Christ, the Prince of Peace, we condemn such violence and state in the clearest terms that there is no justification whatsoever to commit such a heinous crime against people of any faith or no faith." . . .
The attack came on the same day that the WEA presented an oral statement at the United Nations Human Rights Council in Geneva that denounces nationalist populism. Furthermore, as part of its effort to build bridges of respect and understanding between people of different faiths and no faith, the WEA has also been engaged in dialogue with Muslims for many years. A recent example is Bp. Tendero's participation in the Global Conference on Human Fraternity in Abu Dhabi last month.
I posted Tendero's comment at the Abu Dhabi event here.
Holy Rosary plans
Several recent articles in the local media have referred to possible redevelopment of Holy Rosary Cathedral.
A February 19 piece in The Georgia Straight, for example, said:
A heritage and architectural gem in Downtown Vancouver is up for retrofits.
Plans are being drawn to upgrade the Cathedral of Our Lady of the Holy Rosary to modern earthquake standards, and conserve the 119-year-old church.To finance the project, a new 23-storey commercial tower is proposed at a portion of the church property at the intersection of Richards and Dunsmuir streets.
Property developer Wall Financial Corp. is named as an applicant in the project.
The Gothic Revival-style cathedral is listed in category A of the city's heritage register, which means that is of primary significance.
The Holy Rosary website confirms plans, in a general way:
The Cathedral is ready for a seismic upgrade and for some needed maintenance. Currently we are working with developers and with the City of Vancouver to see what can be done, and how to better preserve the heritage that has been handed to us.
The project will see the Cathedral closed for a short time while the work is completed. During that time there will be an alternate location for the Sacramental ministry of the Cathedral.
We want to build, protect and keep what has been handed to us by previous generations of Vancouver Catholics.
A March 15 article in the Vancouver Courier noted that the Vancouver Heritage Commission has questioned certain elements of the plan:
It's unclear what will happen to a Holy Rosary Cathedral proposal to seismically and structurally upgrade the church, located at 646 Richards Street, after the Vancouver Heritage Commission raised concerns about the project during a recent review. Holy Rosary's renovation plan includes building a 23-storey tower on the portion of the property behind the cathedral, for office and church uses, to help fund the upgrading work.
The proposal is only at the development permit inquiry stage, so a formal application hasn't been filed. The commission reviewed the project February 25 after City of Vancouver staff determined it had enough merit to go before the panel, which serves as an advisory body to city staff and council.
The commission concluded, among other things, based on the minutes of the meeting, that it couldn't support plans to redevelop the non-church portion of the Holy Rosary site where the rectory and Rosary Hall are located.
It passed a resolution with several clauses, including that the applicant "explore means by which at least partial retention of the rectory, the Rosary Hall and the elevations along Richards Street can be retained."
It's now up to the church whether to incorporate the commission's advice or proceed with an application. City staff only make recommendations and do a full review of a project once a formal application is received.
In response to several questions the Courier posed about the proposal and next steps, Holy Rosary's rector, Rev. Stanley Galvon, emailed this statement:
"We are reviewing the comments and suggestions from the Heritage Commission with our consultants and City staff and intend to prepare a response within the next few months. Once that is complete, we will be able to identify a path going forward, including the timeline, preliminary costs, etc.," he wrote.
Go here for the full article.
For an appreciative view of the cathedral from The B.C. Catholic last fall, read Holy Rosary Cathedral: an architectural and spiritual gem. J.P. Sonnen makes this point, for example:
Many do not know that Holy Rosary Cathedral is modelled loosely after the world-famous Chartres Cathedral in France, a 13th century cathedral defined as the "high point" of French Gothic style.
National volleyball champions
The men's volleyball team at Trinity Western University has won the U Sports Men's Volleyball Championships three of the past four years (and five of the past nine). That is an incredible achievement, given that the Spartans are up against all the major universities.
TWU beat the Brandon Bobcats in straight sets Sunday afternoon (March 17). The team was determined to win, having lost in the finals last year, and in the Canada West finals just the week before.
Eric Loeppky won player of the game and Championship MVP. Jackson Howe was also named a member of the Championship All-Star Team.
The women's team is very strong too, having been ranked number one during the season this year. They lost to cross-town rival UBC in heart-breaking fashion in the quarterfinals of the national championship.
A report in The Ubyssey included this quote:
"You don't win a match like that against a deserving number one seed unless everyone comes to play well and do their roll and do their job," UBC head coach Doug Reimer said post-game on the U Sports broadcast.
Number one Spartans fan Carson Pue wrote a touching tribute to the women's team here.
TWU had a couple of other sports highlights recently. The men's hockey team beat out the University of Victoria, Simon Fraser and finally the Vancouver Island Mariners to win their second straight BCIHL (BC Intercollegiate Hockey League) championship March 15.
Trinity Western reported a very positive result for its track program as well:
This year begins with an amazing surprise for Trinity Western University's alum Regan Yee: she is nominated for B.C. University Athlete of the Year by Sport BC [which took place March 13].
"It's a huge honour," says Yee. "When I looked at who else was nominated and saw their accomplishments, I was surprised to be in their company."
Yee made a name for herself at TWU and on the national sports scene and over the last five years. In March 2018 she became the most individually decorated track and field athlete in the Spartans' history when she won gold in the 1500m at the U SPORTS championships, a victory that took her to five national medals. . . .
Mar 2019
Bryanna Russell: Making Womb
– March 21, 2019 - March 22, 2019 at All Day
Fireside Apologetics: Dr. Paul Chamberlain - Why Do People Stop Believing and What Can We Do About It?
– March 21, 2019 at 7:00 pm - 8:30 pm
Geneva Lecture: Jim Mullins – Gardening in Babylon: Work, Calling & Reimagining the Mundane
– March 21, 2019 at 7:30 pm - 9:30 pm
Jesus Freak
– March 21, 2019 - March 23, 2019 at 8:00 pm - 10:00 pm
PACLIFE Day
– March 22, 2019 at All Day
Life on the Margins: a Workshop in the Downtown Eastside
– March 22, 2019 - March 23, 2019 at 7:00 pm - 4:00 pm
The Choir of Clare College, Cambridge, UK
– March 22, 2019 at 7:30 pm - 9:30 pm
Pornography Unveiled
– March 23, 2019 at 6:00 pm - 8:30 pm
Ember
– March 23, 2019 at 7:00 pm - 9:00 pm
From Bach to Bachianas
– March 24, 2019 at 4:00 pm - 5:45 pm
Agape Worship Night
– March 24, 2019 at 6:00 pm - 9:00 pm
SongStage with Ivan Boudreau
– March 25, 2019 - March 26, 2019 at 7:00 pm - 9:30 pm
Photo Exhibition: Mennonite Churches in the Fraser Valley – Early Decades
– March 28, 2019 - March 31, 2019 at All Day
School of the Supernatural: Translation by Faith
– March 28, 2019 - March 29, 2019 at 9:00 am - 5:00 pm
Public Talk: Merton and the Post-Secular Search for a Good Country
– March 28, 2019 at 6:00 pm - 8:00 pm
John Crist: The Human Being Tour
– March 28, 2019 at 6:30 pm - 9:30 pm
Fireside Apologetics: Paul Chamberlain – Why Do People Stop Believing and What Can We Do About It?
– March 28, 2019 at 7:00 pm - 8:30 pm
Anne of Green Gables: The Musical
– March 28, 2019 - March 30, 2019 at 7:30 pm - 9:30 pm
Al Massira Training
– March 29, 2019 - March 30, 2019 at 4:00 pm - 5:00 pm
Worship Central Conference 2019: Heaven & Earth
– March 29, 2019 - March 30, 2019 at 7:00 pm - 9:00 pm
Concert with Organist Edward Norman & Oboist Roger Cole
– March 29, 2019 at 8:00 pm - 10:00 pm
Café Logos Grand Opening
– March 30, 2019 at 9:00 am - 6:00 pm
Thomas Merton: Alaska and His Final Conferences
– March 30, 2019 at 9:30 am - 12:30 pm
"How Will We Go Unless We Are Sent?" A Paradigm Shift in Missions Sending
– March 30, 2019 at 12:00 pm - 3:00 pm
Free Movie: Support World Vision's Work in Cambodia
– March 30, 2019 at 1:00 pm - 4:00 pm
Chelsea Amber in Concert
– March 30, 2019 at 7:00 pm - 9:30 pm
Worship Invasion Hits the West Side
– March 30, 2019 at 7:30 pm - 10:00 pm
Welcome Back, Kleiner
– March 30, 2019 at 8:00 pm - 10:00 pm
Apr 2019
Conway Holy Land Presentation: Bryana Russell
– April 1, 2019 at 12:00 pm - 1:00 pm
(Re)Development 101 for Churches: Housing Civic Academy (part 1)
– April 2, 2019 at 7:00 pm - 9:00 pm
Insights to Impact Tour: Vancouver, Richmond, Burnaby . . .
– April 3, 2019 at 9:30 am - 11:30 am
Whispering Grass by Haitao Yin: Opening Reception
– April 3, 2019 at 4:30 pm - 7:30 pm
John Bonnett: Thinking About History and Beauty in a Post-Secular World – Some Potential Intersections Between the Digital Humanities and Theology
– April 4, 2019 at 12:00 pm - 1:00 pm
Insights to Impact Tour: Langley, Surrey, Abbotsford . . .
– April 4, 2019 at 1:30 pm - 3:30 pm
Intelligent Love (Thursday evenings)
– April 4, 2019 at 6:30 pm - 9:00 pm
Elevation Worship: Hallelujah Here Below Tour, with Cody Carnes
– April 4, 2019 at 7:00 pm - 10:00 pm
Joy in the Journey Tour with Wendy Farha
– April 5, 2019 at 7:00 pm - 9:00 pm
Iron Sharpens Iron Men's Conference
– April 6, 2019 at 8:30 am - 3:30 pm
Walk the Talk: Vancouver for Bill C-262
– April 6, 2019 at 1:00 pm - 2:30 pm
Big Little Lions
– April 7, 2019 at 7:00 pm - 10:00 pm
Laing Lectures 2019: Malcolm Guite – Imagining the Kingdom: Parable, Poetry & Gospel
– April 9, 2019 - April 11, 2019 at 7:30 pm - 9:00 pm
Abbotsford's 30th Annual City Prayer Breakfast
– April 10, 2019 at 7:00 am - 9:30 am
The Lay Awakes
– April 10, 2019 at 8:00 pm - 10:00 pm
40 Days for Life
– April 11, 2019 - April 14, 2019 at 12:00 am
Faith CARE: Learning How to Grow Restorative Churches
– April 11, 2019 - April 13, 2019 at All Day
Man of the Shroud Exhibition
– April 11, 2019 - April 15, 2019 at All Day
ACMV / Hope Vancouver Pastors & Leaders Gathering: Albert Lo
– April 11, 2019 at 9:30 am - 12:00 pm
Cadre: Terry Virgo – Building Spirit-Filled Churches
– April 11, 2019 at 1:00 pm - 3:00 pm
Bethel Music Victory Tour
– April 12, 2019 at 6:00 pm - 10:00 pm
Parenting Workshop
– April 12, 2019 at 6:30 pm - 8:30 pm
Sweet Sounds: MORE Network Annual Benefit
– April 12, 2019 at 6:30 pm - 9:00 pm
Diversity and Constructed Identities (part 2): Peter Ash
– April 12, 2019 at 7:00 pm - 8:30 pm
The Easter Story
– April 12, 2019 at 7:00 pm - 9:00 pm
Viper Central
– April 12, 2019 at 7:00 pm - 11:00 pm
Tax Clinic (Saturday afternoons)
– April 13, 2019 at All Day
Business as Mission Social Impact Conference
– April 13, 2019 at 8:00 am - 4:00 pm
Terry Virgo: Amazing Grace Conference
– April 13, 2019 at 8:30 am - 4:00 pm
Journey Home Refugee Support: Basic Training
– April 13, 2019 at 8:45 am - 3:00 pm
40 Days for Life Closing Rally Vigil
– April 13, 2019 at 2:00 pm - 3:30 pm
Alzheimer Café
– April 13, 2019 at 2:00 pm - 4:00 pm
EMI Gala Fundraiser
– April 13, 2019 at 6:00 pm - 10:00 pm
Global Disciples Celebration of Ethiopia
– April 13, 2019 at 6:00 pm - 9:15 pm
Gloria Dei Chorale: Easter Concert
– April 13, 2019 at 7:00 pm - 9:00 pm
Hillsong Y & F
– April 13, 2019 at 7:00 pm - 10:00 pm
Switchfoot: The Native Tongue Tour
– April 13, 2019 at 8:00 pm - 11:00 pm
Holy Week 24/7 Prayer
– April 14, 2019 - April 20, 2019 at All Day
Sawuti Choir
– April 14, 2019 at 11:00 am - 1:00 pm
Searching for Identity: Mennonites in Revolutionary Russia
– April 14, 2019 at 2:30 pm - 3:30 pm
What Love is This: A Choral Presentation Reflecting on the Passion of Jesus
– April 14, 2019 at 3:00 pm - 4:00 pm
Jazz Vespers in the Valley: Greta Matassa
– April 14, 2019 at 4:00 pm - 5:00 pm
Gloria Dei Chorale: A Closer Walk With Thee
– April 14, 2019 at 7:00 pm - 9:00 pm
Sawuti Choir
– April 14, 2019 at 7:00 pm - 9:00 pm
Darrell Johnson: The Tale of Two Trees – at the heart of the story that makes sense of our stories
– April 17, 2019 at 7:00 pm - 8:45 pm
KAIROS Blanket Exercise
– April 17, 2019 at 7:00 pm - 9:00 pm
Act of Faith
– April 18, 2019 - April 20, 2019 at All Day
Breakthrough
– April 18, 2019 at All Day
Good Friday Service
– April 19, 2019 at 10:00 am - 11:00 am
Stations of the Cross: Good Friday Walk
– April 19, 2019 at 10:00 am - 12:30 pm
Way of the Cross at Queen Elizabeth Park
– April 19, 2019 at 10:00 am - 11:30 am
Way of the Cross East Vancouver
– April 19, 2019 at 10:00 am - 12:00 pm
Good Friday DTES Combined Gathering
– April 19, 2019 at 10:30 am - 1:30 pm
Easter Neighbourhood Block Party
– April 19, 2019 at 11:00 am - 1:00 pm
The 33rd Way of the Cross Walk
– April 19, 2019 at 12:00 pm - 2:00 pm
Taizé-style Contemplative Service
– April 19, 2019 at 4:00 pm - 5:00 pm
The Crucifixion by John Stainer
– April 19, 2019 at 4:00 pm - 5:00 pm
Good Friday Community Dinner
– April 19, 2019 at 5:00 pm - 8:00 pm
Haydn: Seven Last Words of Christ on the Cross
– April 19, 2019 at 7:00 pm - 9:00 pm
Mozart's Requiem & Choral Works by Felix Mendelssohn
– April 19, 2019 at 7:00 pm - 9:00 pm
Dee Daniels
– April 19, 2019 at 7:30 pm - 10:00 pm
Music for a Very Good Friday: Bach / O'Regan / Vaughan Williams
– April 19, 2019 at 8:00 pm - 10:00 pm
Ecological Stations of the Cross
– April 20, 2019 at 12:00 am
Noah (three dates)
– April 20, 2019 - April 22, 2019 at All Day
Easter Bash
– April 20, 2019 at 11:00 am - 2:00 pm
Easter Blast
– April 20, 2019 at 11:00 am - 1:00 pm
Easter Sing-Along Messiah
– April 20, 2019 at 2:00 pm - 3:30 pm
Mozart's Requiem & Choral Works by Felix Mendelssohn
– April 20, 2019 at 2:00 pm - 4:00 pm
East Van Sunrise Service
– April 21, 2019 at 7:30 am - 8:30 am
Sing-Along Messiah
– April 21, 2019 at 9:15 am - 11:15 am
Easter Sunday Service
– April 21, 2019 at 10:00 am - 11:00 am
Prayer Vigil for Sri Lanka
– April 22, 2019 at 6:30 pm