When the 'Acoustic Ninja' comes to town this weekend, he will offer some amazing music, but also an introduction to the DuncanAfrica Society, which fights poverty by creating exquisite guitars by hand in their trade school, located in Uganda.
Guitar virtuoso Trace Bundy will be at BlueShore Financial Centre in North Vancouver on Saturday (October 29).
He was named 'Most Promising New Talent' of 2008 by Acoustic Guitar Magazine, and Guitar Player Magazine wrote: "It was easy to see why Bundy plays bigger venues on each tour. In his hands, the acoustic guitar is an imagination station, and there was no telling where he [was] going take the audience at any given turn. Thrilling stuff."
Keri Vermeulen wrote this article about DuncanAfrica for The Light Magazine; it is re-posted by permission.
In a small Ugandan village of about 10,000 people, called Mpigi Town, music is being made that's heard in places all around the western world. Surrounded by machinery and wood in Suubi Trade School, about a dozen students are producing beautifully crafted guitars.
This group of guys never dreamed they would be doing something like this – that they would become skilled luthiers, or that they would earn a good living, and provide well for their families. This sense of purpose and future is made possible through DuncanAfrica Society, a non-profit that is equal parts charitable organization and social enterprise.
Jay Duncan's vision
Meanwhile, in a North Surrey industrial space, amidst the whining roar of a wood sander and a giant cloud of sawdust, Jay Duncan is engrossed in the work of guitar building. When he realizes someone is in the room with him, he turns the machine off and looks up.
In that moment – in the mess of the workshop with machinery, guitars and guitar parts, the sweet smell of wood, Duncan with uncombed hair, adorned with wood-dust and a friendly smile – one gets a glimpse of what passionately crazy and called-to-good-works might actually look like.
DuncanAfrica is officially 10 years old (they got their non-profit and charity status in 2006), but the dream to bring change through music was born in the 1980s, in the heart of a 13 year old boy impacted by images of desperate Ethiopian people struck by famine. Young Jay Duncan watched the footage from his family home in Spruce Grove, Edmonton, and felt a pull in his heart.
"I was just struck," says Duncan. "I remember thinking, 'Can't somebody fix this? This is just stupid.' That's when Live Aid and 'We are the World' happened, so I probably made a connection between music and the idea of being able to help people through music and connecting that to Africa."
By the time he was 24 years old, Duncan became enamoured with building guitars – so much so that he doesn't want to talk about it much, for fear he won't stop talking. Suffice it to say, he immersed himself in his passion for building guitars, and his idea – "I bet you could do this anywhere" – became more than a passing thought. Much more.
By 2004, after a sabbatical from guitar-building and leading worship in church, Duncan knew that if he was going to get back into the business of making music again, he wanted to do it in a much different way. He started writing down the idea of building guitars for reasons other than making money, to see if something better could come of it.
"I realized there was probably a way to teach someone to build a guitar, find a way to monetize that, and create a relationship for them with customers in the west, and that somehow that could become a sustainable thing."
Launching in Africa
He knew he wanted to start this guitar-making school in Africa, and began talking to people and organizations who were already working in Africa. Everybody he talked with liked the idea. Soon, a board of directors was selected and official charitable status came.
But in order to have folks buy into the idea of a guitar-making school that would change lives in Africa, Duncan had to go there and establish it.
Through Peace Portal Alliance Church in South Surrey, Duncan got connected with a pastor near Mpigi Town, and held meetings with the village council, handing out applications to enroll at a guitar-making school.
"We packed up my shop and moved it to Africa and rented a little house," Duncan says. "It was a come hell or high-water trip. If it didn't work, this was the end."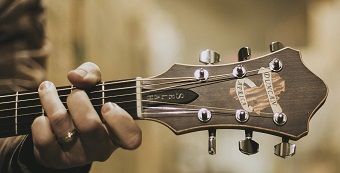 It was actually the beginning. Duncan hired local Mwesige David, who was also a master wood worker, a businessman and a worship leader. He was a perfect fit as one of the first students. The second was Musaka Isaac, a man who was completely illiterate in not only English, but also his own language.
"He couldn't even fill out the application form, but he brought me this," says Duncan, pulling a primitive-looking wood carving of an almost full-sized guitar, complete with wire strings, off a shelf in his office.
"He made this out of nothing. Just sheer willpower, when nobody had shown him how to do any of this. He made three of these before we ever met. I was like 'Isaac, you are the man!' Those were our first two guys."
Over the next few months, the trio made five guitars, and Duncan Africa laboured its way into tangible existence and the Suubi Trade School began.
Guitars used around the world

And today, they are not only still making guitars, they are producing some of the highest calibre, hand-crafted guitars available (starting at about USD $1,000). The instruments are played by musicians and worship leaders around North America, and particularly right here at home. The highly-esteemed likes of Brian Doerksen, Norm Strauss and Andy Park all own and regularly play a Duncan Africa guitar.
Andy Park, a well-known worship-leader, teacher, recording artist and songwriter, has been actively involved with Duncan Africa for about six years. He even travelled to the factory with his son and a friend, to meet the students and see where the real music happens.
"I love what Jay's doing for the same reason that almost everybody else does – he's raising up the poor who don't have much of an opportunity for a good income or developing a skill that's marketable."
Park says he met people whose lives have been changed by learning the skill of guitar making and earning a comparatively good income, maintaining a home and family life. Park speaks positively, both of the impact on the people of Mpigi Town, and on the work and vision of Jay Duncan himself (which is good, because getting Duncan to talk about the goodness and depth of his work is, in a word, awkward).
Park explains: "Jay's vision is that whenever it makes more profit, to plow that back into the community and whatever needs might be there. Both Jay and his wife have a very unselfish vision. It's cost them because they have a lot (five) of young kids. It's not easy for them, it's a struggle, but they love the vision and they're committed."
Park says he thoroughly enjoys playing his DuncanAfrica guitar, one from the Selah series, and even plays it on his upcoming release of Christmas worship music, Still Shining.
"The sound is well-balanced in terms of bass and treble and mid-range frequencies. With the pick up it's a very solid sounding, versatile guitar," Park says. "Many worship leaders from around the world buy a DuncanAfrica guitar, not always because they need one, but because they want to support what Jay is doing."