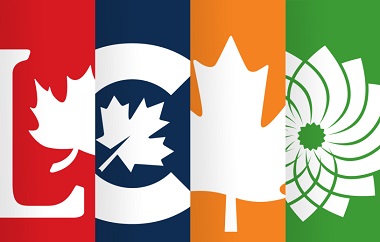 Who to vote for? What's the point? Where is the party that represents Christian perspectives?
Bruce Clemenger, head of the Evangelical Fellowship of Canada (EFC), addressed these questions in a recent comment. He noted the dilemma, but argued against taking the easy way out:
A 2019 survey found 61 percent of Canadians agreed "traditional parties and politicians don't care about people like me." The problem of apathy fuels ignorance about candidates and indifference about public engagement – a slippery slope into willful blindness, suffocating democracy's roots and possibilities, and eroding civil liberties.
We are called to be wise as serpents and gentle as doves (Matthew 10:16). We are called to be alert – not blind, but thoughtful about the strategies being promoted to attain peace, order and good government.
I have to agree, if reluctantly. The current political scene is a barren one for anyone with socially conservative views. And that probably covers the majority of the active Christians across Canada.
However, that is the situation we face – and though our political parties will not offer some of our preferred options, they all have plans that could benefit our nation. Clemenger added:
All political parties want to address issues such as health care, human trafficking and refugees, but they all differ in their 'how.' For this election they will all need to better understand how faith-based communities and their national engagement are a core feature of the social safety net. Churches and Christian agencies make significant positive contributions to our country.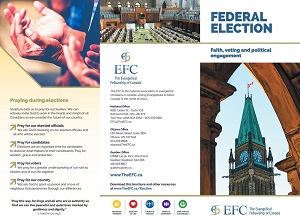 The EFC offers a 13-page Election Engagement Kit 2021, which includes information about what churches can and cannot do during an election; a guide to holding an all-candidates meeting; and a call to prayer.
The kit includes sample questions you can ask candidates about 15 key issues facing our country:
Medical Assistance in Dying (MAiD)
Prostitution
Religious Freedom
Indigenous Reconciliation
Conversion Therapy Ban
Pornography
Palliative Care
Human Trafficking
Refugees
Children & Youth in Government Care
Poverty & Homelessness
Protection for the Unborn
Environmental Issues & Creation Care
Elder Care / Support for Seniors
Civility
I couldn't find a similar resource on the Canadian Council of Churches site, but they would no doubt support projects by KAIROS Canada and Citizens for Public Justice (and, probably, the EFC). [Note: The CCC posted its own 2021 Federal Election Guide September 13.]
Several groups offer guidance as you go about choosing who to vote for. Here are some of them:
KAIROS Canada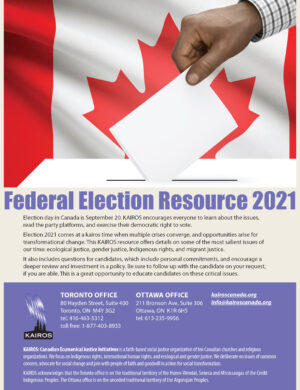 KAIROS Canada "unites Canadian churches and religious organizations in a faithful ecumenical response to the call to 'do justice and to love kindness and to walk humbly with your God.'" (Micah 6:8)
It has developed a 16-page Federal Election Resource 2021:
Election day in Canada is September 20. KAIROS encourages everyone to learn about the issues, read the party platforms, and exercise their democratic right to vote.
Election 2021 comes at a kairos time when multiple crises converge, and opportunities arise for transformational change. This KAIROS resource offers details on some of the most salient issues of our time: ecological justice, gender justice, Indigenous rights and migrant justice.
It also includes questions for candidates, which include personal commitments, and encourage a deeper review and investment in a policy. Be sure to follow up with the candidate on your request, if you are able. This is a great opportunity to educate candidates on these critical issues.
KAIROS Canada thanked Mennonite Central Committee Canada for allowing them to adapt their resources.
Citizens for Public Justice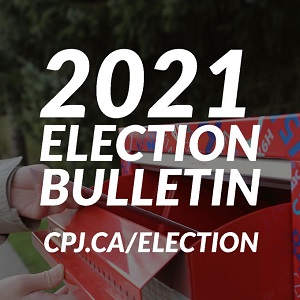 Citizens for Public Justice (CPJ) has created an eight-page 2021 Election Bulletin:
A just Canada would:
• Respect human rights and honour the dignity of every person on this land and create accessible accountability mechanisms to ensure restitution is made if these rights are violated.
• Take action to end poverty in all its forms everywhere (including food and housing insecurity).
• Improve equity and outcomes for individuals and communities facing systemic oppression.
• Implement a fair and progressive tax system that contributes to a more equitable distribution of wealth.
• Follow-through on the commitment to develop an action plan to fully implement the UN Declaration on the Rights of Indigenous Peoples.
• Engage settlers in the healing processes of reconciliation and upholding Indigenous rights and sovereignty.
• Inform and educate all inhabitants about Canada's colonial history and the ongoing legacy of anti-Indigenous, anti-Black, and anti-Asian racism.
• Cultivate accessible and effective processes for civil society participation in public policy development, implementation, and evaluation, particularly among communities typically excluded from decision-making processes.
• Extend a full welcome to asylum-seekers, refugees, and other migrants to Canada, honouring their inherent rights and providing them with equal opportunities.
• Accelerate GHG emissions reductions across the Canadian economy. Implement specific decarbonization measures in the highest emitting sectors.
• Promote climate justice by investing heavily in a just transition to a new green, decarbonized economy.
• Prioritize human and environmental rights, sustainability, and the flourishing of all creation.
Join CPJ in encouraging voters and electoral candidates alike to "do everything in love" (1 Corinthians 16:14) for all people and all of creation.
ARPA Canada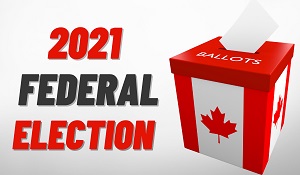 ARPA Canada, like CPJ, has its roots in the Reformed community. It has created a 2021 Election Guide, which focuses on euthanasia, palliative care and elder care; abortion; hate speech conversion therapy, prostitution and pornography:
With the announcement that Canadians will be going to the polls on September 20th, we look forward to a vigorous debate on several issues that Parliament left unfinished.
Of particular note, this applies to the trio of ongoing, highly politicized bills which all tread on the fundamental freedoms of conscience and expression: Bill C-6  banning so-called 'conversion therapy', Bill C-10 regulating online content, and, most recently, Bill C-36 targeting any expression deemed 'hate speech. '
With the election call, all ongoing bills 'die,' which means they will need to be reintroduced and debate started over if they are to be revived. While the death of these bills is cause for thankfulness, we also cannot rest on that fact – given our current cultural context and political climate, it is likely they will be revived soon enough. We will be listening for mention of these bills and the parties' intentions throughout the election campaign.
We are also hopeful that debate around the expansion of euthanasia will take center stage in this election campaign after the changes made with Bill C-7 in March. The amount of media coverage the bill was getting, and the outpouring of concern from disability rights groups, mental health organizations and more was putting pressure on the government to change the legislation. While the bill still passed, we should expect that some of the widely held concerns present during the debate on C-7 will make their way into the election narrative – and we should help make sure they do!
ARPA Canada had already planned a cross-country 'Rooted in Christ' tour before the election was called. Andre Schutten (Director of Law and Policy), Levi Minderhoud (BC Manager), and Anna Nienhuis (Researcher and Communications) will endeavour to "untangle the political developments of the past five years and discuss how we can be rooted in Christ in our political engagement in the future."
The four local stops will be at:
Catholic Conscience

Catholic Conscience has prepared Canada Federal Election 2021 Resources:
Our federal election will offer voters an opportunity to ensure that our nation is guided by leaders who will provide practical and efficient leadership with the good of all in mind – including the unborn, the elderly, the young, families and those who are too often forgotten by society – as well as workers, farmers, business owners and all future generations.
Catholics are called to participate, in accordance with the full measure of talents entrusted to us by God. At a minimum, this means voting wisely after having considered all relevant issues, the positions of each of the candidates and parties, and relevant Church teachings. And many of us are called to even deeper involvement: volunteering at polling stations and other efforts to get out the vote; engaging personally with candidates and party officials; helping to spread good ideas and encourage others to vote properly; or in some cases volunteering to assist candidates or parties – or even putting ourselves forward as candidates.
This page will guide you toward resources and starting points to assist you in these efforts, whether you are Catholic or simply a good person interested in a better world.
Paul Schratz, editor of The B.C. Catholic newspaper, is an advisory board member of Catholic Conscience.
Canadian Foodgrains Bank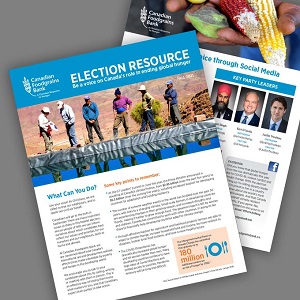 Canadian Foodgrains Bank has produced an Election Resource:
Canadians will go to the polls in September. There are many important issues at stake in this federal election, and as people of faith we can inform ourselves about which candidates best reflect our values and priorities . . .  both at home and abroad.
At Canadian Foodgrains Bank, we are concerned about how Canada's international aid and development policies affects those made vulnerable by poverty and hunger in the developing world.
Andy Harrington, Executive Director of CFB, lives in the Fraser Valley and is well known locally as the leader, first, of Youth Unlimited / Youth For Christ and then of Wellspring, which focuses on education in Rwanda.
Prayer
There are at least a couple of prayer gatherings planned before the election: