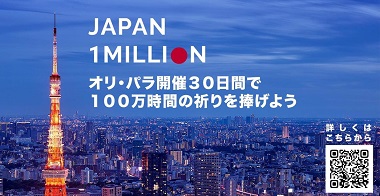 After being involved in helping to instigate the More Than Gold 2010 – the Vancouver Christian Olympics Partnership where more than 6,000 Christians volunteered time and efforts before, during and after our Winter Games – I have been supporting the Christian response and coordination at various Olympics (Beijing 2008, London 2012, Rio 2016)
And with the Tokyo 2020 Olympics; the organization is known as the Japan International Sports Partnership (JISP).
Would you consider praying for Japan and sharing this information with your networks and email lists?
Except for pandemic, I would have been in Japan these past few months working alongside these believers and the hundreds of global missions teams that would already have arrived for the Olympics (July 23 – August 8) and the Paralympics (August 24 – September 5).
I know these Japanese and international Christian leaders. They are humble believers, with a heart for outreach and a desire to participate in sport/global events like the Rugby World Cup, Soccer World Cup and Cricket World Cup for the coming Kingdom.
You probably already know that Japan is amongst the least reached developed nations with less than 1 percent believers (compared to China, possibly 8 – 11 percent?). Our Father continues to protect and uphold His bride there, and they are praying for an increase of one million more Japanese believers before 2030.
Also, for my personal journey, serving and praying for Japan is part of my reconciliation as my parents and grandparents had terrible experiences in China during World War II.
The JISP are hoping for Christians around the world to contribute one million hours of prayer in the coming weeks and months.
A recent article in the Australian magazine Eternity urges believers to support Japanese Christians:
"What a gift to Japan from the global Church – one million hours of prayer for God's Glory to fall upon our land," said JISP leader Pastor Keishi Ikeda. . . .
As Japan steps into the spotlight these Olympic Games, Christians in Japan are calling on their global brothers and sisters to sign up for at least one hour of prayer for the spiritual awakening of Japan.
The Japan 1 Million website invites people to record their hours of prayer and access daily prayer updates during the Olympics and Paralympics.
I've signed up, please do consider doing the same. You'll also receive updates on the Tokyo/Japan church and all going on there for Kingdom come.
For more information on statistics related to Christianity in Japan go here: https://joshuaproject.net/countries/JA
Lawrence Ho is a Senior Fellow with Murdock Charitable Trust. Based in Vancouver, his legal practice focuses on strategic philanthropy in corporate and family foundations.