August 30 update: Surrey RCMP have arrested a 35-year-old woman following their investigation into a fire that destroyed St. George Coptic Orthodox Church in Whalley last month.
A member of St. George Coptic Orthodox Church has raised thousands of dollars to help rebuild his church, which was burned down early in the morning July 19.
Sozan Kras created a gofundme page, saying:
Please help me and my church, and help raise awareness to the world on what's going on in Canada . . . I'm begging you guys. We just opened our church two weeks ago after the COVID lockdown had us on zoom for Sunday school, youth, summer activities, etc.
Fr. Bisenty Gerges, parish priest St. George's, released a statement:
Our church was more than a building. It brought together a diverse congregation of Coptic, Eritrean, Ethiopian, Iraqi and Lebanese Orthodox believers.
The Church was a haven where we practiced our ancient holy rites that have been preserved over centuries from our forefathers who keep the faith defying great odds. It was a place we built community, where we shared meals, where we married our youth, christened our babies and welcomed newcomers to the faith.
We do not have any insight into the cause of this incident, although we are aware of an attempted arson Wednesday July 14th at 2:30 am. The security footage has been released to the police and we hope that this will support their investigation into the cause of the devastation.
It is the duty of our elected officials to provide equal safety measures to protect all citizen and places of worship irrespective of their religious affiliation and cultural identity.
We call on the honourable Premier John Horgan, the City of Surrey and all authorities in the Province of British Columbia to take measures to support communities of faith during this difficult time.
We are in shock and struggling to cope in the emotional wake of this incident. We are grateful to all of those who have reached out expressing their sympathies, prayers and offers of support as we determine our next steps as a community.
The church is also accepting donations directly; via email money transfer to [email protected].
The building, at 13905 – 108th Avenue, had been owned by North Surrey United Church (now part of Northwood United) before the Coptic congregation moved in in the 1990s. I posted an article about St. George's just before the visit of Pope Tawadros II, leader of the Coptic Orthodox Church of Alexandria, in 2014.
Tom Zytaruk noted in the Surrey Now-Leader that Fr. Gerges "is not pointing figures at who might be responsible," but also added:
Nancy Yacoub, a member of St. George's since she emigrated to Canada from Egypt in 1982, was among about 200 mourners who attended a vigil at the smouldering ruin on Monday night. "My heart was so broken," she said.
In 2011, Mounties kept vigil over Whalley's two Coptic Orthodox churches – St. George and Saint Mary – after a deadly terrorist attack against their church in Alexandria, Egypt, and subsequent threats made here in Canada and elsewhere in the world. Surrey's churches did not receive any threats but the Surrey RCMP nevertheless increased its presence around them.
Yacoub said Monday's fire is bringing back bad memories from Egypt. "It's a shock.
"It's definitely hate," she said, "nothing more than hate, someone who is extremely hateful." . . .
The Coptic Orthodox Church is an ancient church founded on the teachings of Saint Mark, who brought Christianity to Egypt during Nero's reign in the first century A.D. There are more than 50,000 Coptic Orthodox Christians throughout Canada, with 74 priests serving some 40 churches.
Fr. Gerges said the congregation of about 250 families will likely rent a place to meet.
Response to church burnings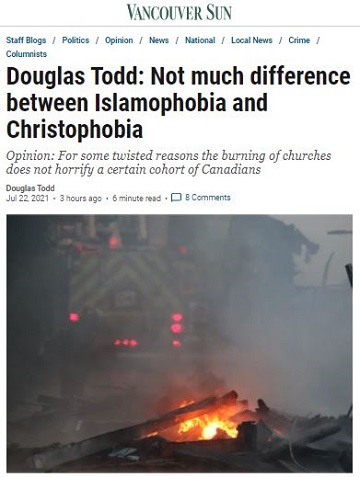 Several recent comments have pointed to the muted response to the many recent church burnings across Canada.
Note (July 22): Douglas Todd has written a very strong piece, titled 'Not much difference between Islamophobia and Christophobia':
For some twisted reasons the burning of churches does not horrify a certain cohort.
It's a cohort that would presumably be the first to say, rightly, it's never "understandable" to attack a mosque – or a gurdwara, synagogue or Buddhist or Hindu temple.
Do those who "understand" the torching of church sanctuaries forget Ottawa established residential schools in the first place? Would they support burning the Parliament Buildings? (I'm afraid to hear the answer.)
Maybe the rationale for believing it's fine to hate Christianity and Christians is they represent the "dominant" religion of white Canada. The trouble with that is church attenders are a minority in the 21st century in Canada – and secular places like B.C. have never have been "Christian" provinces.
That's not to mention two out of five immigrants to Canada are Christians. . . .
Go here for the full comment.
Brian Bird, assistant professor at the Peter A. Allard School of Law at UBC, wrote a comment ('For reconciliation to stand a chance, vandalism must stop') July 20:
It is dismaying that it took the burning of several places of worship before the prime minister commented on the matter on June 30, more than a week after the initial fires. It does not seem farfetched to think that the absence of an immediate and unequivocal condemnation by Justin Trudeau and other politicians emboldened copycats. . . .
In the past we have often fallen far short of what we expect of ourselves and our society, and we continue to fall short today. Our failings toward Indigenous persons are a prime example.
But these failings do not entitle us to abandon our basic aspiration and common desire for peace, order and good government. On the contrary, in moments of strain and strife, we must be particularly steadfast in our commitment to these ideals.
The attacks on houses of worship and the disturbing responses to them are especially frustrating given that, after the revelations of the graves of Indigenous children, Catholic leaders have unreservedly apologized and firmly recommitted themselves to reconciliation.
Go here for the full comment.
And Ray Pennings, Cardus Executive Vice President wrote July 21 that in light of church fires and vandalism, anti-Muslim attacks and anti-Semitism, perhaps Canada "suffers from an anti-religion problem".
Vancouver's Roman Catholic Archbishop Michael Miller has sent a message of support to Bishop Mina of the Coptic Orthodox Diocese of Mississauga, Vancouver and Western Canada. He said the destruction of the church "comes as a terrible shock to the Coptic community and to all of us. It is a tremendous loss to the Christian churches in British Columbia, and I am pleased that you have already started a rebuilding campaign."
Jul 2021
Christian Climate Observers Program (CCOP) 2021 (application period for November 1 - 2 event)
– July 22, 2021 - August 1, 2021 at All Day
Bullies & Saints: A Conversation with John Dickson
– July 22, 2021 at 12:00 pm - 1:00 pm
GROW (Summer Edition)
– July 25, 2021 at 5:00 pm - 8:00 pm
Gordon T. Smith: Communities of Hope –Sustaining Hopeful Resilience
– July 26, 2021 at 7:30 pm - 9:00 pm
Malcolm Guite: River Deep, Mountain High – the Gospel in the Psalms
– July 28, 2021 at 7:30 pm - 9:00 pm
Aug 2021
The Whale Without Jonah: An Exhibit by Douglas Coupland
– August 1, 2021 - September 5, 2021 at All Day
Together at Midday: Laurel Gasque
– August 4, 2021 at 12:00 pm - 12:45 pm
Vancouver House of Prayer: Women's Conference
– August 8, 2021 at 4:00 pm - 7:00 pm
Vancouver House of Prayer: Boys 2 Men Conference
– August 8, 2021 at 5:00 pm - 7:00 pm
Youth Ministry Online Summit (Staff)
– August 11, 2021 at 10:00 am - 1:30 pm
The Gatekeepers Dialogue
– August 12, 2021 - August 13, 2021 at 12:00 am
Life Shared Live Stream (Wednesday mornings)
– August 18, 2021 - September 1, 2021 at 9:00 am - 10:00 am
A Rocha Talks: Stories from A Rocha's Conservation work across Canada
– August 19, 2021 at 5:00 pm - 6:30 pm
Defend Dignity: Info Forum on Prostitution
– August 19, 2021 at 7:00 pm - 9:00 pm
Clothes 2U
– August 21, 2021 at 10:00 am - 12:15 pm
Lausanne Diaspora Summit
– August 25, 2021 at 5:00 am - 8:00 am
Just 1 Day: Cambodia, Exploitation and Beauty
– August 28, 2021 at 9:00 am - 5:00 pm
Week of Prayer for Canadian Colleges and Universities
– August 29, 2021 - September 3, 2021 at All Day