Journey Home Community is making a real impact in Metro Vancouver, both through its work with refugees and as the host of Ride for Refuge in British Columbia.
Refugee work
Journey Home began life modestly, but the 10th anniversary party celebrated at Olivet Baptist Church and two nearby homes for refugees in New Westminster last weekend demonstrated just how far their work has progressed.
Newcomers from Afghanistan, Peru, Burundi and other parts of the world mixed with volunteers and staff members in a warm and convivial atmosphere.
In a recent Light Magazine article, Lori Pederson explained their approach:
Journey Home Community is a Christian not-for-profit organization started 10 years ago in Burnaby by a handful of volunteers at Willingdon Church. Its mandate is to serve refugee claimants, especially families with children, by providing resettlement assistance, housing and relational support. Other partnering churches are now involved, and Journey Home is looking for additional churches and individuals to help. Interpreters are always needed. . . .
Journey Home Community executive director James Grunau says their housing strategy . . . involves three levels of accommodation. The first level is emergency housing, comprised of two welcome houses in New Westminster, in partnership with Olivet Baptist Church, for refugees' initial housing on arrival, providing for a three- to five-month stay.
From there, refugee families may go in one of two directions. For the most vulnerable families, there is a limited refugee transition program for up to 24 months (up to 12 housing units are available), or Journey Home will assist other refugees to locate affordable market rate housing.
"Journey Home is more than just an organization that extends services – we take a community approach to how we are involved with refugees," explains Grunau. "There is an emphasis on building relationships and friendships with refugees – we give and receive in a reciprocal way with each other."
The volunteers and staff of Journey Home have worked quietly and diligently on behalf of refugees for the past decade, so it is not surprising that they have begun to receive some media attention now that the whole world is focused on Syrian refugees.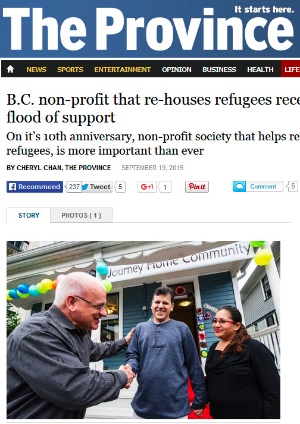 Cheryl Chan of The Province interviewed Grunau just before the 10th anniversary party began last Sunday. Here is a portion of their conversation:
Seyar Zafar fled Afghanistan in 2007, leaving behind the only life he knew to seek a safe haven in Canada.
It was a difficult adjustment for Zafar, who struggled to reconcile his previous high-ranking position in government and health-care to being a stateless refugee dependent on the good will of others.
He and his family of nine, including his mother and two sisters, crammed in a two-bedroom apartment. At the time, Zafar was the only one who could speak English.
"I had to start everything again from zero with a very stressful situation," said Zafar, now a Canadian citizen who had completed a master's degree in human security and peace-building from Royal Roads University.
"To live the reality of this life was a big change to accept and get adapted with."
Help for the Zafar family came in the form of Journey Home Community Association, a Burnaby non-profit which offers assistance with housing and resettlement services to claimant refugees.
Zafar was unable to attend the 10th anniversary of Journey Home for health reasons, but his teenage daughter moved the audience – and was moved herself – as she read the notes he would like to have delivered himself.
Ride for Refuge
Journey Home staff and volunteers major on 'small things' like spending time with the new arrivals and making sure they feel a sense of welcome and friendship in their strange new surroundings. But the ministry has always thought of the big picture as well.
Earlier this year, Grunau went to Lebanon to work with Syrian refugees there, and he is also the Canadian facilitator for the Refugee Highway Partnership, a global grassroots network of Christian organizations, churches and individuals connecting and equipping refugee ministry leaders. 
But many other local people will know of Journey Home's work, indirectly at least, through Ride for Refuge. This North America-wide movement is "a family-friendly cycling and walking fundraiser that helps charities and their supporters to raise money for their work with the displaced, vulnerable and exploited" – more than $6 million since 2004.
Journey Home hosts and operates the Vancouver Ride for Refuge.
Including Journey Home teams, more than 80 Metro Vancouver groups of riders will be out on the road October 3 (962 around North America), pedalling for a wide variety of organizations, from the Fairview Ratanak Riders (whose 18 peddlers have already raised more than $5,500 of their $7,000 goal, for work in Cambodia)  to Wheel Suckers (Inner Hope) and Team PWRDF (Anglican: Primate's World Relief and Development). Most are based in the Christian community, others are not. Riders will start and finish at Richmond Christian School.