An hour before it begins, Olga Andrienko prepares for the upcoming pottery workshop. She lays out slabs of clay, readying them to be cut into cross shapes by the workshop participants. She works carefully, focusing on her task, and sending "good thoughts" to each person who will be working with the clay later that day.
Olga is one of several ceramic artists who work with the social enterprise JustPotters. She is given the gift of work in spite of physical limitations and the restrictions of being on disability. She has a venue to express herself as an artist, creating beautiful handmade ceramics that become loved possessions by their eventual owners.
With JustPotters Olga also finds a place to belong, and the means by which she can support herself and her teenage son.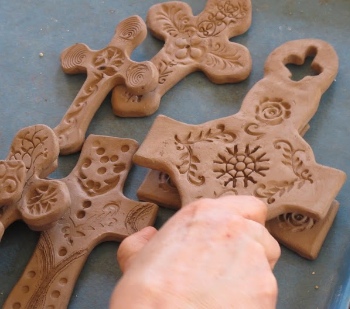 As a social enterprise, JustPotters is part of a growing movement of businesses whose aims extend beyond the financial bottom line. Born out of a vision within the Grandview Calvary Baptist Church community, JustPotters seeks to move beyond the traditional charitable model and see marginalized members of its community brought into greater wholeness.
JustPotters and its umbrella organization JustWork Economic Initiative, have a mandate to create quality products and services for its clients, while providing employment to people who face barriers to working in the traditional workforce.
As participants arrive at Olga's Cross-Making Workshop (just one of several JustPotters team-building workshop options), they are warmly greeted and given an introduction to the workshop, including a short history of the different styles and spiritual significance of the cross.
Each person then chooses a cross shape from several examples, and with help from Olga and the other JustPotters staff, traces its shape in the slab of clay. In addition to providing direction specific to working with clay, Olga's experience as an art teacher helps her instruct each participant in composition and design, guiding them as they find inspiration and a beautiful end result.
For the East Van branch of the Open Door Society, a drop-in for single mothers, these pottery workshops have been very meaningful.
Coordinator Fiona Lee says  working with clay has been a tactile medium through which their mothers have "a rare opportunity for artistic self-expression."
And for them it's also a success story; Olga is a former member of their community, and they are proud of her talents as an instructor and artist. Open Door has hosted several workshops over the past few years, and hopes to have Olga back yet again next month.
Another group, Kitsilano Christian Community (Kits Church), is excited about hosting a Cross-Making Workshop with JustPotters during the Lenten season. For Kits Church, Lent is a season of engaging in whole-body worship. David Jenkins, a pastor there, sees Lent as an opportunity to focus on a journey of discipleship that involves an "engagement in all of life" – not just our minds or our hearts.
David is excited for his community to experience the ways in which fashioning crosses from clay engages our hands, bodies and creativity in an act of worship. Kits Church plans to display the finished pieces in their worship space, allowing the individual's journey to become part of collective worship.
To learn more about JustPotters or to book a pottery workshop for your group for Lent and beyond, contact [email protected].
JustPotters is one of three social enterprises operated by JustWork Economic Initiative; JustCatering and JustRenos provide professional catering and renovation services, at competitive rates.
All photos are by Jasmine Wallace.