A leading climate scientist and the president of UBC will address a conference focusing on the intersection of faith and science May 11 – 14.
Organizers note the challenges, and the opportunities for Christians working in science:
Not long ago, Canada's Governor General [Julie Payette] lamented the great cultural divide between mainstream science and the beliefs of various communities in our great country. The Canadian Scientific and Christian Affiliation (CSCA) seeks to bring science-faith conversations to a more fruitful level.
Many Canadian scientists, working in government laboratories, public and private universities, industry and medicine are Bible-believing Christians and participate fully in the international scientific community.
This conference will include Canadians in science, speakers dealing with issues relevant to our theme and talks on science and Christian faith in general.
CSCA will hold From Sea to Sea . . . to Sky: Science and Christianity in Canada at Trinity Western University, which is co-hosting the event.
Sky Gala with Katharine Hayhoe
The general public will have the opportunity to sit in on part of the conference during the Sky Gala on the evening of May 12 with leading climate scientist Dr. Katharine Hayhoe. She will address the topic 'Christians, Climate Change and Our Culture' during a special Sky Gala at Chandos Pattison Auditorium on the Saturday evening.
Hayhoe is a professor in the Department of Political Science and director of the Climate Science Center at Texas Tech University. Organizers point out some of her achievements:
One of TIME Magazine's 100 Most Influential People (2014), Hayhoe works hard to help the evangelical Christian community to understand climate science (e.g. her Global Weirding series on PBS). In 2015, she contributed to a gala event at UBC's Chan Centre alongside Preston Manning and Peter and Miranda Harris, founders of A Rocha International.
In 2016, she joined President Obama on the White House lawn for the launch of Leonardo Dicaprio's documentary, Before the Flood. She is currently working on a second edition of her book, A Climate For Change: Global Warming Facts for Faith-Based Decisions.
Joining Hayhoe for the Sky Gala for a concert will be Janet Danielson (lecturer and instructor, School for the Contemporary Arts, Simon Fraser University) and the Isotone Ensemble (Oakridge, Tennessee).
Santa Ono: Servant Leadership in the Secular University
Dr. Santa Ono will give a plenary talk on the second day of the four-day conference.
His topic will be 'Science and Faith: Servant Leadership in the Secular University.' He is well placed to deliver such a talk.
As a professor of medicine and biology, Ono has worked at Harvard, Johns Hopkins, University College London and Emory (where he was also faculty advisor for InterVarsity Christian Fellowship). His research areas include the immune system, eye inflammation and age-related macular degeneration. He has been serving as president and vice-chancellor at UBC since the fall of 2016.
Ono has been open about his faith throughout his career. Since moving to BC, he has spoken at Christian events such as the BC Leadership Prayer Breakfast and delivered several sermons at Tenth Church on My Journey of Faith.
Canadian Christian & Scientific Affiliation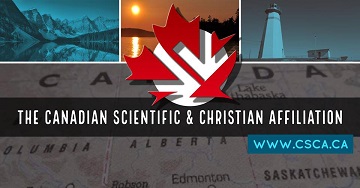 The CSCA describes itself in this way:
The Canadian Scientific and Christian Affiliation (CSCA) is a fellowship of scientists and those interested in science, who want to understand how science should best interact with the life-giving Christian tradition. Science serves widely, while the Christian faith remains the world's largest global movement. Where these two cross is fascinating, fruitful, and worthy of our best attention.
Our interdisciplinary discussions range, for example, through fields including cosmology, mathematics, ethics, the environment, medicine, genetics, geology, origin studies, engineering, science education, the history of science, epistemology, proofs for the existence of God, biblical interpretation, and the understanding of humanity through the social sciences.
CSCA members come to these challenges as researchers in academia and industry, as professors, theologians, philosophers, administrators from dean to provincial university president, and as students just getting started.
The work of the CSCA has been aided greatly by a grant from the Templeton World Charity Foundation for their Local Chapters Project. That allowed them to hire Mark McEwan as project development officer. The project has enabled the CSCA to develop new chapters across Canada, host many local events, a national tour and this conference, offer student scholarships and more.
Other speakers
There will be several other speakers at the conference, including:
Dennis Danielson: Copernicus and the Structure of the Universe. A professor and former chair in the Department of English at UBC, Danielson is a Milton scholar who wrote The Book of the Cosmos: Imagining the Universe from Heraclitus to Hawking. Unlike the typical English professor, he has published articles on Copernicus in Scientific American and the American Journal of Physics.
Richard Middleton: Human Distinctiveness and the Origin of Evil in Biblical and Evolutionary Perspectives. A professor of Biblical Worldview and Exegesis at Northeastern Seminary (Rochester, NY), Middleton is the author of many books, including A New Heaven and a New Earth: Reclaiming Biblical Eschatology (Baker Academic, 2014) and The Liberating Image: The Imago Dei in Genesis 1 (Brazos, 2005).
Robert Mann: The Edge – Physics & Theology. Currently a professor of physics at the University of Waterloo, he has been a visiting professor at Harvard and Cambridge Universities. He is a past-president of the Canadian Association of Physicists (2009-11), the CSCA (1996-2005), and served on the advisory board of the John Templeton Foundation. His research interests are in black holes, cosmology, particle physics, quantum foundations, quantum information and the science/religion dialogue.