Local author Jenny-Lyn de Klerk wrote 5 Puritan Women: Portraits of Faith and Love (Crossway, 2023) and was recently asked by historian Thomas Kidd to contribute a guest post for The Gospel Coalition site.
Here is an excerpt:
When I first started reading Puritan women, I was not surprised that they wrote about spiritual practices. They were, of course, Puritans!
Holiness, discipline and zeal were in their theological DNA. But I was surprised to find that they often reflected on their personal use of spiritual practices and how they impacted their lives – and the lives of those around them – in very specific and unique ways.
In the end, what I took away from these Puritan writers was that:
they used these practices to know God better,

they were intentional about using these practices but were never perfect, and

their use of these practices was organically connected to other aspects of their existence, like parenting and working.
Their autobiographies, poems, diary entries, letters and treatises showed me that Christian spirituality was a whole thing, a big thing, a full thing. It wasn't one part of their schedule or to-do list but a holistic method they used to live all of life with God, bring all of themselves to him, receive all of the blessings he wanted to give, and engage with their full selves in the main purpose of Christian living – loving their Creator and his creatures.
Although we may think it a cliché, studying the Puritans reminded me afresh that leading a Christian life is not about following a set of rules but rather developing a relationship with God. This came through loud and clear in the Puritan women I was reading.
Go here for the full comment.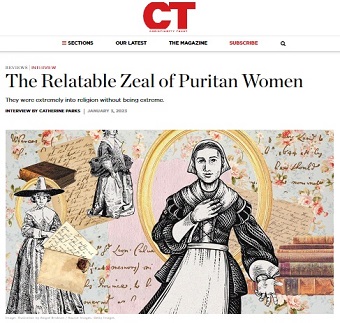 Christianity Today posted an interview with de Klerk earlier this year. One question was, "Are there any other lessons you hope people learn from these women?
She responded:
As someone who comes from an atheist family, I hope some readers will see how it's possible to be wholeheartedly devoted to God while still maintaining genuine friendships with people who believe differently.
We often think of the Puritans as wanting to escape and condemn society, but that wasn't what I came across in their stories.
To take one example from the book: Lucy Hutchinson wrote a theological treatise for her daughter encouraging her to stick close to the church, mostly by holding to its beliefs, but also by loving it.
In one of my favorite sections, she goes on this little excursus about how Christians are not grateful enough to God because they don't love other people enough, and if they loved people more – including other Christians who they maybe think are weird or have some wrong beliefs and including those outside the church – they would be more grateful to God.
Of course, love interacts with other theological ideas like justice, so loving others doesn't mean ignoring sin in your life or someone else's life. But for the Puritans, there is this baseline belief that if you want to call yourself a Christian, you really need to have a loving attitude and do loving things for the people in your life, regardless of whether they're just like you.
De Klerk has posted several articles related to her book, including these, on the Crossway site:
Jenny-Lyn de Klerk (PhD, Midwestern Baptist Theological Seminary) works as an editor at Crossway and has multiple degrees in church history and historical theology, specializing in Puritan spirituality. She contributed to the Lexham Dictionary of Church History.
She has been closely involved with The Puritan Project at Regent College over the years. Go here and here for earlier Church for Vancouver articles about her participation.
She and her husband, JD, live and attend church in Tsawwassen. 
Dr. Adrea Johnson will give a lecture at Regent College May 29: 'Sanctified Affliction: The Encouragement of Puritan Devotional Literature.' She is also teaching Devotional Poetry: John Donne, George Herbert, and Anne Bradstreet from July 3 to 7 as part of Regent College's 2023 Summer Programs.