New Hope is all about building community – and its focus on community was particularly harmed by an act of arson April 25. 
A Global News story stated:
A Surrey-based charity that supports refugees integrating in Canada is reeling from a fire that destroyed multiple cars and a communal space used by families.
Global News has obtained exclusive security video that appears to show a suspect lighting the fire. . . .
"It's absolutely devastating for us," society executive director Ann Berard-Ball told Global News.
The group operates a 13-unit apartment building housing 10 refugee families from Syria, Afghanistan, Columbia, Mexico, Sudan and Ethiopia. The building fortunately survived the fire with minor damage, including several exploded windows.
Go here for the full story and video.
Berard-Ball wrote on the New Hope site:
Our carport wasn't just a carport, it was a community gathering space where we hosted our community dinners, kids clubs, and fundraising events. We know that rebuilding will take a long time and will happen in phases.
We have always been creative with using the space we have, and we will continue to be creative! Your donations will also give us the opportunity to dream about how we can make the space even better when we rebuild.
She said these were the current needs:
Responding to the loss of cars for refugee residents (temporary transportation, transit, costs associated with insurance claims)

Therapeutic group programming to process the fire – including counseling services and intentional community events

Creating temporary community spaces while our back lot is unusable – we have some ideas for using the long driveway!
Purchasing replacement sports equipment and toys

Rebuilding the playhouse and other play areas

Any rebuilding costs over and above our insurance coverage
Go here to learn more about New Hope and here to donate.
The Stories We Tell
If you want to learn about flourishing churches from several of Canada's leading experts, be sure to head out to Trinity Western University next Tuesday evening (May 9).
The Stories We Tell will consider research on flourishing churches. Among those presenting are several who have led the way in the field:
Joel Thiessen, Ambrose University: Professor of Sociology, Director of the Flourishing Congregations Institute and Chair of the Social Sciences Department. He has co-authored several books, including Signs of Life: Catholic, Mainline and Conservative Protestant Congregations in Canada (2021) and None of the Above: Nonreligious Identity in the US and Canada (2020).
Michael Wilkinson, Trinity Western University: Interim Dean; Professor of Sociology; Chair of Sociology & Anthropology; Coordinator of Sociology; Director, Religion in Canada Institute. He is editor-in-chief of Brill's Encyclopedia of Global Pentecostalism (2021) and wrote, with Linda Ambrose, After the Revival: Pentecostalism and the Making of a Canadian Church (2020).
Sam Reimer, Crandall University: Professor of Sociology. He has written Caught in the Current: British and Canadian Evangelicals in an Age of Self-Spirituality (April 2023) and A Culture of Faith: Evangelical Congregations in Canada (2015).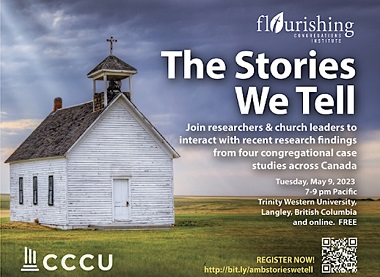 Here is the description of the gathering:
Leadership transitions. Mergers. New building projects. These are just some of the critical moments that can challenge organizations like churches.
Researchers from Trinity Western University and the Flourishing Congregations Institute have been looking into what factors help churches shape and maintain their vitality during critical periods and year-round, leading to congregational flourishing.
The event presents congregational narratives that help shape group identity and culture in ways that are critical for a church's ability to be resilient and flourish.
The research is drawn from in-depth interviews with churches from BC, Alberta, Ontario and Nova Scotia, and highlights the perspectives of Catholic, mainline Protestant and conservative Protestant traditions.
Four 15-minute case study presentations will anchor the event. Speakers include Michael Wilkinson (TWU), Katie Steeves (TWU), Joel Thiessen (Ambrose), Mark Chapman (Tyndale), Sam Reimer (Crandall), and Cathy Holtmann (University of New Brunswick).
Following this, pastor Jason Ballard of The Way Church in Vancouver will offer some reflections on the case studies, with a focus on application for church and denominational leaders. Attendees are welcome to join in the Q&A and discussion.
Those not able to attend will be to take part online.
Red Dress Day
In this week's EFC Update, the Evangelical Fellowship of Canada encouraged its member churches to use a resource produced by its partner, Defend Dignity, for the May 5 Red Dress Day.
Walk With Us is a "resource for churches on the crisis of Missing and Murdered Indigenous Women, Girls and 2-Spirit People (MMIWG2S)."
Defend Dignity states:
Indigenous women in Canada are 12 times more likely to be murdered or go missing that non-Indigenous women.
This shocking statistic is at the heart of an ongoing crisis in Canada – a crisis that many Canadians, including those in the church, need to become more informed about and engaged with.
This is what led Defend Dignity to develop Walk With Us, a comprehensive resource designed to help churches learn more about and engage with the crisis of Missing and Murdered Indigenous Women, Girls and 2-Spirit People (MMIWG2S).
Through our work on sexual exploitation issues we have seen that the dual crises of commercial sexual exploitation and MMIWG2S are closely connected. In fact, it is impossible to try to address one issue without quickly encountering the other.
As settler people in Canada, and particularly as the church, we need to first spend time learning before we can effectively act on this issue. We hope that by using these resources you will be informed and then inspired to do your part in the reconciling and healing work that must happen in order to stem the tide of violence, oppression and death among Indigenous women, girls and 2-Spirit people.
Empowered by the Spirit of Jesus, the church can be an instrument of healing and change.
Go here to check out Defend Dignity's materials: a video series, annotated bibliograph and resource maps.
Some local churches are already actively involved. For example, Christ Church Cathedral has posted 'An Invitation to Kinship, Remembrance & Engagement' by Ivy Clark, which states, in part:
As part of our communal work on reconciliation / building right relations, and to honour the lament and significance the National Day of Awareness for Missing and Murdered Indigenous Women, Girls and Two-Spirit People (MMIWG2S) holds, we, Christ Church Cathedral, have chosen to:
i) stand in solidarity with prayer;
ii) commit ourselves to the redemptive work of listening and learning the multi-faceted injustice perpetually impacting our Indigenous neighbours;
iii) participate in communal dialogues with openness and humility; and
iv) celebrate the heritage richness, strengths and diverse talents of the Indigenous people.
Jobs & Events
Go here for more than 200 job listings in the Metro Vancouver / Fraser Valley area and here to find several pages of local events.
May 2023
2023 Canadian Sexual Exploitation Summit – May 3, 2023 - May 5, 2023 at 12:00 am
Daniel Du: A Beauty Eclipsed – May 4, 2023 - May 10, 2023 at All Day
Law, Land, Religion and Reconciliation: A Colloquium – May 4, 2023 - May 6, 2023 at 12:00 am
Pope Francis and the Future of the Church: Prospects and Challenges for Renewal – May 4, 2023 - May 6, 2023 at 12:00 pm - 3:00 pm
Surrey Writers Conference: Faith Igniting Creativity – May 5, 2023 at 1:00 pm - 9:00 pm
Gungor – May 5, 2023 at 8:00 pm - 10:00 pm
Impact Conference 2023 – May 6, 2023 at 9:00 am - 4:00 pm
Spring Sale – May 6, 2023 at 10:00 am - 12:00 pm
literASIAN Festival: 'Now Tell Me': On the Crafting of Words and Narratives – May 6, 2023 at 1:00 pm - 2:30 pm
Vancouver Orpheus Male Choir Concert – May 6, 2023 at 7:30 pm - 9:00 pm
Shari Ulrich Trio – May 6, 2023 at 8:00 pm - 10:00 pm
Week of Prayer for Africa – May 7, 2023 - May 14, 2023 at All Day
Flourishing Congregations Institute: The Stories We Tell – May 9, 2023 at 7:00 pm - 9:00 pm
Flourishing: Global Foods & Flavours – May 10, 2023 at 6:00 pm - 9:00 pm
Live Virtual Trip to the Philippines – May 10, 2023 at 6:00 pm - 7:00 pm
Jazz Evensong @ Brentwood: Bryn Kinders & Footnotes – May 10, 2023 at 8:00 pm - 9:00 pm
March for Life Victoria – May 11, 2023 at 9:15 am - 3:15 pm
SIMinar: Faith in Action: Dorcas Widows – May 11, 2023 at 5:00 pm - 6:00 pm
The Welcome Table: Annual Spring Gala – a Fundraiser for Journey Home Community – May 11, 2023 at 6:30 pm - 9:00 pm
Icons Workshop: Praying with Our Eyes (Thursday evenings) – May 11, 2023 at 7:00 pm - 8:30 pm
West Coast Renew & Flourish Women's Conference – May 12, 2023 - May 13, 2023 at 6:45 pm - 5:00 pm
Will There Be Faith? Following Christ in a Secular Age – May 12, 2023 - May 14, 2023 at 7:00 pm - 12:00 pm
A Rocha Volunteer Day – May 13, 2023 at 9:30 am - 2:00 pm
Jazz Vespers in the Valley with Shruti Ramani and friends – May 14, 2023 at 3:30 pm - 4:30 pm
Kentro Forum 2023: Connect – May 15, 2023 - May 17, 2023 at 7:30 pm - 4:00 pm
Marion Taylor: Did Paul Really Intend to Silence Women Everywhere & Always?: Five 16th Century Women Said "No" – May 15, 2023 at 7:30 pm - 9:00 pm
Faith in the new Plastics Treaty? A WEA Sustainability Center Webinar – May 16, 2023 at 9:00 am - 10:30 am
Creative Responses to Conflict – May 16, 2023 at 5:00 pm - 6:30 pm
Cindy Aalders: "Heavenly Pity Sees My Tears": Weeping in Anne Steele's Hymns – May 17, 2023 at 12:00 am
Marion Taylor: Women Interpreters of the Bible – May 17, 2023 at 12:00 pm - 12:45 pm
Jazz Evensong @ Brentwood: The Meridian Jazz Orchestra – May 17, 2023 at 8:00 pm - 9:00 pm
Life-Light by Thomas Brasch: Reception – May 18, 2023 at 4:00 pm - 7:00 pm
The Matinee – May 19, 2023 at 8:00 pm - 9:00 pm
Worship & Prayer @ Devonian Harbour Park – May 20, 2023 at 2:00 pm - 4:00 pm
Katharine Hayhoe: Empowering Climate Action Conversations – from Anxiety & Misinformation to Inspired Action – May 20, 2023 at 7:30 pm - 9:00 pm
Art Sale: Indigenous Relations Fundraiser MCBC – May 21, 2023 at 1:00 pm - 5:00 pm
Ed Ng: The Cultured Self: A Conditioned Approach to Mental Health – May 22, 2023 at 7:30 pm - 9:00 pm
Jazz Evensong @ Brentwood: The Sister Jazz Quintet – May 24, 2023 at 12:00 am
Cindy Aalders & David Robinson: Spiritual Friendship Today – May 24, 2023 at 12:00 pm - 12:45 pm
Faith, Mental Health & The Church – May 25, 2023 at 7:00 pm - 8:30 pm
Walk in the Spirit of Reconciliation – May 26, 2023 - May 28, 2023 at All Day
A public talk and one-day retreat with Thomas Merton scholar Douglas Christie – May 26, 2023 - May 27, 2023 at 7:00 pm - 3:00 pm
Hugh Ross: Science & the Bible – May 26, 2023 - May 27, 2023 at 7:00 pm - 3:00 pm
Times of Refreshing Conference with Bob Ekblad – May 26, 2023 - May 27, 2023 at 7:00 pm - 10:00 pm
A Taste of the Heart – May 27, 2023 at 8:30 am - 12:00 pm
Bible Saturday: Darrell Johnson – Jesus and the Spirit: John 14 - 16 – May 27, 2023 at 9:30 am - 11:45 am
The Return of Soul Gospel – May 27, 2023 at 3:00 pm - 5:00 pm
The Return of Soul Gospel – May 27, 2023 at 8:00 pm - 10:00 pm
Jazz Vespers in the Valley with Sharon Minemoto – May 28, 2023 at 3:30 pm - 4:30 pm
Jazz Vespers with Nancy Newman Quartet – May 28, 2023 at 4:00 pm - 5:00 pm
16th Annual First United Golf Tournament – May 29, 2023 at 12:00 pm - 9:00 pm
Adrea Johnson: Sanctified Affliction – the Encouragement of Puritan Devotional Literature – May 29, 2023 at 7:30 pm - 9:00 pm
Webinar: A Taste of Alpha – May 30, 2023 at 9:00 am - 10:00 am
33rd Annual Youth Unlimited Gold Tournament – May 30, 2023 at 10:00 am - 7:00 pm
Making Meaning in a Time of Media Polarization – May 30, 2023 - May 31, 2023 at 5:00 pm - 5:30 pm
Petro Kovaliv: The War in Ukraine – May 31, 2023 at 12:00 pm - 12:45 pm
Is Intelligence Enough? Exploring Human and Artificial Intelligence – May 31, 2023 at 1:00 pm - 2:30 pm
For King & Country – May 31, 2023 at 7:00 pm - 10:00 pm
Jazz Evensong @ Brentwood: Sophia Avelino & Friends – May 31, 2023 at 8:00 pm - 9:00 pm