Several actions, writings and gatherings illustrate a groundswell of local concern about environmental issues, and interest in the upcoming UN Climate Change Conference to be held in Paris November 30 – December 11. The "meeting of all countries which want to take action for the climate" is expected to achieve a legally binding and universal agreement on future action.
Here are some of the signs which suggest the wide support for action in our local churches and in the community at large.
Climate welcome for Trudeau
On November 7, water samples from rivers, lakes and coastlines at risk from tar sands pipelines were delivered to Justin Trudeau's official residence, in order to "shine a spotlight on grassroots movements across Canada that have been fighting to defend their communities and our climate from reckless pipeline expansion."
It involves delivering solar panels and other gifts along with a wave of strong actions calling for an end to tar sands and pipeline expansions. As part of this sea to sea to sea action I put out a call to see if folks wanted to join with me to pray at the water source nearest my office (Spanish Banks Creek, Pacific Spirit Park, Musqueam) and send messages and water off to Sussex Avenue.
The response was so enthusiastic that I was able to be involved (in different ways) in five different collecting events:
* St Clement's Anglican in North Van used their Sunday School time October 25 to collect water from Coleman Creek.
* Some St. Hilda's Sechelt folk collected from the Salish Sea on the 23rd at the outdoor eucharist prior to their anti-racism training.
* Salal and Cedar collected water on the 27th.
* On the 29th, quite a large group [met] at Little Campbell River in South Surrey.        * That afternoon a more 'spiritual but not religious' group from Windsor House School went to McKay Creek in North Vancouver.
One of the Little Campbell River group [at A Rocha Canada] wrote:
Dear Mr. Trudeau: We have longed for change. You have promised change. We ask that you would be a promisekeeper as it pertains to our watershed and all the living creatures that rely on it. May you have great wisdom as you go to the climate change summit in Paris.
The Prophet Earth
A relatively new group in town (here is a brief story about one of their first actions) is made up of "Christians in Vancouver, Coast Salish Territories, who are working out the teachings of Jesus in regards to issues of ecology and climate change." Earthkeepers: Christians for Climate Justice "invites all Christians to respond faithfully to God in light of contemporary issues of climate change and ecological degradation."
One of their number, Kaleeg Hainsworth, has written a passionate comment: 'The Prophet Earth, and How to Listen to It.' Following is the first part of the article: 
An old professor and mentor during my seminary days used to say, 'listening is love in action.' I have returned to this phrase many times over the years, but never more than now.
We humans are facing what Donald Tusk, president of the European Council, called 'multiple global emergencies' during his speech to the 70th General Assembly of the United Nations. 
Several decades of successive wars in the Middle East have resulted in a refugee crisis which is unprecedented in history and on a scale which is unimaginable with no end in sight. The world order itself is also unravelling, as was evident to anyone following the UN Assembly this year, and there are massive demographic and economic shifts occurring right now around the world. What is more, Pope Francis claimed recently that we are fully engaged in a 'piecemeal third world war.'
However, what every country in the world acknowledged, both in the recent UN Assembly, and in their collective commitments to the Paris Climate Summit, is that our greatest global emergency is climate change. If we are to engage properly with these global emergencies, and do so with love, then there has never been a time more important than this one for us to listen. 
We must listen first to the cry of the refugees, as far, and a bit further, than we can bear to do so. This is very hard, since it entails listening to the suffering and the humanity of these people, who are displaced, starving, shivering in open fields, and destitute. Hearing them means becoming awake to what they are experiencing, and this is a very difficult task indeed. Hearing them also highlights the fears which seek to keep their cries at bay, to isolate them, and to treat them like enemies of a peaceful order within which we are benefiting daily. But there is no other way for the follower of Christ than to listen to them, and in doing so unite our voice in solidarity to theirs through prayer.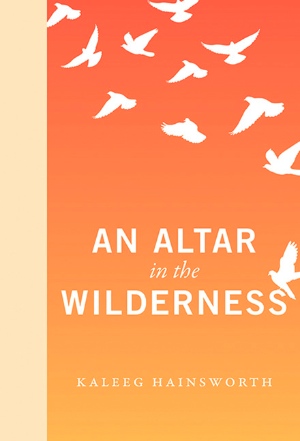 But their cry is part of a larger problem. We must also listen to the earth itself, which may indeed be the prophet of God for our times. A prophet's role is not fortune or future telling; rather, a prophet in the biblical sense is someone who speaks the word of God into the current world and who expresses what we need to hear now. The outcome, whether we act upon or disregard the prophet's words, is up to us, as is the future.
The earth, I believe, is the prophet of our times and it is calling us, as all prophets ultimately do, to repentance. It might be strange, for some, to think of the earth as a kind of biblical-style prophet, but the earth is God's creation as much as we are, and in fact it is filled already with news about God.
Those who have 'ears to hear' will discover the beauty, wonder, joy and life-giving nature of the God which our earth, and the whole creation, proclaims in myriad ways. Indeed, the natural world is radiant, even symphonic, with the revelation of the living and loving God. And all this revelation is calling us continuously back to communion with God in and through the natural world.
Kaleeg Hainsworth is the author of An Altar in the Wilderness, published late last year. He is an ecologist, speaker, Orthodox priest and father of three. Go here and here for the full comment.
Streams of Justice will be hosting a Forum on Climate Change next Monday (November 16) at Grandview Calvary Baptist Church:
In light of the upcoming UN Climate Summit in Paris, this forum will explore some of the root causes and driving mechanisms of climate change, learn from communities devastatingly impacted by it, and probe future prospects for radical and necessary change in order to avert global disaster.
Climate Conversations
Vancouver First Christian Reformed Church will host Climate Conversations November 19.  Noting that its denomination has representatives going to the UN conference in Paris, the church states: "We want to have a conversation about how we can respond and advocate to our government locally, and listen to how God is calling us to care for creation."
Global Climate Change March
A Global Climate Change March will take place November 29, 1 pm, at Vancouver Art Gallery. Jason Wood of Earthkeepers says:
On the day before this year's climate summit in Paris, individuals, communities and organizations all around the world will take to the streets, united by one global message: Keep fossil fuels in the ground and finance a just transition to 100 percent renewable energy by 2050.
He points out that a number of Christian and faith groups will be participating in this event, including KAIROS, the Canadian Catholic Organization for Development and Peace, Earthkeepers and Fossil Free Faith.
A Climate of Change
More recent, and equally significant for the city church, was the Climate of Change symposium October 21, in which Mayor Gregor Robertson and Roman Catholic Archbishop Michael Miller were joined by representatives from a wide range of environmental, Indigenous, civic and denominational groups to discuss Laudato Si', Pope Francis's new encyclical addressing the world's ecological crisis.
Forum on Fracking
KAIROS Canada also sponsored a Forum on Fracking October 30 – 31. "Fracking activities," they noted, "have led to problems with respect to water consumption, air and water contamination, greenhouse gas emissions and induced seismic activity." (To watch video presentations go here.)