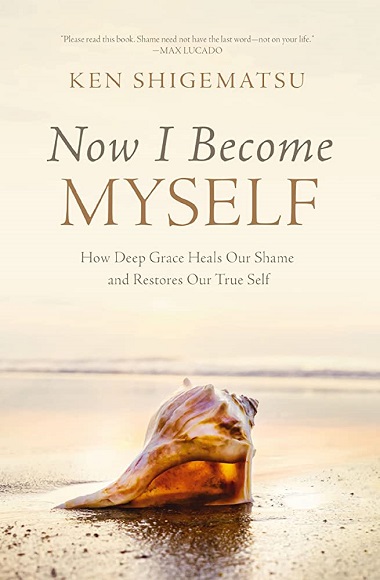 I continue to be impressed by the number and quality of books written by local authors. This is my second round-up of 2023 (on books published late last year and early this year). The first is here.
This week I will look at nine books covering a wide range of topics. The write-ups are generally from Amazon and publisher / author sites.
Ken Shigematsu: Now I Become Myself: How Deep Grace Heals Our Shame and Restores Our True Self (Zondervan)
You're not alone when it comes to experiencing shame or fear of not being enough. Shame isn't felt only by those who have gone through failure or trauma or been told they'll never amount to anything. Many people – even those who are considered successful – struggle with a sense that they are deficient or inadequate.
Drawing on a rich variety of personal experience, Scripture, spiritual formation classics, psychology and relational neuroscience, award-winning author and pastor Ken Shigematsu shows how a deep, experiential encounter with the love of God can heal us of our shame, make us whole again and inspire us to fulfill our purpose by making a faithful contribution to the world.
Now I Become Myself will help you:
Break free of an unhealthy self-image and from jealousy of others' achievements.

Discover how beauty and spiritual joy can help you overcome the unhealthy shame you're clinging to.

Create space in your life to draw close to Jesus and deepen your sense of God's boundless love for you.
Written with pastoral compassion and understanding, Shigematsu's stories and teachings will uplift you and help you break free from the feeling of not being enough so that you can find rest in the security of God's grace.
Each chapter concludes with a prayer exercise intended to nurture your relationship with the God who formed you in love and created you in beauty.
Ken Shigematsu is Senior Pastor of Tenth Church in Vancouver. He received the Queen Elizabeth Diamond Jubilee Medal in recognition of his outstanding contribution to the country and wrote the international bestseller God in My Everything. Before entering pastoral ministry, he worked for the Sony Corporation in Tokyo and draws on both eastern and western perspectives in writing and speaking. Ken lives with his wife, Sakiko, and their son, Joey. Positive reviews for Now I Become Myself came from Max Lucado, John Ortberg, Hilary McBride, John Mark Comer and many others.
Lucia Frangione: Grazie (Talonbooks)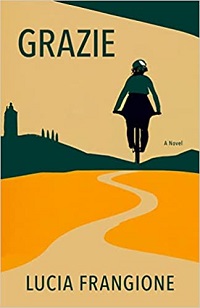 An unforgettable tale of healing and forgiveness. When Graziana's violent stalker dies in a car crash, it kicks off a powerful catharsis, landing her in the psych ward.
Her eight year old, Hazel, becomes the sudden new ward of grandpa 'Grumpy' Herman. Willful and creative, Hazel is a handful for the conservative retired paramedic. Much to her chagrin, Herman is determined to get the neglected little Hazel back on track with her studies and her hygiene.
Meanwhile, Grazie embarks on a necessary path to healing, slowly recovering her health and integrating back into society, working her way towards being able to mother again. With Herman's encouragement, Graziana pilgrimages back to Italy, her late mother's birthplace, to bike the Via Francigena.
Hazel's discovery of her father's identity propels her and Grumpy to go on a pilgrimage of their own. A gritty and spiritual story of transformation, forgiveness, accountability and rebirth, Grazie takes us from Red Deer to Vancouver, from Medicine Hat to Rome, from the Amazon to Andromeda.
Both violent and tender, Grazie examines what it means to feel connection to oneself, one's family, one's history, one's culture and to existence itself.
Lucia Frangione is well known in the Christian community for some of her Pacific Theatre plays, and roles (Espresso, Cariboo Magi, Holy Mo!). She was PT's first-ever apprentice. She is an award-winning internationally produced playwright and actor who has written 30 plays and has performed on many of the major stages across Canada. Grazie is her debut novel. She lives in Vancouver with her husband and two children.
John W. Martens & Paul Turner: Liturgy and Life Study Bible (Liturgical Press)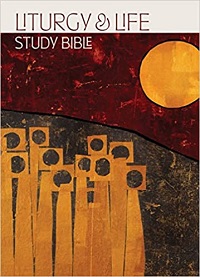 How does the Bible form our worship practices? How does liturgy incorporate the Bible?
Liturgy and Life Study Bible explores these questions and provides answers for today's church. This indispensable guide includes essays from the world's top liturgical and biblical scholars on a variety of subjects, including Jewish liturgical traditions, Psalms as liturgical prayer, early church worship, social justice, sacraments, the Last Supper and more.
Each book of the Bible has an introduction that includes background information and sets the stage for the reader to discern the liturgical content of each book.
Throughout the biblical text, brief comments flag passages that contain something of liturgical or personal prayer interest. A correlation chart highlights the intersection between biblical passages and the Catholic liturgy, listing every place where a verse of the Bible appears in any liturgical book: the Missal, the orders of sacramental rites, even the Roman Gradual and the Martyrology.
This one-of-a-kind tool will serve researchers, catechists, preachers and anyone studying the Bible for the purposes of prayer and meditation.
Liturgy and Life Study Bible, due out later this month. has received high praise from a wide range of Catholic leaders, including James Martin, SJ, author of Learning to Pray, and Kimberly Belcher, Professor of Liturgical Studies, University of Notre Dame.
John Martens, PhD, is Professor of Theology and Director of the Centre for Christian Engagement at St. Mark's College on the UBC campus. He has written extensively on children in early Christianity, including Children and Methods: Listening to and Learning from Children in the Biblical World (2020), with Kristine Henriksen Garroway. Paul Turner is pastor of the Cathedral of the Immaculate Conception in Kansas City, Missouri and director of the Office of Divine Worship for the Diocese of Kansas City-St. Joseph.
Matthew J. Lynch: Flood and Fury: Old Testament Violence and the Shalom of God (IVP Academic)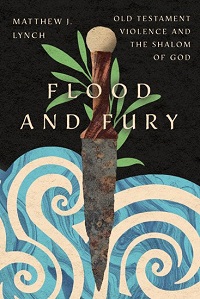 What do we do with a God who sanctions violence?
Old Testament violence proves one of the most troubling topics in the Bible. Too often, the explanations for the brutality in Scripture fail to adequately illustrate why God would sanction such horrors on humanity. These unanswered questions leave readers frustrated and confused, leading some to even walk away from their faith.
In Flood and Fury, Old Testament scholar Matthew Lynch approaches two of the most violent passages in the Old Testament – the Flood and the Canaanite conquest – and offers a way forward that doesn't require softening or ignoring the most troubling aspects of these stories.
While acknowledging the persistent challenge of violence in Scripture, Flood and Fury contends that reading with the grain of the text yields surprising insights into the goodness and the mercy of God.
Through his exploration of themes related to violence including misogyny, racism and nationalism, Lynch shows that these violent stories illuminate significant theological insights that we might miss with a surface reading.
Flood and Fury challenges us to let go of the need to rescue the Old Testament from itself and listen afresh to its own critiques on violence.
Matthew Lynch is Associate Professor of Old Testament at Regent College. He is the author of First Isaiah and the Disappearance of the Gods, Portraying Violence in the Hebrew Bible and Monotheism and Institutions in the Book of Chronicles. He is co-founder of OnScript, a podcast focused on providing engaging conversations on Bible and theology.
Karl Petersen: Stars Beyond the Veil (Friesen Press)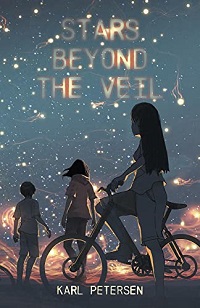 Kate and her two best friends are on the run from the law and find themselves back in the Kingdom of What Is. But what they find is worse than the problems they left behind.
The land they'd risked everything to save years ago is in the hands of Malum, a tyrant who has made the people slaves and blighted every corner of the kingdom with plague and poverty.
But there are whispers that Prince Servan still lives, reigniting hope that Kate may be reunited with him. Together, they may find a way to save the world once more.
Armed with nothing but their wits and courage, Kate and a band of rebels must race against time to stop Malum before he gathers his fleet and sets the kingdom on an irreversible path of extinction.
Karl Petersen received an MTS from Regent College and an MFA in Creative Writing from UBC. He has published two collections of poetry, a childhood memoir and two fantasy novels for young adults. He teaches English at Kwantlen Polytechnic University and lives in Vancouver with his wife and two girls. He recently posted Fantasy as spiritual formation on Church for Vancouver.
Kenneth G. Radant: Grace for Service: An Exegetical Theology of the Spirit's Gifts for Ministry (Wipf and Stock)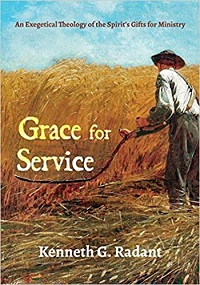 Grace for Service is a thoroughly researched, biblically grounded, personally transformational study of the Holy Spirit's enabling grace for ministry designed to equip leaders who guide the church in its stewardship of God's gifts and to enrich the understanding of Christians who want to go deeper in this important subject.
This book serves up an exceptionally broad buffet of historical, biblical and theological information to help the reader engage the many questions associated with 'spiritual gifts.'
In the process it offers a fresh perspective that transcends typical find-and-use-your-gift teaching and moves beyond the long-standing battles over miraculous gifts. It calls the follower of Jesus to view all dimensions of life through the lens of the Spirit's gracious equipping and enabling work.
Grace for Service is a must-have resource for anyone who teaches about the Spirit's gifts in church and school settings and an essential read for believers who are passionate about the topic but dissatisfied with what they currently know.
Ken Radant is Associate Professor of Theology at Carey Theological College on the UBC campus. Before joining the Carey team in early 2017, he was Principal, Academic Dean and Associate Professor of Theology at the ACTS Seminaries of Trinity Western University. He has also served as Associate Dean and Associate Professor for Ambrose Seminary and as Dean and Professor at Prairie Graduate School.
Lisa Rumpel: Arise, Shine & Live: On Resilience, Faith and Bipolar Disorder (independently published)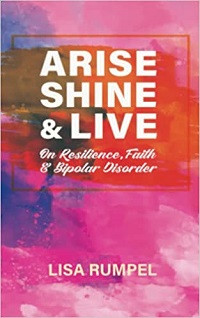 Why should I live?
On top of the normal pressures of grade 12, Lisa Rumpel struggled to cope with hallucinations, rapidly cycling moods and crippling fear. Afraid for her safety, her parents took her to the emergency room, where she was admitted to an adult psychiatric ward for the first of what would become many visits.
Developing her interior life of prayer gave her peace in that turbulent time, while she waited for a diagnosis.
With intimacy and encouragement, Lisa shares her story through a series of essays. Her writing is like a hug from someone who knows what it's like to struggle with a mental illness.
You are not your illness. You have an illness and that's okay. Healing is possible. Compelled to find a way to live a balanced lifestyle, Lisa makes it her goal to be well and let others know it's possible.
Her wellness tool kit is large. She finds many ways to manage bipolar disorder, including: the sacrament of the Eucharist, confession, her love of nature, a positive mindset and the companionship of family and friends.
Lisa's story provides encouragement for anyone with an illness. There is hope no matter what.
Lisa Rumpel is a writer, speaker and host of The Will to Thrive: Stories of Resilience podcast. She studied Creative Writing at Kwantlen Polytechnic University. She appears in the Sanctuary Course for Catholics produced by Sanctuary Mental Health Ministries and was recently profiled in The B.C. Catholic.
Ron Dart: Scrutinizing Scruton: Canadian High Toryism and Scrutonia (independently published)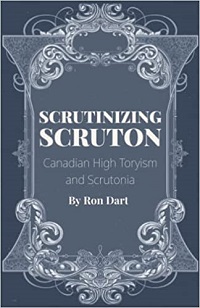 Roger Scruton, when alive (now having crossed the river), can certainly be held high as one of the most thoughtful, insightful, wide ranging in thought and deed conservatives (of a rather rare and high culture variety). Scruton's sheer breadth and depth make most conservatives appear as children tinkering in a sandbox of limited ideas.
The fact that Scruton draws from many wells – literary, philosophic, artistic, political, economic, musical, aesthetic and religious – means his notion of conservatism has an evocative and compelling draw to it.
Many a conservative who longs for that which needs to be conserved in the corrosive power of late modern and postmodern liberalism is, understandably, drawn to Scruton.
But is Scruton a conservative in the much older Tory sense, and how might Scruton be scrutinized from both the classical tradition and the Anglo-Canadian High Tory history and ethos? This book is an attempt to answer such a question.
Ron Dart was on staff with Amnesty International before he joined University of the Fraser Valley in 1990. He will retire from UFV in August. He is the Political Science advisor to the Stephen Leacock Home/Museum, sits on the National Executive of the Thomas Merton Society of Canada and has written on a wide range of people (and issues), including George Grant, Stephen Leacock and Thomas Merton. In all, he has published 41 books.
Sons of the Holy Cross: Legatum II (independently published)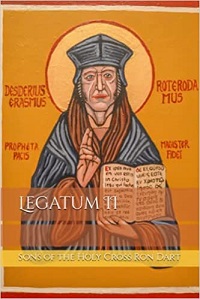 Legatum II (legatum is Latin for legacy) is dedicated to the cloud of witnesses who have gone before us, who cheer us ever onwards from the thin places, to those who carry the well-lit torch, the communion of the saints cheering us forward, a gift and responsibility, in the present tense and for those who the torch will be handed onto on the faith journey.
May we know the times and seasons we live in and, in thought, word and deed, live wisely and well, dive deep for the eternal pearls and offer such time-tried graces to those who long and thirst for that which time and history can never meaningfully satisfy.
And, in the surfacing, embody, in our diverse gifts, skills and temperaments, the meaning of the kingdom of God in all its historic and mature fullness, a comprehensive fullness that lives into and from the contemplative depths, is committed to the life of the church and engaged in the public square as agents of peace, justice and ecological discernment. – Ron Dart
The Contemplative Order of the Sons of the Holy Cross includes the authors of Legatum II: David Knight, Mark Walters, Wayne Northey, Cameron Lesage, Daniel Klassen, Caleb Silveira, T.S. Wilson, Ken Light and Brian Embry.