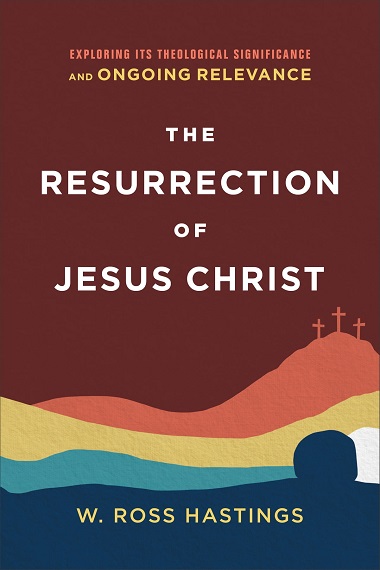 Last year I made the mistake of beginning a round-up of local books in December. It turned out that our authors had been busy – I ended up devoting four posts to them, covering a total of 60 books!
So, this year I'm going to start earlier, and I already have come across 11 new books. (Write-ups are from Amazon or the publisher.)
The first book is particularly timely.
W. Ross Hastings: The Resurrection of Jesus Christ (Baker Academic)
The resurrection of Jesus Christ is one of the best-attested facts of history. But believing in the resurrection is one thing. Knowing what it means is another.
Although much has been written about the apologetics of the resurrection, little has been written about its theological meaning.
This book reveals the hidden depths of the theological significance and ongoing relevance of the resurrection of Jesus Christ for our being, our salvation, Christian life, ethics and our future hope.
Ross Hastings explains that the resurrection has profound consequences for who we are. Jesus as the last Adam formed a new humanity when he rose again. This has significance for our regeneration, our future resurrection, the reaffirmation of creation and the moral order, and ethics.
Precisely because Jesus is the representative man for humanity, the resurrection also has profound consequences for our human salvation. By his resurrection, who we are changes, but who we are before God changes too.
The resurrection is atoning in itself, but it is also the seal of the atonement. It is the gateway to Christ's ascension and high priesthood. The resurrection therefore brings about our justification, sanctification, vocation and glorification.
Ross Hastings is the Sangwoo Youtong Chee Professor of Theology at Regent College. He is the author of a number of books, including Total Atonement, Theological Ethics and Missional God, Missional Church. He holds PhDs in organometallic chemistry (Queen's University, Kingston) and theology (University of St Andrews, Scotland). He has pastored several churches, including Westminster Chapel in Burnaby and Peace Portal Alliance Church in Surrey. Regent College has posted his April 6 book launch on YouTube.
Idelette McVicker: Recovering Racists: Dismantling White Supremacy and Reclaiming Our Humanity (Brazos Press)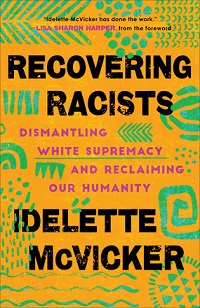 As a white Afrikaner woman growing up in South Africa during apartheid, Idelette McVicker was steeped in a community and a church that reinforced racism and shielded her from seeing her neighbours' oppression. But a series of circumstances led her to begin questioning everything she thought was true about her identity, her country and her faith.
Recovering Racists shares McVicker's journey over 30 years and across three continents to shatter the lies of white supremacy embedded deep within her soul. She helps us realize that grappling with the legacy of white supremacy and recovering from racism is lifelong work that requires both inner transformation and societal change.
It is for those of us who have hit rock bottom in the human story of race, says McVicker. We must acknowledge our internalized racism, repent of our complicity and learn new ways of being human.
This book invites us on the long, slow journey of healing the past, making things right, changing old stories and becoming human together. As we work for the liberation of everyone, we also find liberation for ourselves. Each chapter ends with discussion questions. (From the Foreword by Lisa Sharon Harper.)
Idelette McVicker is founder and president of SheLoves Media Society, an online forum for Christian women that includes SheLoves Magazine and the Dangerous Women membership community. After training as a journalist in South Africa, she lived in Taiwan, where she wrote for daily newspapers. McVicker moved to Canada in 1999 and lives in Surrey with her family.
John Stackhouse: Evangelicalism: A Very Short Introduction (Oxford University Press)
Evangelicalism has rapidly become one of the most significant religious movements in the modern world. An umbrella term that encompasses many Protestant denominations that share core tenets of Christianity, evangelicalism is foremost defined by its disciples' consideration of the Bible as the ultimate moral and historical authority, the desire to evangelize or spread the faith and the value of religious conversion known as being 'born again.'
As the Evangelical movement has grown rapidly, so has its influence on the political stage. Evangelicals affect elections up and down the Americas and across Africa, provoke governments throughout Asia, fill up some of the largest church buildings and possess the largest congregations of any religion in the world.
Yet evangelicals are wildly diverse – from Canadian Baptists to Nigerian Anglicans, from South Sea Methodists to Korean Presbyterians, and from house churches in Beijing to megachurches in Sao Paulo.
Evangelicalism: A Very Short Introduction tells the evangelical story from the preacher-led revivals of the 18th century, through the frontier camp meetings of the 19th, to the mass urban rallies of the 20th and the global megachurches of the 21st.
More than just a sketch of where evangelicals have come from, this volume aims to clearly examine the heart of evangelical phenomenon. Is there such a (single) thing as evangelicalism? What is its basic character? Where are the evangelicals going? And what in the world do they want?
John G. Stackhouse Jr. is Mikolaski Professor of Religious Studies at Crandall University. An award-winning scholar, teacher and public communicator, he has authored and edited over a dozen books and hundreds of articles dealing with the evangelical tradition. He taught for many years at Regent College, and retains a home in this area.
Joel Heng Hartse: Dancing About Architecture is a Reasonable Thing to Do: Writing About Music, Meaning and the Ineffable (Cascade Books)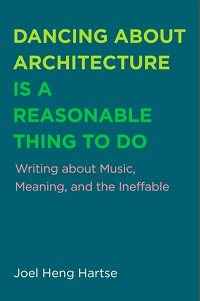 Writing about music, far from being the specialized domain of the rock critic with encyclopedic knowledge of micro-genres or the fancy-pants star journalist flying on private planes with Led Zeppelin, has become something almost any music lover can do – and does.
It's been said, however, that writing about music is a difficult, even pointless enterprise – an absurd impossibility, like "dancing about architecture." But aside from the fact that dancing about architecture would be awesome, what is that ineffable something that drives people to write about music at all?
In this short, insightful book, Joel Heng Hartse unpacks the rock writer Richard Meltzer's assertion that writing about music should be a "parallel artistic effort" with music itself – and argues that music and the impulse to write about it is part of the eminently mysterious desire for meaning-making that makes us human.
Touching on the close resonances between music, language, love and belief, Dancing about Architecture is a Reasonable Thing to Do is relevant to anyone who finds deep human and spiritual meaning in music, writing and the mysterious connections between them.
Joel Heng Hartse works in the Faculty of Education at Simon Fraser University, and before that taught and completed his PhD at UBC. He is the author of Sects, Love and Rock & Roll and, with Jiang Dong,  Perspectives on Teaching English at Colleges and Universities in China. Go here to see the March 24 book launch and here to visit Heng Hartse's Reasonable Things Archive.
Mark Jones: Knowing Sin (Moody Publishers)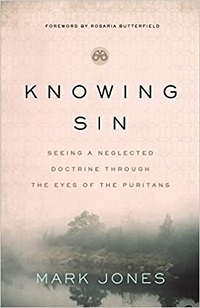 The first rule of combat is: know your enemy.
We don't talk a lot about sin these days. But maybe we should. The Puritans sure did – because they understood sin's deceptive power and wanted to root it out of their lives. Shouldn't we want the same?
Though many books have been written on the 'doctrine of sin,' few are as practical and applicable as this one. In Knowing Sin, Mark Jones puts his expertise in the Puritans to work by distilling the vast wisdom of our Christian forebears into a single volume that summarizes their thought on this vital subject.
The result isn't a theological tome to sit on your shelf and gather dust, but a surprisingly relevant book to keep by your bedside and refer to again and again.
You'll come to understand topics like:
sin's origin

sin's grief

sin's thoughts

sin's temptations

sin's misery

sin's secrecy

and of course . . . sin's defeat!
None of us is free from the struggle with sin. The question isn't whether we're sinful, it's what we're doing about it. Thanks be to God, there is a path to overcoming sin. And the first step on that path to victory is knowing what we're up against. Start Knowing Sin today!
Mark Jones serves as pastor of Faith Reformed Presbyterian Church Vancouver and research associate at the University of the Free State in South Africa. He has authored several books and speaks all over the world on Christology and the Christian life.
Piercing Heaven Prayer Journal: Prayers of the Puritans (Lexham Press)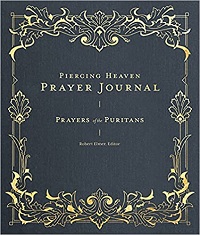 Jenny-Lyn de Klerk wrote the Foreword for the new edition of Piercing Heaven.
For the Puritans, prayer was neither casual nor dull. Their prayers were passionate affairs, from earnestly pleading for mercy to joyfully praising God. These rich expressions of deep Christian faith are a shining example of holy living.
The Puritans' combination of warm piety and careful intellect have fueled a renaissance of interest in their movement. This combination is on display in Piercing Heaven, a collection of carefully selected prayers from leading Puritans.
The language in these prayers has been slightly updated for a modern audience while retaining the elevated tone of the Puritans. With prayers from Richard Baxter, Thomas Brooks, John Owen and many more, Piercing Heaven reminds us that heartfelt prayer is central to the Christian life.
This edition has been reformatted for journaling and meditation. With wider lined margins and a new introduction by Jenny-Lyn de Klerk, readers of the Piercing Heaven Prayer Journal will be able to pray more deeply with the Puritans through note-taking and reflection.
Jenny-Lyn de Klerk is an editor/author with Crossway and has a PhD in Historical Theology from Midwestern Baptist Theological Seminary. She has been closely involved with The Puritan Project at Regent College over the years. (Go here for a Church for Vancouver article.)
Ron Dart et al: Legatum: Volume One (independently published)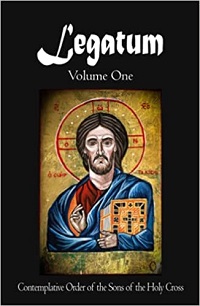 The inaugural edition of Legatum is published by the contemplative order of The Sons of the Holy Cross (SHC), a ministry within the Anglican Church in North America.
SHC was launched in the Diocese of the Anglican Network in Canada in 2016, with the induction of the founders – Richard Roberts, Terry Lamb, and Ron Dart. Since that time, this movement has become international in scope and appeal.
The Order exists to draw together Anglican men (and those from other Christian traditions) into a prayerful and contemplative vision and practice of faith, in a culture and time when many are too busy to be still, and know God.
The framework of contemplative prayer, meditative readings of the Bible and Classical Christian Literature (with lectio divina as a guide), gracious service in the church and world, evangelism and interior openness to the sacramental life of faith are foundational to the Order.
Sons of the Holy Cross seek to be conscious and open to God's work in their lives, and responsive to the instruction and leading of God's Spirit.
In the pages of this periodical you will find an assortment of articles, ranging from personal to politic. It is our hope that the readers will find this labour stimulating and instructional.
Daan Fousert and Monique Melief, translated by Helen Mobach, Against All Odds (Mill Lake Books, November, 2021)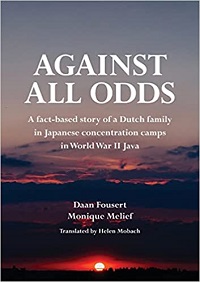 This gripping, intensely written novel tells the story of Jaan Willem Mobach, his wife Johanna, and their six children, who were captured in Indonesia by the Japanese during World War II. In different camps, they experienced horrific things.
Then, two days after the end of the war, Indonesia declared its independence, ushering in another violent period marked by more torture, rape and murder. The family's struggles led them to ponder many things, including the nature of evil, family dynamics and Christian faith.
Daan Fousert, a noted Dutch novelist, tells the story based on two authentic memoirs written by Jaan Willem and his son Jan. To make the picture more complete, author Monique Melief tells the story of mother Johanna from her perspective. The book was originally published in Dutch as Het geluk te overleven. It was translated into English by Helen Mobach, whose late husband Gerard was another of the family's sons.
Helen Mobach substitute taught high school in Abbotsford School District for 12 years. She then taught English as a Second Language to adult immigrants for 15 years under the umbrella of Abbotsford Community Services. Mill Lake Books was founded by James R. Coggins and is based in the Fraser Valley.
Grace Fox: Keeping Hope Alive: Devotions for Strength in the Storm (Aspire Press)
Life changes in a nanosecond when storms sweep in, o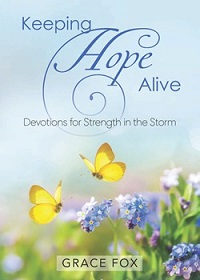 ften without warning. They leave our knuckles white and our hearts broken. With minds barely able to think clearly, we often set our Bible aside. In reality, that's when we need its comfort and strength most.
This devotional is written for those in crisis, for those longing for hope but lacking the ability to focus on a lengthy Scripture passage. These minute-sized devotions offer respite to readers caught in the storms of life.
Each of the 90 devotions follows a pattern:
key verse
pause (devotion)
ponder (application question or action step)
pray (short prayer)
relevant quote
Readers of these devotions are facing difficult circumstances and need spiritual encouragement in bite-sized pieces. Their greatest need is hope. They need reassurance that God's love will never let them go. His presence will never leave them, and His strength will carry them through.
Grace Fox is a career missionary and international speaker at women's events. Her passion is to connect the dots between faith and real life by helping others learn to love, understand and apply God's word. She has written 12 books, is a member of the First 5 writing team (Proverbs 31 Ministries) and co-hosts the podcast Your Daily Bible Verse. She and her husband Gene live on a sailboat in Vancouver.
Paul Bramadat, Patricia O'Connell Killen, Sarah Wilkins-Laflamme, editors: Religion at the Edge: Nature, Spirituality and Secularity in the Pacific Northwest (University of Chicago Press, distributed by UBC Press)
None of these editors lives in Metro Vancouver / Fraser Valley (Paul Bramadat is in Victoria), but the content is very much related to our communities. See my 'Around Town' column this week which describes the content of the book and a related upcoming webinar.
Rod Wilson: Thank You. I'm Sorry. Tell Me More: How to Change the World with 3 Sacred Sayings (NavPress)
This book was published earlier this year, but I already wrote it up here and referred to it in this comment. Regent College President interview Wilson about the book here.