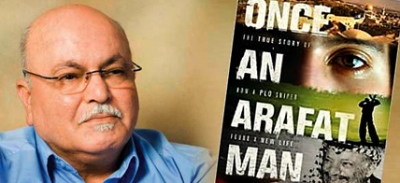 Tass Saada will speak at several events in the  Metro Vancouver area this week, telling of his transformation from a Palestinian militant into a Christian who works for the good of both Israel and the West Bank and Gaza Strip.
After the humiliating Arab defeat in the 1967 war with Israel, Saada joined the Fatah Forces (Palestine Liberation Organization under Yasser Arafat). He was trained as a sniper to kill Jews; he also trained children to fight and kill Jews.
His life changed dramatically during the 1970s though. "After several years with Fatah, family circumstances drew him back home. Then, desperate for a change, Saada moved to the United States in 1974, married an American girl (Karen), and became successful in business.
"He gained American citizenship in 1979, and in 1993 he had an amazing conversion from anger to love, which is covered in his book, Once an Arafat Man.
"Although he enjoyed his life in the US, Saada realized the people of his homeland were still trapped in a cycle of violence, poverty and despair. In response, he and his wife founded Hope for Ishmael, a religious organization intent on making a difference, one life at a time, in Israel and the West Bank."
Saada is here as a guest of ICR Canada, "an inter-church organization which provides spiritual and material assistance for persons who are persecuted as a result of their Christian beliefs." The largest of his engagements will be held on Sunday (March 30) at Surrey Pentecostal Assembly.
Renewing the Mind: Conquering Addictions Together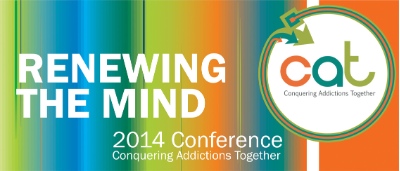 The church does so much to help people with addictions. Every day, pastors counsel people, churches welcome AA meetings and ministries like the Salvation Army, Union Gospel Mission and BC Teen Challenge house and guide hundreds of people.
Two groups whose profiles are slightly lower, but whose work is equally valuable, will be hosting an important networking and training event for people working in the field. Mercy MInistries and Wagner Hills Ministries, along with host church Northside, are sponsoring the Conquering Addictions Together Conference, which "brings together a wide variety of disciplines including healthcare, academia, ministerial and mental health."
They say the conference would be appropriate for:
Vocational church/parachurch workers (pastoral staff, chaplains, street outreach workers);
Addiction treatment and recovery ministry professionals;
Recovery agency leaders and caregivers;
Researchers and educators;
Students entering the field of addictions;
Lay men and women interested in networking with local resources.
The two-day conference will focus on the theme of 'Renewing the Mind,' considering the important role mental processes play in treatment of addictions.
The history of the event demonstrates how a wide range of people and organizations are working together:
"Through a shared vision to bring together multi-disciplinary faith-based addictions service providers in the Lower Mainland, Dr. Frank Anderson (LAIR Centre), Dr. Larry Perkins (Northwest Baptist Seminary) and ACTS Seminaries birthed what would become the Conquering Addictions Together Conference. They were later joined by CCAMP (Canadian Christian Addiction Ministry Providers) and Freedom Session International to host the first conference in 2011.
"After the success and warm welcome from the broader community, plans commenced for this year's upcoming conference. The planning team has now expanded to include other like-minded individuals from various professional organizations.
"The foundational vision remains, to connect people of faith who serve in the area various fields of addictions, promoting excellence in service to those struggling with addictions through the power and spirit of Jesus Christ."
Agora Lunch / Business By the Book
Coming up early next week are a couple of useful networking opportunities for business types in the Downtown core.
Jonathan Chan and his Company of Disciples are in the midst of a four-week Agora Lunch Series at Christ Church Cathedral.
Next Monday (March 31), Melissa Skelton, Bishop of the (Anglican) Diocese of New Westminster, and a former Proctor and Gamble executive, will explore the topic 'Bringing our Whole Selves to Work." A week later (April 7), the guest will be Jason Boyer, a vice president in the Deals Practice of Price Waterhouse Coopers in Vancouver.
Just a couple of days later (April 2) Business By the Book will hear from May So at the Fortis BC Centre, which is on Georgia Street between Christ Church Cathedral and Coastal Church, which co-sponsors the event.
May So is an architect "who specializes in creating spaces where people feel like they belong. Inspired by values of social justice and creativity, her design and project leadership at Henriquez Partners Architects over the last 12 years has contributed to the success of civically significant projects such as the Woodward's Redevelopment. She currently manages TELUS Garden, a $750 million, 1 million square foot residential and office development at the TELUS headquarters in downtown Vancouver."
Mar 2014
Sharalee Regehr: Women of Substance
– March 24, 2014 - March 27, 2014 at All Day
Company of Disciples: Agora Lunch Series - Michael Todd
– March 24, 2014 at 12:00 pm - 1:00 pm
The Seafarer
– March 24, 2014 - March 29, 2014 at 8:00 pm - 10:30 pm
Iain Provan: Seriously Dangerous Religion? The Importance of the Old Testament for Human Rights
– March 25, 2014 at 7:30 pm - 9:00 pm
VST Book Launch
– March 26, 2014 at 3:00 pm - 5:00 pm
Once an Arafat Man: Tass Saada Shares His Story
– March 26, 2014 at 7:00 pm - 8:30 pm
Trinity Western Chamber Choir and Orchestra
– March 27, 2014 at 7:00 pm - 9:00 pm
Gordon Smith: The Sanctification Gap – Is the Church Committed to Spiritual Maturity?
– March 27, 2014 at 7:30 pm - 9:00 pm
Renewing the Mind 2014 Conference: Conquering Addictions Together
– March 28, 2014 - March 29, 2014 at All Day
Reading the Bible for All Its Worth (Mandarin Seminar)
– March 29, 2014 at 9:00 am - 3:00 pm
Revival Healing Service
– March 29, 2014 at 1:15 pm - 4:00 pm
Once an Arafat Man: Tass Saada Shares His Story
– March 30, 2014 at 6:30 pm - 8:30 pm