Thursday (April 3) will be a good day for those who appreciate art. Out at Regent College's Lookout Gallery, an opening reception for Via Crucis: The Way of the Cross will introduce the work of five local artists.
Dan Law, David Vegt, Matthia Langone, Laura Rosengren and Alec Arnold depict the various stations of the cross. The show runs until May 9 if you can't make the opening.
On the other hand, L'Arche's Art of Being Together will be over in one evening. With institutional support from the likes of Vancity and CTV, this normally low-key enterprise (which supports people with developmental disabilities) will celebrate art and creativity very publicly at the Nikkei Centre in Burnaby Thursday evening.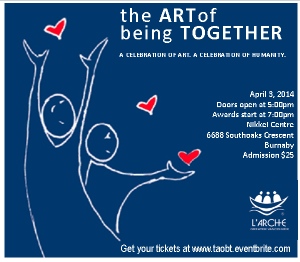 "The Art of Being Together is a unique, signature event that brings together people with developmental disabilities, artists, respected art judges, sponsors, friends of L'Arche and the general public, all in support of L'Arche and in celebration of 'togetherness.' It is L'Arche Greater Vancouver's major fundraiser and an opportunity to bring L'Arche's mission to the larger community.
"Guests will have the opportunity to browse through art pieces done by local artists as well as pieces completed by teams at L'Arche. There will be the opportunity for guests to vote on their favourite piece at the event and a 'People's Choice' will be awarded at the end of the evening.
L'Arche Greater Vancouver – part of a movement founded by Jean Vanier – "is an intentional community of approximately 120 people sharing life and work together. We have six homes and two-day programs and are involved in initiatives of welcome and outreach to the wider community."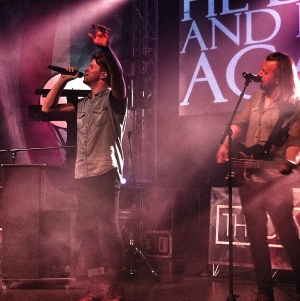 The City Harmonic
Not too many Christian rock bands come to town these days, so the appearance of The City Harmonic at Coquitlam Alliance Church this Thursday (April 3) should draw a good crowd. They won a Juno Award last year for Christian/Contemporary Gospel Album of the Year and were nominated again this year (losing out to Abbotsford's Tim Neufeld).
Their 'Heart Tour' – named after their latest album – marks the band's first Canada-wide worship tour; Coquitlam Alliance is the last stop. The band was formed four years ago by four worship leaders in four churches in Hamilton.
Ryan McAllister will open for The City Harmonic. The talented local musician had a serious taste of worldly success when his band Dakona signed with Madonna's Maverick Records for $2.2 million, but then lost their deal when the company collapsed. After dealing with the disappointment, and even disillusionment, Ryan returned to making and producing music full-time, from the Fraser Valley farm he grew up on. He has a gospel album due out this spring.
BC Christian Soccer League
Games start this Friday (April 4) in the BC Christian Soccer League. Hundreds of men and women from 42 Metro Vancouver churches will play until the finals in early July. Three divisions mean there is room for a wide range of skills.
Vancouver Awards of Excellence
Here's a great opportunity to nominate someone you know for a Vancouver Award of Excellence. Here's part of Mayor Gregor Robertson's invitation:
"Anyone who lives here in Vancouver knows that it is our people who make this city great. Leaders with a commitment to innovation, sustainability and giving back to our community help make life better for all of us, and the City of Vancouver needs your help to recognize their excellent work.
 
"Anyone can nominate an organization, business or individual (adults, youths 18 years or younger, and children). You should make a nomination!
"The Awards of Excellence include 21 awards in six categories:
Accessible City
Business Innovation
Civic Volunteer
Diversity and Inclusion
Greenest City Leadership
Healthy City for All
"I'll be presenting the awards at a public ceremony in June, and together we'll celebrate achievements that benefit all of us by making Vancouver a greener, healthier, more diverse, accessible and prosperous city."
Go here for directions. Nominations close April 9, awards ceremony June 23.
Mar 2014
Company of Disciples: Agora Lunch Series - Melissa Skelton
– March 31, 2014 at 12:00 pm - 1:00 pm
Michael Wilkinson: Prayer and the Heart of Religion
– March 31, 2014 at 7:00 pm - 8:30 pm
Apr 2014
Tim Bratton: My Own Personal Jesus
– April 1, 2014 at 7:30 pm - 10:00 pm
Vancouver Pastors Prayer Fellowship
– April 2, 2014 at 10:30 am - 12:30 pm
Business By the Book: May So
– April 2, 2014 at 12:00 pm - 1:00 pm
Via Crucis: The Way of the Cross (opening reception)
– April 3, 2014 at 4:30 pm - 7:30 pm
L'Arche Greater Vancouver's Fifth Annual Art of Being Together
– April 3, 2014 at 5:00 pm - 9:00 pm
A Night of Worship With The City Harmonic, and Ryan McAllister
– April 3, 2014 at 7:00 pm - 10:00 pm
Perogy Night in Vancouver
– April 4, 2014 at 5:00 pm - 8:00 pm
Planted . . . From Smallest Seed: An Evening With A Rocha
– April 4, 2014 at 7:00 pm - 9:00 pm
Spring Earthkeeping Institute
– April 4, 2014 - April 5, 2014 at 7:00 pm - 4:30 pm
Dream Catchers Concert
– April 4, 2014 at 7:30 pm - 9:30 pm
Missions is (not) a Laughing Matter, with Phil Callaway
– April 4, 2014 at 7:30 pm - 9:30 pm
The Handel Society Presents Johann Sebastian Bach's St. John Passion
– April 4, 2014 at 7:30 pm - 9:30 pm
Sheree Plett
– April 4, 2014 at 9:30 pm - 11:30 pm
Seeking God's Face: Worship For All God's People
– April 5, 2014 - April 6, 2014 at All Day
Praying With the Arts: The Suffering and Glory of Christ
– April 5, 2014 at 8:30 am - 1:30 pm
Dr. Paul Pearce: Transitions of Life - Healthy Aging, Retirement & the Spiritual Journey
– April 5, 2014 at 9:00 am - 3:00 pm
EWTN's Free Family Celebration
– April 5, 2014 at 9:45 am - 6:00 pm
Vancouver Eastside Vineyard Church 25th Anniversary Party
– April 5, 2014 at 2:00 pm - 7:00 pm
Way of the Cross With Migrant Workers
– April 5, 2014 at 2:00 pm - 4:30 pm
Freedom Singers
– April 5, 2014 at 7:00 pm - 9:00 pm
How to Keep Living Generously in a Fearful World
– April 5, 2014 at 7:00 pm - 9:00 pm
The Handel Society of Music: St. John's Passion
– April 5, 2014 at 7:30 pm - 9:30 pm
Universal Gospel Choir
– April 5, 2014 at 7:30 pm - 9:30 pm
Vivaldi Chamber Choir: Inspiracion - La Missa Criolla
– April 5, 2014 at 8:00 pm - 10:00 pm
Community Camp Fair
– April 6, 2014 at 2:00 pm - 5:00 pm
Film screening: Migrant Workers Justice
– April 6, 2014 at 6:00 pm - 8:00 pm
Prayerwall
– April 6, 2014 at 6:00 pm - 8:00 pm