Update (October 10): Good news – as in good media coverage. The Sun, the Courier, News 1130 and 24 Hours all covered the MVA's Municipal Accountability Assembly.
***********
As far as I can see, Metro Vancouver Alliance (MVA) still isn't getting the kind of press coverage it deserves. But that may change when delegations from its 50 member organizations, representing 200,000 citizens, gather at the Italian Cultural Centre for a Municipal Accountability Assembly, Thursday night (October 9).
I certainly hope so, because the organizers have worked hard, for years, to pull this movement together. And since the MVA drew 650 delegates representing community, labour and faith groups to its founding assembly March 19, activity been constant.

According to the MVA, "This exciting exercise in non-partisan grassroots democracy will bring together close to 1,000 people from across our membership, along with senior civic, faith and community leaders. Politicians of all parties will be asked to commit to MVA's proposals on housing, transit, poverty and social isolation, and work with us on making them a reality." Since this spring, four Research Action Teams have developed specific proposals in the run-up to the November municipal elections.
The Municipal Accountability Assembly will host the three main mayoral contenders – incumbent Gregor Robertson (Vision), Kirk LaPointe (NPA) and Meena Wong (COPE), along with Adriane Carr (Green Party councillor) – for the first time in this election campaign.
There are 25 faith groups among the 50 member organizations; the Roman Catholic and Anglican communities are particularly well represented, but Baptists, Presbyterians, Lutherans and ecumenical bodies are also in the mix. The Catholic Archdiocese of Vancouver is one of four sponsoring groups, along with Vancity Saving Credit Union, the BC Teachers Federation and IBEW Local 258.
I will let MVA speak for itself. And hope to see more media coverage from now on.
Metro Vancouver Alliance is a broad-based alliance of 50 civil society institutions from across the Metropolitan Vancouver who work together for the common good. Over the past year and a half the Alliance has held thousands of conversations with people from our member institutions about the challenges they face and the changes they want from to see from their Civic government.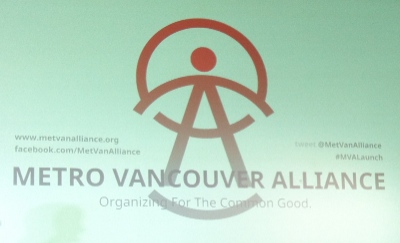 At our Municipal Accountability Assembly, we will commit to working with Vancouver's Civic government on the four issues – social isolation, transit, poverty and housing – that our member institutions felt they had in common and could work on together.
We will also ask candidates in the upcoming municipal election to commit to specific, achievable, proposals – proposals that will make Vancouver a more inclusive, fairer, better housed city, where citizens can travel on a well-planned, accessible, affordable transit system.
Here are our commitments and our proposals.
A more inclusive city
Social isolation is a widespread problem with serious long-term consequences. In a recent Vancouver Foundation survey, one in four Vancouver residents said that people felt socially isolated, disconnected from their community, lonely and depressed.
We commit to:
Use the power of MVA to create sustainable geographical clusters where neighbours can get to know one another, build trust and tackle local issues
Use the strength of neighbourhood clusters to reach out to other communities, particularly aboriginal , youth, refugees and immigrant communities
Use the strength of neighbourhood clusters to support other MVA campaigns around housing, transit and poverty
We will be asking candidates to:
Work with MVA to develop innovative solutions to social isolation
Reform the permit process to facilitate small, local organizations wishing to put on events
A city on the move
Since 2007 public transit service levels have remained practically unchanged, while demand has soared. MVA supports the Mayor's first choice of re-directing a portion of the BC Carbon Tax to sustainable transportation improvements.
We commit to:
Call on our member organizations to support the transit referendum campaign, to rally the people within our organizations and then to carry the message forward into the greater community
Encourage political participation in our member institutions to increase levels of voter turnout
We will be asking candidates to:
Actively campaign, and encourage your supporters to vote to pass the transit referendum;
Actively advocate for affordable transit in the region for all
Participate in at least two Metro Vancouver Alliance forums on transportation issues before and after the referendum
A fairer, living wage city
Vancouver has the second-highest child-poverty rate among Canada's 20 largest urban centres despite the fact that a third of poor children live in working families. Every member of the community is affected by low-wage poverty.
We commit to:
Campaign tirelessly for every working person in Vancouver to be paid at least the Vancouver Living Wage
Work towards all of our member communities becoming Living Wage Employers
Support the Mayor of Vancouver, Council and city staff in introducing a Vancouver living wage policy
We will be asking candidates to:
Commit to developing a plan to make the City of Vancouver a Living Wage employer for all directly and indirectly employed city workers
Promote the living wage to other municipalities and employers
A better housed city
Rising land values have led to a crisis of affordability and an epidemic of renovictions and greed evictions. Vancouver is ranked as one of the least affordable cities in the world.
We commit to:
Make available to the Mayor of Vancouver and city staff personal testimony, community case studies and all information needed to identify weaknesses in current by-laws
Work with our member institutions to develop innovative solutions to the affordability crisis.
We will be asking candidates to:
Strengthen, enforce and extend by-laws which ensure decent standards of maintenance and protect tenants from renovictions
Make covenants a component in all new developments, locking in truly affordable purchase and rental housing in perpetuity