"We don't know what will happen, but God does." So said Fr. Richard Soo at an Ecumenical Prayer Rally for Peace and Human Rights in Hong Kong, in front of the Chinese Consulate last Saturday (October 4). Numbers are down at the Hong Kong demonstrations, but it is certainly true that only God knows what will happen in the long run.
The Vancouver rally reflected the involvement of Christians in the Hong Kong protest movement.
In Vancouver, Fr. Richard, of
Eastern Catholic Church
in Richmond, said, "We're here because we are all children of the one God in heaven, and when one person feels pain we all feel their pain . . . we are one in the Lord."
To gain some sense of the range of opinions about Hong Kong among Vancouverites with roots in Hong Kong – about 100,000 strong – check out these two recent Douglas Todd articles.
The first article – Will Hong Kong crisis cause another mass exodus to Canada?  – consulted with four people. Two supported the protest movement strongly. Jonathan Chan, executive director of Company of Disciples, a Christian ministry to young professionals, was more equivocal. He supports the ideals, but "said most middle-class and affluent Hong Kong residents, including his relatives, don't really care about the protests, with many finding it annoying." Then, according to the article, he added that if the Hong Kong student protesters were his children, "I'd tell them to go home and study hard for school and find a different way to make the world a better place."
Both he and
Pitman Potter
(UBC law professor and HSBC Chair in Asian Research at UBC's Institute of Asian Research) said the protesting students do not have much support among the business and professional elites, and that those elites, at least, are not anxious to leave Hong Kong. (Pitman, by the way, is a
man of many talents
: a deacon at St. Helen's Anglican Church in Point Grey, he has been active in working for the homeless in his area, written a book on
The Gospel and the Grateful Dead
. . .)
The second article – Hong Kong protests: Five Chinese-Canadians weigh in – featured comments from five locals. Apart from Ted Ng, they were Daniel Louie (pastor of Urban Village Church); Esther Yuen, Anna Li and Abraham Wong (all Christians). In general, they took exception to the perspectives stated by Jonathan Chan.
Daniel, for example, said:
I would argue that there is much more interest in the issue and much more support for the protesters than Jonathan believes. . . . Caring about the protests in Hong Kong matters because the best practice of one's faith in Christ must include love, compassion and solidarity with those that are poor, marginalized and suffering. For me, this includes challenging the notion of keeping business as usual going in Hong Kong, particularly under a regime that has demonstrably been shown to enact human rights abuses, corruption and suffering for its own people.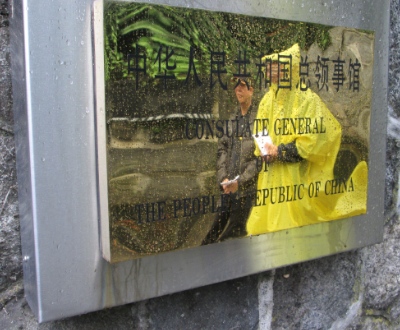 Ted Ng wrote about the issue of immigration:
The assumption that the crackdown on pro-democracy protesters would have to be more severe before Vancouver experiences an influx of immigration from Hong Kong is erroneous. Todd should not be asking the opinions of those who are not on the front line of reading immigration influx.
The right people to ask are realtors, among others. In my conversations with realtors, the influx has already begun. Houses are being bought in Vancouver and Hong Kong-based purchasers are either in the process of leaving or creating a plan B to leave in case things get worse politically.
I recommend reading the columns. Of course, they provide a small sampling of local Chinese-Canadian opinion on the Hong Kong protests – and may, as in all reportage, miss some of the nuances of each person's position – but it is good to see that those opinions have been solicited.
Update: Jonathan Chan responded October 9, on Douglas Todd's blog site, to those who had taken issue with some of his comments.
Homeless Action Week
October 12 – 18 is Homeless Action Week, and you can find plenty of activity by Christians if you check around a little bit:
* Land Development with a Social Lens
The Peninsula Homeless to Housing Task Force (PH2H) is putting on what looks to be a very valuable event –
Land Development with a Social Lens
– at Gracepoint Community Church in South Surrey October 17.
Here's how the event is described:
Church congregations, non-profit societies and service groups struggle with the competing demands of pursuing social mission and meeting financial needs. How can congregations and other organizations use their land assets to meet the multiple demands of financial needs, community space, affordable and market housing. We will have representatives speaking on successful redevelopment projects.
Speakers include: Rev. Jim Smith, Central Presbyterian Church in Vancouver (see related story
here
); Margaret Eberle, senior housing planner, Metro Vancouver; Terry Harrison, property resource team lead, BC Conference, United Church of Canada; Emily Beam, manager, strategic programs, VanCity; and Robert Brown, president, Catalyst Community Development Society.
* City of Vancouver
* Reflected Light
Union Gospel Mission is putting on
Reflected Light:
Exploring Photo 101 in the Downtown Eastside – "a documentary that investigates beauty, photography and community in our neighbourhood." Peruse a pop-up market featuring local handmade goods, meet the filmmaker and hear from panel participants after the film. Though the screening is free, you must reserve your ticket by contacting haw@ugm.ca or 604-215-5445 ext 359.
This
article
in the
Vancouver Courier
tells some of the story.
Seventh-day Adventists / Burnaby Homelessness
Creekside Community Church
and
Deer Lake School
have partnered with the Burnaby Task Force on Homelessness to help address some of the urgent needs facing Burnaby residents who are ill-equipped to deal with the onset of winter due to issues of poverty and homelessness.
October 7, 2014
The Challenges of the Christian Convservationist
– October 7, 2014 at 12:00 pm - 1:30 pm
C2C 2014 Fall Celebration Banquet
– October 7, 2014 at 6:00 pm - 9:00 pm
October 8, 2014
Dr. Katharine Hayhoe: Chapel Talk - God's Second-greatest Gift
– October 8, 2014 at 11:00 am - 12:30 pm
Strengthening the Servant's Heart: Featuring Dr. Gary Inrig
– October 8, 2014 at 6:30 pm - 8:30 pm
Dr. Katharine Hayhoe: Climate Change - Facts, Fictions and Our Faith
– October 8, 2014 at 7:00 pm - 9:00 pm
Is Theology for the Birds: Bibles, Binoculars and Planet Saving
– October 8, 2014 at 7:00 pm - 9:00 pm
October 9, 2014
Dr. Katharine Hayhoe: Chapel Talk - Loving Our Global Neighbour
– October 9, 2014 at 11:00 am - 12:30 pm
Jerry Whitehead: Inspirations - Opening Reception
– October 9, 2014 at 4:30 pm - 7:30 pm
Andy Steiger: Can a God That Allows Suffering Really Be Good?
– October 9, 2014 at 7:00 pm - 9:00 pm
Municipal Election Accountability Assembly
– October 9, 2014 at 7:00 pm - 9:00 pm
October 10, 2014
Coming Out on Mental Illness
– October 10, 2014 at 7:00 am - 8:30 am
Vision Sharing: The Aboriginal Life
– October 10, 2014 at 3:00 pm - 4:30 pm
October 11, 2014
Harvest City Church 50th Anniversary
– October 11, 2014 at All Day
Equip to Transform the City
– October 11, 2014 at 9:00 am - 12:00 pm
October 12, 2014
Jazz Vespers: Jennifer Scott & Rene Worst
– October 12, 2014 at 4:00 pm - 5:30 pm