The bad news is that Mission Central (formerly Missions Fest Vancouver) will soon be closing its doors.
But there is some good news. There will be a final event early next year (January 27 – 29).
In the meantime Mission Central is sending out this call for anecdotes, stories, recollections and reminiscences from many of the tens, possibly hundreds, of thousands of people who have attended Missions Fest at the Vancouver Convention Centre (and before that, MacPherson Convention Centre in Burnaby):
We know that Mission Central and Missions Fest Vancouver conferences and events have impacted many thousands of people from 1984 to the present. We're working on compiling a collection of stories and memories to celebrate the impact of our organization and the countless connections and opportunities that have been created and had their own harvests. We'd love to know your story, too!
Whether you've been connected with Mission Central for decades or just attended one very meaningful conference, we want to hear from you.
If you have been a church representative or pastor, a volunteer, an attendee, an agency representative, a speaker, a staff member – however you've been connected with us – your story matters to us and we want to be able to celebrate it, and many others like it!
Please consider sharing your experiences here. If you have more to share, feel free to submit the form more than once, or just send us your story (and photos!) by email to [email protected].
We can't wait to hear from you!
Anyone who attended Missions Fest over the years will remember the pleasure of bumping into old friends from all parts of the Christian community while milling about visiting the many booths hosted by a wide range of missions, social justice groups, schools, camps and churches.
(Our kids loved wandering about collecting the free candy and treats handed out by many groups. One son emerged like a bee from a bottle the only time we made the mistake of placing them in the onsite daycare.)
Many well known Christian missionaries and leaders have spoken at Missions Fests over the years, including Tony Campolo, Joni Eareckson Tada, Helen Roseveare, Don Richardson, Bruce Olson, Jackie Pullinger, George Verwer, Gracia Burnham, Soong-Chan Rah, Os Guinness, Rick Love, Joshua Bogunjoko, Shane Claiborne, Ray Bakke, Salim Munayer, Russ Stendal, Alan Hirsch and many more.
Not surprisingly, some of the lesser known speakers and some local participants (Julia and Keith Garratt, James Grunau and Cathy Peters come to mind) were every bit as inspiring.
Mission Central has audio recordings of most of these speakers, and is working on a timeline.
Executive Director John Hall and his team sent out an email to supporters October 19, saying "Your help is needed!":
Mission Central is well along in our planning for the SERVE and CREATE conferences on January 27 – 29, 2023.
We are thrilled and challenged by the weight of the theme of unity, which God has laid on our hearts. You can read more about our thoughts on this critical topic here.
SERVE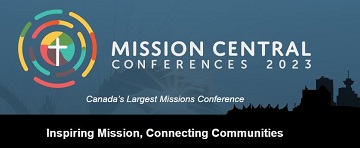 (formerly Missions Fest Vancouver) will host over 100 mission agencies, seminars and great speakers like Kevin Palau, Lisa Pak and Steve Schroeder. CREATE will host films, workshops and plenary sessions from leading artists from around North America.
We anticipate that in the next few months significant additional funding will be needed to produce SERVE and CREATE.
Over our 39-year history these events have planted vision and passion in people, aiding the advance of the Gospel around the world.
Go here to donate and here to learn about ways to get involved.
The annual event, interrupted by the pandemic, has been such a major blessing to the Christian community in this area. This is the time to remember and support Mission Central / Missions Fest. And get ready to come out January 27 – 29!