Ships in the harbour, ships at dock. Every Vancouverite is accustomed to these sights. But very few of us get a glimpse into life aboard those ships, or to visit the docks, most of which are off-limits to the general public.
So it was a treat to join Gary Roosma July 11 at the Flying Angel Seafarers Club for a visit to a cargo ship in port, and to be invited on a harbour tour that evening.
Roosma is one of three chaplains with The Mission to Seafarers. He is supported by the Christian Reformed community, while Peter Smyth is senior port chaplain with the Anglican Church of Canada and Dileep Athaide represents the Roman Catholic Church. They are joined by intern chaplain Vincent Ng, who speaks Mandarin and Cantonese.
Going on board
We began by packing up loaves of bread and baked goods donated by COBS Bread (which deserves a lot of credit for its generosity; many church ministries and non-profits receive bread from them regularly).
Then, donning bright work vests and hard hats, we drove from the Flying Angel Seafarers Club along the waterfront to the Ceylon Princess, which was berthed at Pacific Grain Elevator, loading soy beans for Bangladesh. The ship was in port for several days before heading on to Singapore for refueling.
A typical ship's crew would number in the twenties, but this ship carries includes a number of cadets, meaning there are more than 40 on board.
Gary knew one of the crew from a previous trip and it wasn't long before we were offered a free lunch in the officers' messroom. Excellent food, vegetarian and quite spicy. The ship's captain and several officers came in to chat while we were there.
The chief engineer was Catholic, apparently the only Christian on the ship, along with a great majority of Sinhalese (Buddhists) and a couple of Muslims. We spoke about the mass killings of Christians in Sri Lanka at Easter.
One crew member asked whether I knew of Michael Ondaatje, the Sri Lanka-born Canadian writer. Fortunately I did.
While we chatted, another fellow asked whether he and a dozen or so others could hitch a ride back to the centre in the Mission to Seafarers van. Apparently they are not allowed to walk from the ships across the train tracks began of the danger of accidents. So they must rely on either taxis or the van. Gary dropped me and the first group off at the centre and went back for more.
Many visits
Gary says he used to feel nervous when he went on board ships, but now almost prefers not knowing what to expect. He says there is almost always a positive reception, and he hears many interesting stories on each ship. Because he spent several years as a missionary in East Malaysia, he can speak comfortably with seafarers from Malaysia and Indonesia.
He makes several such trips each week, both in Vancouver at the mission's Robert's Bank centre. Free wi-fi and the chance to relax in a homey atmosphere mean that the clubs are more than just a drop-off point for seafarers. And the service continues year-round.
Gary gave me some of the numbers:
Total ship visits for 2018 amounted to 478 ships by me, and an additional 80 ships by our intern, Megan Apperloo. So the grand total of ship visits by the ministry was 558.
Total ship visits combined for our three-agency partnership were 1,313. Total visits to our seafarers' centres for 2018 were 10,229 at Roberts Bank, and 4,545 at Waterfront. These figures compare with 9,778 at Roberts Bank in 2017 (4.6% increase) and 3,317 at Waterfront (37% increase). The large increase at Waterfront is mostly attributable to increased ship visiting at the downtown terminals.
Lonely life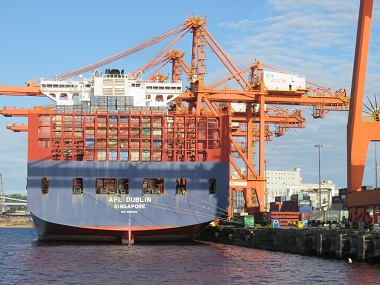 Vancouver Sun reporter Douglas Todd wrote an in-depth article ('Lighting up the lonely life of seafarers') about the chaplains' work last year, just before Christmas. He said, in part:
Metro Vancouver has the largest port in Canada. At any moment about 50 bulk carriers, container ships and tankers are anchored in our harbour or berthed at our terminals. More than 3,200 foreign vessels arrive in Metro Vancouver terminals each year.
Most are connecting to China, followed by Japan, Korea, the U.S. and India. They carry coal, grain, automobiles, oil and mountainous 20-storey stacks of metal containers, packed with who knows what. Often even ship captains don't really know what the containers contain. . . .
The sailors are almost all men. Some come from countries like Ukraine, Egypt and Russia. But the biggest groups are of people earning money to provide for distant loved ones in India, China and especially the Philippines.
"They don't have the normal routine of life, which is to go to work and then go home to their families. They live in their own little worlds. And whenever they're anchored in English Bay, that sense of isolation is heightened," [Anglican chaplain Peter] Smyth said.
"One seafarer described it as like living in a goldfish bowl. They're looking out, but the world's not looking back." . . .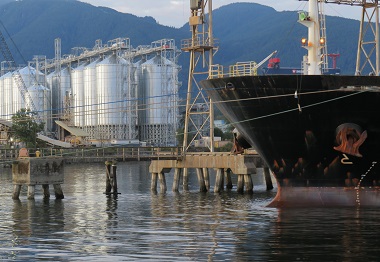 There are more than one million seafarers. They work on roughly 60,000 freighters, which often sail under "flags of convenience" from countries with low labour and safety standards.
Each week, two commercial ships are lost at sea, but the public rarely hears about them. They either sink or are abandoned in typhoons, fires or collisions, especially in the South Pacific. Many of the vessels, which normally run on "dirty" bunker oil, are poorly maintained.
Commercial seafaring is considered the second-most dangerous occupation in the world. Each year, 2,000 seafarers lose their lives, according to the International Transport Workers Federation. And that's not to mention the danger posed by pirates, who are plentiful in the Indian Ocean and South China Sea.
Go here for the full story.
Flying Angel Club
A brand new guide-book chose the Flying Angel Club as one of 111 Places in Vancouver That You Must Not Miss. Here is how they introduce it:
Tucked away on the north side of the railway tracks that separate Railtown from the waterfront, at what used to be the northern end of Dunlevy Avenue, lies one of Vancouver's oldest and most overlooked historic sites.
Known today as home to the Flying Angel Club, this is the original office building of the Hastings Mill that was established nearby in 1865. The office was built later in 1906, but has remarkably avoided the usual forces of destruction, such as fire, neglect and commercialization. . . .
The Seamen's Club traces its history back to the days of the tall ships and is the BC headquarters of a worldwide society providing for the spiritual, physical and emotional care of seafarers and their families. . . . [T]he club members keep quite busy. Their mission reaches out to and hosts about 14,000 seafarers from 80 countries around the world annually.
Unfortunately, the Flying Angel Club will be behind a fence before too long. Because of increased fears about terrorism, theft and so on, much of the waterfront has already been blocked off. Members of the general public will need to get clearance to get through the port entry gate by 2021.
Lighthouse Ministries
The Mission to Seafarers has partners, both international and local. It is part of a worldwide organization (of the same name) which has more than 70 front-line staff at its international headquarters in London, and works in 200 ports, in 50 nations, in many cases partnering with other societies that also care for seafarers.
That kind of partnership occurs here in Vancouver. Lighthouse Harbour Ministries has four full-time chaplains who work out of two Seafarers Centres, in North Vancouver and the Fraser Surrey Docks. Here is how they describe their work:
Since most of the seafarers that the Ministry serves already have their primary physical needs met on their ships, the Lighthouse is able to concentrate its efforts on sharing the Gospel of Christ with them. At times, however, the Ministry is called upon to provide practical/social assistance to seafarers and we consider our response to be a very important aspect of serving the Lord.
Practical assistance can take a variety of different forms including the provision of transportation (i.e. for shopping), information (directions etc.) and even the visitation of injured seafarers in hospital.
The Mission to Seafarers and Lighthouse Harbour Ministries have a cooperative working relationship.
Harbour tour
Gary Roosma and Peter Smyth led a three-hour harbour tour on the evening of July 11, hosting about 90 friends and supporters. The cruise began in Coal Harbour, proceeding east along the seafront of Vancouver and Burnaby, past the Ironworkers Memorial Bridge, then back along the North Shore.
Along they way, they pointed out 23 docks, with the main types being:
dry bulk (grains, sugar, salt, fertilizers, coal, etc.)
liquid bulk (petroleum, canola oil, etc.)
break bulk (larger items like lumber, logs, steel products and machinery)
containers
Go here for Gary's report on the harbour tour, accompanied by some great photos by his wife Jennifer.
Two good books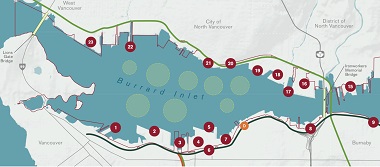 Gary referred to Ninety Percent of Everything, a book by Rose George. The title refers to the massive scale of transport by ships:
On ship-tracking websites, the waters are black with dots. Each dot is a ship; each ship is laden with boxes; each box is laden with goods. In postindustrial economies, we no longer produce but buy. We buy, so we must ship. Without shipping there would be no clothes, food, paper, or fuel. Without all those dots, the world would not work.
Another good book, for keeners, is The Way of the Sea by Roald Kverndal. subtitled 'The Changing Shape of Mission in the Seafaring World,' the 422-page book is particularly strong in its historical and ecumenical approach.
Here is a description:
The sea has been both a source of bounty and a bridge of communication through the ages. The Way of the Sea explores the unique role of seafarers in promoting the revealed plan of the Creator and Redeemer of both land and sea.
As a follow-up to The Seamen's Mission [written in 1986, the earlier 903-page book can probably be left to the experts/fanatics!] Kverndal's comprehensive survey of maritime mission presents both historical and current perspectives.
While The Way of the Sea provides a much-needed tool for the developing field of maritime missiology, people from all walks of life will learn from the rich history and culture of kingdom-minded seafarers.