Every year, thousands of us put aside the last weekend of January for Missions Fest. Not this year. The annual event will be held at Canada Place, as usual – but one week earlier; Missions Fest 2019 will be held at the end of next week, January 18 – 20.
Mini Conferences and plenary speakers will address this year's theme – Mission: Discipling – from several angles. They all look interesting, but kudos to Missions Fest organizers in particular for inviting Salim Munayer and Lisa Loden. Both have devoted their lives to encouraging reconciliation between Israelis and Palestinians.
Salim Munayer is a Palestinian Israeli, and is executive director and co-founder of Musalaha, a non-profit organization that promotes and facilitates reconciliation between Israelis and Palestinians from diverse ethnic and religious backgrounds, based on the life and teaching of Jesus.
Lisa Loden is a Messianic Jew living in Israel since 1974; in 1977 she and her husband co-founded  the Messianic congregation Beit Asaph in Netanya, Israel. She serves as project manager for Israel First Fruits Center for Economic Advancement and is co-chair of the Lausanne Initiative for Reconciliation in Israel-Palestine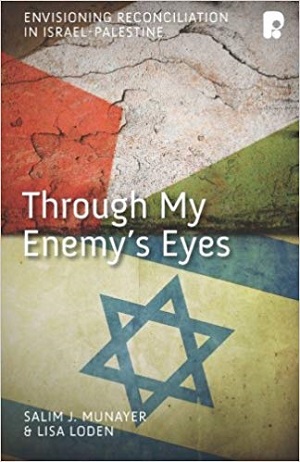 Loden is a member of the Musalaha board, and in 2014, she and Munayer co-authored Through My Enemy's Eyes: Envisioning Reconciliation in Israel-Palestine.
Needless to say, practicing reconciliation in the birthplace of Jesus is not for the faint of heart. Munayer wrote Stages of Reconciliation: Encounters Between Israeli Jews and Palestinian Arabs to describe some of the challenges, and their way of dealing with them.
We and others who are involved in reconciliation have observed certain trends when Palestinian Arabs and Israeli Jews enter into a reconciliation process. The journey towards reconciliation has often occurred in several stages.
In the first stage, people from both sides are often hesitant and need encouragement to meet with each other. However, they are usually willing to get together. In the initial meeting, people are curious, interested, have fun and often are enthusiastic to participate in an activity together.
In the next stage, Israeli Jews find themselves surprised by Palestinians' grievances and charges against Israelis. They are overwhelmed at the Palestinians' stories, political and theological opinions, and at how strongly they express their feelings. This can be attributed to the lack of interaction and understanding of the realities of each other's lives.
The third stage usually finds the Israeli participants in a process of withdrawal, backing off from meetings because they are no longer interested, see it as hopeless, or the issues have become too overwhelming and painful. As a result, Israelis respond by stating their own accusations and grievances against the Palestinians. They also share their strongly held theological and political positions. Each side reacts by saying that the other's withdrawal from the process was obvious and inevitable, that they will never understand and never accept one another. Each side accuses the other that they are blind to reality and to the truth of the Bible.
The question now is: how many are left in the process? Some who are unwilling to continue working towards reconciliation have entered the process wanting to reinforce their theological, political and cultural positions. By not completing the process, they are allowed to remain in their theological and political corners, protecting their own perceptions and prejudice. However, embracing the other does not necessitate losing one's ethnic or spiritual identity; rather, those who persevere in the reconciliation process find themselves strengthened and more secure in their own identity and faith.
Those who continue enter the next stage of maturity, and realize that they are bound to live alongside one another. At this point, people understand that both sides have genuine charges and grievances against each other. They also recognize the shortcomings of their own people, and that their side has also contributed to the breakdown of relationships and the violence of the conflict.
They realize that they must find a way to correct and restore the relationship between the two peoples and are willing to take serious steps in order to do so. Those steps include learning one another's history and life experiences, listening, and accepting differing perspectives and perceptions.
They can also learn from each other about God and about biblical truths. Making progress in reconciliation requires courage and risk; it means becoming vulnerable to 'the enemy,' being honest and open, yet sensitive and willing to listen.
An article in Christianity Today quotes and paraphrases the theologian Miroslav Volf, from the former Yugoslavia.
The simple categories of victim, oppressor and even liberation must give way; instead we must recognize that even the enemy (the alienated 'other') is part of one's own identity . . . At the deepest levels, our own wholeness depends on some strained recognition of the humanity of the other. . . .
There are characteristically two main functions which religion may serve in the midst of such a clash. Christian faith and symbols may act as a cultural marker to reinforce an individual's identity' – and thus continue to divide. Or, because of its central commitments, Christian faith may become a resource to help enemies embrace: the grace inherent in vulnerable acceptance of the enemy flows when Christian faith (not Christian identity) informs choices .
Our experience reinforces that those involved in reconciliation have developed a more secure identity, becoming more sure of who they are in their ethnicity and in the Lord. At the same time, they are more open and willing to embrace others, and to work together to restore relationships and to attempt to correct the damage that has been done.
Munayer and Loden (along with Temera Millar, an Indigenous Canadian who works with NAIM) will lead Lessons Learned From Reconciliation, one of four mini-conferences Friday afternoon (January 18) from 1 – 5  pm. Musalaha's work and influence has broadened over the years; they are now quite involved with reconciliation between Muslims and Christians (in the Bethlehem area) and with Israelis and Palestinians from Muslim, Christian and Jewish backgrounds.
The afternoon will be facilitated by Jennifer Roosma (who wrote a particularly helpful article on related topics on this site in 2015 (Conferences took on controversial issues: Israel, Palestine, Christian Zionism . . .) and Dena Nicolai, who is chaplain and refugee support mobilizer for Christian Reformed Churches in the area and has hosted several events to improve Christian-Muslim relations.
Munayer and Loden will also lead a seminar and speak from the main stage a couple of times.
Lots more to see & do
Three other mini conferences will be held on the first day of Missions Fest, at the same time as Lessons Learned From Reconciliation:
Partnership in Mission: Becoming a Body in Motion Toward Jesus' Kingdom, led by Jonathan Bird (CityGate Leadership Forum) and Phil Wagler (Multiply / MB Mission)
Discipleship Bootcamp, led by Joshua and Meredith Johnson (All Nations Family Inc.)
Being the Intercultural People of God, led by Ted Ng (Faith Community Christian Church), Ike Agawin (Greenfield Christian Fellowship), Bernard Mukwavi (Baptist General Conference of Canada) and Sherman Lau (Outreach Canada).
The other keynote speakers this year are Mark Anderson (a leader in Youth With a Mission in Kansas City, and president of Call2All, a global Great Commission movement with more than 50,000 leaders involved), Ruthie Kim (founder and executive director of Because Justice Matters, a faith-based non-profit operating in the Tenderloin neighbourhood of San Francisco since 2008) and Marcio Garcia (co-founder of Evangelical Mission for Assistance to Fishermen in 1986, assisting in the deployment of 16 missionary bases along the Brazilian coastline and in the Amazon area and, in 2005, co-founder of Pioneiros and part of the international leadership team of Pioneers USA, as its Mobilization Latin American director).
As always with Missions Fest, there will be many seminars throughout the weekend, along with a Film Festival and much more. My favourite activity is just wandering from booth to booth, asking people how they became involved with their particular ministry. There are some amazing stories out there.
Registration 
This year, for the first time, Missions Fest will be registering all attendees who are 18 and older (though general attendance during the weekend is still free). They encourage people to register online, ahead of time, but you can register at the door. Go here for more information.