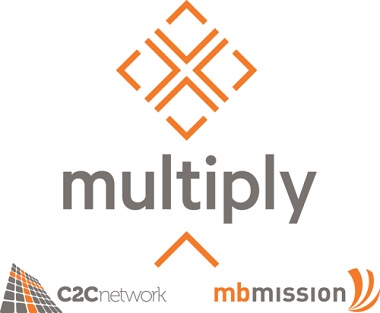 There are two good reasons to think Multiply right now:
1) C2C is changing its name to Multiply this month
2) Multiply Conference 2019 (run by C2C / Multiply) is less than a month away
First the name change. Why change when the C2C Network had become well known and respected for its work in church planting and networking, first here, then right across Canada?
Here is their rationale:
Our history

C2C was birthed in the Mennonite Brethren denomination, with a uniquely Canadian focus and a mandate to partner across denominational lines to see a robust church-planting movement established in Canada in order to see millions of Canadians come to faith in Jesus.

We praise God that over the past eight years church planters from more than 30 different denominations and networks have been brought together in assessment, coaching, training and support. In 2017 we were actively engaged with 120 planters and apprentices, and saw nearly 700 baptisms in C2C-partnered churches.

Global reach: Canadian focus

In January 2018 C2C merged with the global mission arm of the Mennonite Brethren Church, MB Mission, to form a new global church planting network. These two organizations are coming together under one name in January 2019 – "MULTIPLY."

As Multiply, we will continue to partner across denominational lines with a vision of seeing Gospel-Centred, Spirit-Led, Mission-Focused churches established. Our new partnership brings resources and energy for reaching diverse people groups globally. MB Mission has worked among "least reached" peoples for over 100 years, and this cross-cultural expertise equips us to reach the nations present in this country; First Peoples as well as new Canadians.

New name: same vision

The C2C name ("Sea to Sea") was taken from Canadian history, when the fathers of confederation chose Psalm 72:8 as our national motto. This prophetic text points us forward to a king who will have dominion from sea to sea, from the rivers to the ends of the earth!

Our new name, Multiply, is likewise grounded in God's biblical vision for the multiplication of his kingdom through his Church. Our partnerships coalesce in John 17, where Jesus prays that we might united as "one," that the "world might know."

Just getting started!

This merger will in no way diminish the focus on Canada. Our firm conviction is that while new doors of opportunity open here in North America (C2C/USA) and globally through Multiply, our work here in Canada is just getting started!

The majority of 37 million Canadians do not have a vibrant connection to Jesus Christ, the Gospel message or a local church family. We remain committed to reaching Canada for the glory of King Jesus! We long to see his dominion from sea to sea, and we ask you to pray fervently that the wind of the Spirit would blow, and that we might see our nation turning to Christ.
Go here for more on the transition process.
Multiply 2019
The annual Multiply Conference will take place February 6 – 7 at Westside Church. More on this in the future, but just to whet your appetite, here are the breakout topics:
1. Am I a Church Planter?
2. Collaborative Movements for City Impact
3. Evangelism in the Cultural Moment
4. Leadership Development From and For the Harvest
5. Leading Your Church Towards Intentional Disciple Making
6. Church in Hard Places
7. The Multi-Faceted Faces of Multi-Site Ministry
8. Disciple Making Movements
9. Gospel-Centred Youth Ministry
Go here to learn more.
VPL still 'welcomes' Meghan Murphy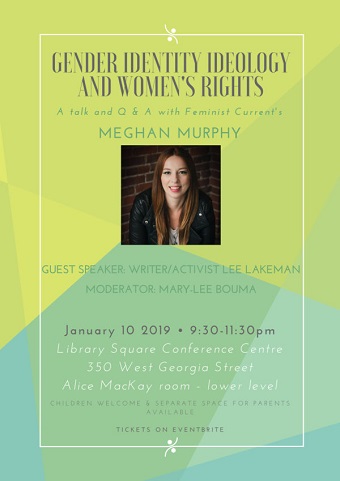 The Central Library could be a lively spot this evening. A discussion on gender issues downstairs in the Alice MacKay Room – already sold out – will likely attract some lively opposition outside.
Here is the description of the event:
Gender identity ideology and women's rights: A talk and Q & A with  Feminist Current's Meghan Murphy
We believe a radical feminist or gender critical viewpoint is seriously lacking in mainstream discourse. The purpose of the event is to start an open dialogue; as such, we welcome attendees with differing views who want to engage constructively.
Murphy is founder and editor of Feminist Current, which claims to be "Canada's leading feminist website. She clearly does have a sizeable following, but not everyone likes her brand of feminism.
A November 29 article in The Georgia Straight laid out the issues:
An upcoming event at the Vancouver Public Library (VPL) has sparked outcry due to concerns about the speaker's stance on LGBT people and issues.
Vancouver writer and editor Meghan Murphy, founder of the website Feminist Current, is slated to give a presentation at the VPL on January 10.
Murphy has been the subject of controversy due to her opinions about trans people.
On November 20, Murphy stated in a Feminist Current article that she was suspended from Twitter for "violating rules against hateful conduct" in four tweets with references to a trans person. On November 26, the Feminist Current stated that Murphy had been "permanently suspended" from Twitter.
Those who would like to see Murphy explain the situation, check out this very interesting Hill.TV interview. For a Global News story go here.
A Change.org petition – @Twitter: Re-instate Meghan Murphy – now has about 8,500 signatures.
So, what does this have to do with the church? We'll see, but I think Christians who have a conservative stance on transgender issues and those who are concerned about free speech would be wise to pay attention. (And Mary-Lee Bouma, an ordained Christian Reformed minister who until recently worked with REED, will moderate the discussion.)
On the first point, for example, The Federalist – a web magazine with a clearly conservative bent – ran Twitter permanently bans feminist for writing that 'men aren't women.' In part, the article by Nicole Russell states:
It appears Murphy was banned solely due to repeatedly pointing out that men cannot be transformed into women simply because they want to call themselves women. This is a fact at best, and Murphy's opinion at worst. Murphy refused to bend to the progressive view that the transgender issue is now nearly as sacrosanct as abortion. She was not banned for hateful conduct or speech but for failing to fall in line with the progressive agenda Twitter embraces.
This issues seems to be creating some strange bedfellows – though Murphy says she has no interest in joining with the right: "I don't want to choose between the left and the right, I want to engage in critical thought, challenge myself, and form my own opinions."
On the second point, the Straight article notes that high profile trans activist (and BC NDP vice president) Morgane Oger wants to prevent Murphy from speaking at the Central Library, and quotes several of her tweets. Here is one:
A Jan 10 @VPL booking for Meghan Murphy, who refuses to recognize legislation that prohibits discrimination on the basis of gender identity or expression, indicates some institutional blind spots or deeply-held biases.
Any thoughts, @CUPE391 and @CUPEBC?#bcpoli #vanpoli
Oger also tweeted:
Christians who hate are recognized as damaging to society and their bookings get canceled but feminists who hate are protected. I wonder, is this a widespread blind spot, or a feature of transphobia coming to #Vancouver Public Library?
Christians who have spoken out in public on gender issues (especially against SOGI 123), people like Barry Neufeld, Kari Simpson, Paul Dirks and Laura-Lynn Tyler Thompson, have been vilified in the press. From what Oger says, maybe it's already too late for (some) conservative Christians – or maybe not.
But it should go without saying that all Christians, all citizens in fact, ought to be concerned when there is a concerted effort to ban radical feminists or conservative Christians when they argue unpopular points of view.
So far, the Vancouver Public Library (VPL) seems to be standing up to the pressure, though not exactly taking a neutral position.
Chief librarian Christina de Castell made a 'Statement on Feminist Current Event November 28. It was quoted in some of the news stories mentioned above, but I can't find it online now. In part, she said:
VPL is not endorsing, or hosting this event; it is a rental of our public space. VPL has zero tolerance for discrimination and does not agree with the views of the Feminist Current. However, commitment to free speech and intellectual freedom are fundamental values of public libraries and are bedrock values for democratic society. . . .
While it is difficult for us as individuals and staff to accept a rental from an organization whose perspectives we disagree with, the fundamental role of libraries as a place for free speech and intellectual freedom must be upheld.
Another statement was posted on the VPL website December 21. It reads, in part:
A group renting space at VPL in January has raised issues that put two of our core values in conflict. This is an incredibly difficult situation and one that public libraries struggle with every day.
As an institution, we have been doing a lot of listening. At a Board level, we have been having robust discussions – about our values and our various accountabilities as public library trustees. Many people have shared their personal perspectives and stories with us. Thank you to everyone who has spoken up and contributed your voice. This is what drives systems to reflect and to evolve.
We will undertake a review of our Meeting Rooms & Facilities Policy in early 2019. We must continuously adapt and evolve to better listen to the voices of those who are most subject to discrimination.
I don't find that language very encouraging; time will tell.
Robert Mann: Science and Faith
The Vancouver chapter of the Canadian Scientific & Christian Affiliation (CSCA) will be hosting a leading Canadian scientist during several lectures next week. Here is how they describe him and his work:
Robert B. Mann (PhD University of Toronto) is Professor of Physics at the University of Waterloo; he has been a visiting professor at Harvard and Cambridge Universities, and the Kavli Institute for Theoretical Physics. He is an Affiliate Member of the Perimeter Institute and the Institute for Quantum Computing.
Author of over 350 papers, he has received numerous awards, including a Fulbright Fellowship, Teaching Excellence awards from the Ontario Undergraduate Student Alliance and from the University of Waterloo, and a Presidential Award of merit from the University of Waterloo.
He was chair of the Department of Physics and Astronomy at the University of Waterloo from 2001-2008 and is a past President of the Canadian Association of Physicists (2009-2011) and the Canadian Scientific & Christian Affiliation (1996-2007). He has served on the Advisory Board of the John Templeton Foundation.
His research interests are in black holes, cosmology, particle physics, quantum foundations, and quantum information, as well as the science/religion dialogue. His Waterloo research group looks at these questions: How would relativity influence how a quantum computer worked? Could we use a quantum probe to peek inside a black hole? Is it possible that the Big Bang could be replaced with a black hole at the beginning of time?
The talks are co-sponsored by SFU Christian Leadership Initiative, Graduate and Faculty Christian Forum, Trinity Western University and TWU: Science, Faith & Human Flourishing.)
Here is a list of the talks:
* January 16 (SFU): Science & Faith: Are They in Conflict?
* January 16 (UBC): The Multiverse, Science & Theology: A Critical Inquiry
* January 17 (TWU): Reflections on Science & Faith
* January 17 (TWU): Time and Eternity
Jan 2019
Jazz Vespers: Karen Graves & Mimosa
– January 13, 2019 at 4:00 pm - 5:00 pm
Open House: Surrey Christian School (Fleetwood Campus)
– January 15, 2019 at All Day
Open House: Surrey Christian School (Secondary Campus)
– January 15, 2019 at All Day
Robert Mann: Science & Faith – Are They in Conflict?
– January 16, 2019 at 12:30 pm - 1:20 pm
Professor Robert Mann: The Multiverse, Science & Theology – a Critical Inquiry
– January 16, 2019 at 4:00 pm - 5:30 pm
Eve Leader: Through a Glass Darkly – Opening Reception
– January 16, 2019 at 4:30 pm - 7:30 pm
Open House: Surrey Christian School (Cloverdale Campus)
– January 17, 2019 at All Day
Robert Mann: Reflections on Science & Faith
– January 17, 2019 at 11:45 am - 1:15 pm
Almost Silent Retreat
– January 17, 2019 - January 19, 2019 at 7:00 pm - 5:00 pm
Robert Mann: Time and Eternity
– January 17, 2019 at 7:30 pm - 9:00 pm
Missions Fest 2019: Mission: Discipling
– January 18, 2019 - January 20, 2019 at All Day
Week of Prayer for Christian Unity
– January 18, 2019 - January 25, 2019 at All Day
Creation Care: Have We Gone Too Far, Or Not Far Enough?
– January 18, 2019 at 7:00 pm - 8:30 pm
Dr. Hugh Ross
– January 18, 2019 at 7:00 pm - 9:00 pm
Watoto Children's Choir: We Will Go
– January 18, 2019 at 7:00 pm - 8:30 pm
Watoto Children's Choir: We Will Go
– January 19, 2019 at 6:00 pm - 8:00 pm
Taizé Contemplative Service
– January 20, 2019 at 4:00 pm - 5:00 pm
Watoto Children's Choir: We Will Go
– January 20, 2019 at 6:00 pm - 8:00 pm
Week of Prayer for Christian Unity: Service
– January 20, 2019 at 7:00 pm - 8:30 pm
Open House: BC Christian Academy
– January 21, 2019 at 9:30 am - 12:30 pm
Inklings Institute of Canada: 'Are Women Human?': Dorothy L. Sayers
– January 22, 2019 at 7:00 pm - 8:30 pm
Week of Prayer for Christian Unity: Service
– January 23, 2019 at 5:30 pm - 7:00 pm
Watoto Children's Choir: We Will Go
– January 23, 2019 at 6:30 pm - 8:30 pm
Book Launch Lecture: Craig Gay – Modern Technology & the Human Future
– January 23, 2019 at 7:30 pm - 9:00 pm
Jazz Evensong: Susannah Adams
– January 23, 2019 at 8:00 pm - 9:30 pm
Scott Cormode: Recalibrating the Church for Today's World
– January 24, 2019 at 9:30 am - 11:30 am
Apostles' Creed Chapel Series: Dr. Harry Maier
– January 24, 2019 at 12:00 pm - 1:00 pm
Dawn Pemberton: Etta James – A Soulful Sunday: Live at the Left Bank
– January 24, 2019 at 8:00 pm - 10:00 pm
Kairos Course (three weekends)
– January 25, 2019 at All Day
Delta Christian School Open House
– January 25, 2019 at 9:00 am - 10:00 am
Watoto Children's Choir: We Will Go
– January 25, 2019 at 6:30 pm - 8:30 pm
Lauren Mann
– January 25, 2019 at 7:00 pm - 9:00 pm
Paul Brandt 'The Journey Tour' with High Valley
– January 25, 2019 at 7:00 pm - 9:30 pm
Ask Me Anything: The Problem of God Forum
– January 25, 2019 at 7:30 pm - 9:30 pm
For the Journey Retreat with Steve Bell
– January 25, 2019 - January 26, 2019 at 7:30 pm - 3:00 pm
Bentall Taylor Ulrich
– January 25, 2019 at 8:00 pm - 10:30 pm
Love & Mercy: Presenting Eric Lichte from Portland / Vancouver
– January 25, 2019 at 8:00 pm - 10:00 pm
St. Thomas Aquinas Festival
– January 26, 2019 at 9:30 am - 4:00 pm
Watoto Children's Choir: We Will Go
– January 26, 2019 at 6:00 pm - 8:00 pm
Ember
– January 26, 2019 at 7:00 pm - 9:00 pm
Worship Invades 2019
– January 26, 2019 at 7:30 pm - 10:00 pm
Jazz Vespers @ St. Andrew's United Church
– January 27, 2019 at 4:00 pm - 5:00 pm
Jazz Vespers: Dave Guinea Swing Band
– January 27, 2019 at 4:00 pm - 5:00 pm
Watoto Children's Choir: We Will Go
– January 27, 2019 at 6:00 pm - 8:00 pm
Steve Bell in Concert
– January 27, 2019 at 6:30 pm - 8:30 pm
Special Meetings with Glenn Bleakney
– January 27, 2019 - January 30, 2019 at 7:00 pm - 9:00 pm
Kairos Korean Course
– January 28, 2019 at All Day
Journey Discipleship Course (Tuesday evenings)
– January 29, 2019 at 7:00 pm - 9:30 pm
Creative Life's New Studio Celebration
– January 30, 2019 at 6:00 pm - 9:00 pm
Week of Prayer for Christian Unity: Service
– January 30, 2019 at 7:00 pm - 8:30 pm
Week of Prayer for Christian Unity: Service
– January 30, 2019 at 7:00 pm - 8:30 pm
Jazz Evensong: Emilio Suarez
– January 30, 2019 at 8:00 pm - 9:30 pm
How to Keep Young Adults Engaged in the Local Church
– January 31, 2019 at 7:00 pm - 9:00 pm
Feb 2019
Canadian Youth Workers Conference
– February 1, 2019 - February 2, 2019 at All Day
Go Conference 2019
– February 1, 2019 - February 3, 2019 at All Day
Reasons to Hope: Nathan Betts / RZIM
– February 1, 2019 - February 3, 2019 at All Day
Youth Leadership Conference 2019
– February 1, 2019 - February 2, 2019 at 6:30 pm - 8:30 pm
Open House: BC Christian Academy
– February 2, 2019 at 9:30 am - 12:30 pm
The Psalms and Building Faith in Children and Adults
– February 2, 2019 at 9:30 am - 4:00 pm
North Shore Worship Night
– February 2, 2019 at 7:00 pm - 9:00 pm
Stayed on Freedom: A Musical Celebration of Black History Month
– February 2, 2019 at 7:30 pm - 10:00 pm
Renegotiating Faith
– February 3, 2019 at 7:00 pm - 9:00 pm
Terra Lightfoot
– February 3, 2019 at 7:00 pm - 9:00 pm
Intimacy & Community in a Fragmenting Culture with Connally Gilliam
– February 4, 2019 at 12:00 pm - 1:00 pm
Journey 101 (Monday evenings)
– February 4, 2019 at 7:00 pm - 9:30 pm
Multiply Conference 2019
– February 6, 2019 - February 7, 2019 at All Day
Stephanie Grey: Assisted Suicide – Communicating with Clarity and Compassion
– February 6, 2019 at 7:00 pm - 9:00 pm
An Evening with Mez McConnell
– February 6, 2019 at 7:30 pm - 9:30 pm
Susan McCaslin Book Launch and Reading
– February 6, 2019 at 7:30 pm - 9:00 pm
Jazz Evensong: Dalannah Gail Bowen
– February 6, 2019 at 8:00 pm - 9:30 pm
A Prayer for Owen Meany
– February 7, 2019 - February 9, 2019 at All Day
Pastors' Chapel and Brunch
– February 7, 2019 at 9:00 am - 10:30 am
City in Focus Breakfast with June Francis: Diversity & Constructed Identities
– February 8, 2019 at 7:00 am - 8:30 am
A Musical Evening in Support of Wet'suwet'en
– February 8, 2019 at 7:00 pm - 11:30 pm
Screening: Fatal Flaws
– February 8, 2019 at 7:00 pm - 9:00 pm
Earth, Wind, Fire & Life
– February 8, 2019 at 7:30 pm - 9:00 pm
Changing Minds and Saving Lives: Becoming an Effective Pro-life Ambassador
– February 9, 2019 at 10:00 am - 12:00 pm
Alzheimer Café
– February 9, 2019 at 2:00 pm - 4:00 pm
Roddan Jubilee Lectures: Karen Joseph
– February 9, 2019 at 3:00 pm - 5:00 pm
Jazz Vespers in the Valley: Don Stewart (Black History Month)
– February 10, 2019 at 4:00 am - 5:00 am
KAIROS Blanket Exercise
– February 10, 2019 at 1:00 pm - 4:30 pm
Jazz Evensong: Maria Ho
– February 13, 2019 at 8:00 am - 9:30 am
LeaderImpact Metro Vancouver Young Leaders Kickoff
– February 13, 2019 at 5:30 pm - 7:00 pm
Eve Leader: Through a Glass Darkly
– February 14, 2019 - February 15, 2019 at All Day
The Date Night Tour
– February 14, 2019 at 7:30 pm - 9:30 pm
Trio Céleste
– February 15, 2019 at 11:30 am - 1:00 pm
Song & Story: A Celebration of the Indigenous Studies Program, featuring Cheryl Bear
– February 15, 2019 at 7:00 pm - 9:00 pm
Y4C Presents '7 Mountains of Influence in Our Culture'
– February 15, 2019 at 7:00 pm - 10:30 pm
Open Mosque Day
– February 16, 2019 at 10:00 am - 3:00 pm
Honduras Fundraiser High Tea
– February 16, 2019 at 3:00 pm - 5:00 pm
Masterpieces: Famous Choruses of Great Composers
– February 16, 2019 at 8:00 pm - 10:00 pm
Taizé Contemplative Service
– February 17, 2019 at 4:00 am - 5:00 am
MVA Faith Caucus
– February 19, 2019 at 11:30 am - 1:30 pm
Inklings Institute of Canada: The Perilous Lot of the Christian Artist
– February 19, 2019 at 7:00 pm - 8:30 pm
Mixing Science & the Mystics (part 1)
– February 19, 2019 at 7:00 pm - 9:00 pm
Children of God
– February 20, 2019 - March 10, 2019 at All Day
Church Planting in Post-Christian Soil: a call for papers
– February 21, 2019 at All Day
Dark Glass Theatre: The Amish Project
– February 21, 2019 - February 23, 2019 at 12:00 am
Canada in Crisis: Mobilizing the Church for Action – Pastors Forum
– February 21, 2019 at 9:00 am - 12:00 pm
Andrea Loewen Book Launch for 'Feeling Better – A Field Guide to Liking Yourself'
– February 21, 2019 at 7:00 pm - 10:00 pm