The annual Downtown Eastside Women's Memorial March takes place this Sunday (February 14) at noon. Some Christians will be there for the march; others will be there in spirit.
One encouraging example of that willingness to engage with the situation is Willoughby Church in Langley. Among the ministries highlighted on its website – youth, daycare, community garden, hospitality, global missions – is the prayer ministry.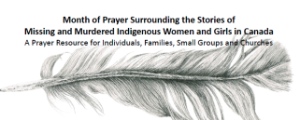 And when you click on the link to the prayer ministry, you are directed to a page dedicated to a Month of Prayer for Missing and Murdered Indigenous Women. 
Here is what is says:
In recent years, more media attention has been given to the stories of the many missing and murdered Indigenous women and girls in Canada. As these stories are told, society and individuals cannot stand by, idly allowing this injustice to continue.
We invite you to enter into a month of prayer that focuses on the injustices that surround the stories of missing and murdered Indigenous women and girls. It is our prayer that we can join together, in prayer, to pray for these women, their families, their perpetrators and their families, the justice system and their communities. We pray too for healing, justice and reconciliation among all those involved in each story.
As we approach this month of prayer, we frame each week around the Seven Sacred Teachings (also referred to as the Seven Grandfather Teachings) found in Indigenous cultures. They:
come from Indigenous communities across Canada and although the specific stories associated with these teachings differ between Indigenous groups, the basic teachings remain the same.
They were given to many of the Indigenous communities in Canada by Creator as a guide for life.
They explained the way human beings were to interact and live with the land, the animals, and their fellow human beings.
They are passed down from the Elders from generation to generation and they are honoured and recognized as the right way to live on the Earth.

The Seven Sacred Teachings are Love, Honesty, Humility, Wisdom, Respect, Courage and Truth.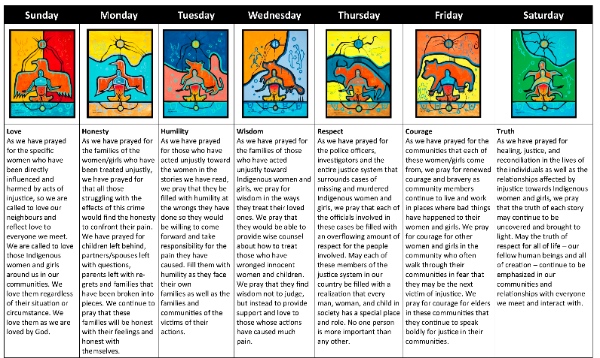 For the rest of the prayer guide go here. The prayer guide comes from the Canadian Aboriginal Ministry Committee (CAMC), a ministry of the Christian Reformed Church. You can access more CAMC materials at their tool kit here: aboriginalministry.wordpress.com.
Organizers of the Downtown Eastside Women's Memorial March describe the event in this way:
The march is held on Valentine's Day to honour the memory of all women from the Downtown Eastside who have died due to physical, mental, emotional and spiritual violence. Now in its 26th year, the march brings courage and commitment to end the violence that vulnerable women in the Downtown Eastside face on a daily basis.
Fay Blaney, co-chair of the march committee, said:
The government's current plan for the national inquiry into missing and murdered Indigenous women should focus on three key issues: the overall status of Indigenous women in Canada, addressing systemic and male violence against Indigenous women, and safe and respectful participation of families and loved ones including families of the heart, frontline workers and Indigenous feminist organizations.
Wab Kinew: Reflections on Reconciliation
Kinew is associate vice president for Indigenous Relations at the University of Winnipeg and author of
The Reason You Walk: A Memoir.
In 2012, he hosted the acclaimed documentary series
8th Fire
(Aboriginal Peoples, Canada & the Way Forward). In 2014, he successfully defended Joseph Boyden's
The Orenda
on CBC's
Canada Reads
literary competition. His hip hop music and journalism projects have won numerous awards.
On Friday evening, Kinew will read passages from his memoir, which tells the story of reconciliation with his father. A free Community Day of Reconciliation will be held on Saturday, from 10 am – 3 pm at Yorkson Creek Middle School. And an interfaith ceremony of hope and healing will be held on Sunday, 6:30 pm at Sharon United Church.
Aboriginal and Christian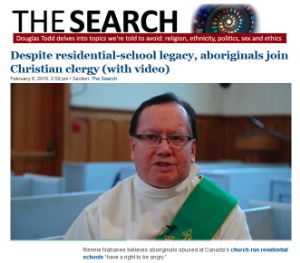 Vancouver Sun
writer Douglas Todd pointed out in a
timely 
article
(February 6) that a surprisingly large number of Indigenous people still identify with the Christian church:
Despite a misconception among urban Canadians that aboriginals hate Roman Catholic and Protestant denominations, Christianity is integral to the spiritual life of two of three of the country's 1.4 million indigenous people, even while church attendance can be irregular. . . .
The biggest group of Canadian aboriginals, 506,000, affiliate with Roman Catholicism. The National Household Survey found another 134,000 associate with the Anglican Church, 59,000 with the United Church and 36,000 are Pentecostal.
His interviews with Roman Catholic deacon / Squamish Nation elder Rennie Nahanee and Alliance pastor / Vancouver School of Theology professor Ray Aldred are well worth reading. Among the somewhat surprising comments:
Contrary to most media reports about Canada's Truth and Reconciliation Commission, Aldred believes "aboriginal anger about white Christianity" and the legacy of residential schools abated more than a decade ago.
"I think in the 1950s the churches began realizing they had made a mistake with residential schools. But it took another 50 years to get out of them," said Aldred, 56. . . .
Even though Nahanee would like to see Pope Francis repeat earlier Vatican apologies for Canada's residential-school system, including one that operated a few hundred metres from St. Paul's Church, he regrets how some good things that happened in the schools are being ignored.
"People are now afraid to say positive things about the schools," said Nahanee. He noted, for instance, that in the late 1800s the Catholic priest for St. Paul's Church and its related residential school stopped an attempt by the legendary Vancouver saloon owner, "Gassy Jack" Deighton, to seize Squamish Nation land.