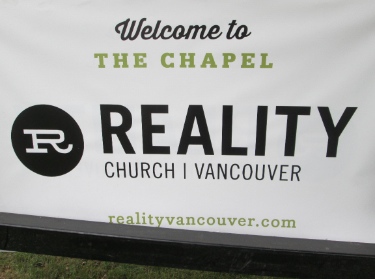 Reality Church Vancouver, a plant of Westside Church, had hoped to launch in mid-2008. But they needed a place to rent, and for six months every site they approached that seemed the least bit promising turned them down. Then in December, they were offered the gymnasium of Charles Dickens Elementary School in East Vancouver.
"It was like $900 a Sunday for four hours," says pastor Kristian Martens. "We were a group of less than 40 people. Dropping $900 a Sunday was crazy. We said, 'Lord, this is the only thing you've opened up. Is this where you want us to be?' We sensed the peace, and so we trusted him for this."
Reality formally launched in February 2009, and ended up staying there for six years.
"Every year we figured something better would open up and nothing better ever did," Martens says. "There were seasons of frustration, but we grew well and the building was fairly full. The kids' ministry was always a challenge, but we made it work."
The difficulty Reality faced in finding somewhere to worship is not unique. As more Vancouver churches seek to reproduce themselves in different locations, they come up against the fact that demand is outstripping supply.
"It is a huge challenge for the urban church," says Mark Burch, the associate national director of the C2C Network of church planters. "Increasingly it's a challenge anywhere in Canada because most municipalities are no longer designating worship sites in their new subdivisions."
The problem is even more acute in Vancouver's settled neighbourhoods. As Martens discovered, even if planters can find a site to rent that more or less fits their needs, many owners – both public and private – refuse to let a church use their property. At the same time, the stock of older church buildings for rent, lease or sale is declining.
In January, Flyn Ritchie disclosed here that the number of church properties in Vancouver alone had fallen by 20 since 1991. "Some of the buildings are intact, now housing mosques, temples, gurdwaras and synagogues. Others are long gone, replaced by houses or apartments. In some cases, the congregation carried on in another location. In others, the group merged with another congregation or disbanded."
Either way, it's a seller's market that places church plants in a difficult situation.
"Renting a space that will allow you to use it 52 Sundays a year, that has space for kids and a nursery, there's not a lot of venues," says Norm Funk, Westside's lead pastor. And even finding a space doesn't necessarily mean their problems are over.
"What happens if you grow? Do you move to another space or maybe try to start a second gathering?" he asks. "And then maybe you need to hire a couple of staff and find office space."
Still, Martens urges churches to keep the issue in perspective. "It is a challenge, and it's a particular challenge in Vancouver," he says, "but there's creative ways around this, and the Lord will provide."
And so – to name a few examples among churches in the downtown area – Artisan Church and House for All Nations meet at the Vancouver Public Library's Central Branch. Artisan's Mount Pleasant parish meets in an art gallery. Westside bought a live theatre. Trinity Central Church, C3 Vancouver Church, Westside's North Vancouver campus, and Coastal Church's Pitt Meadows campus all meet in movie theatres. The Crossings Church meets in a school. Vancouver West Church meets in a hotel. St. Peter's Fireside meets at Robson Square. And Meta Communities meets in a home.
"I think that in the urban centre, we are going to need more smaller neighbourhood gatherings than large churches," Burch says. "It's great to have say half a dozen large congregations. But then we need dozens more that maybe never grow past 150 because they can only find a room that can seat 150."
In some ways, the fate of Vancouver's vanishing older church buildings poses a much more serious problem – because if they should all disappear, they will be gone for good.
"You have certain denominations," Funk says, "that instead of seeking opportunities to sell a church building to ministries, they'll sell it to developers and the city will quickly rezone it because they want the tax dollars. Then you've lost that church space forever."
"What message do we send to our community when we keep closing churches?" asks David Koop, Coastal's senior pastor. "When you lose that vibrant church community, you're sending a message. There's a theology around a building. It speaks 24/7 that there's life, a presence of people and community there."
Koop says while he believes Christians should be gathering to worship in all kinds of places, the fact is these buildings still send a strong cultural message to non-Christians.
"When you invite somebody to church, they still think that you're going to a building, it's got to have pews, and you should be there Sunday at 11 o'clock," he says. "So when these buildings disappear, then it's like, 'Christianity is on its way out.' But if we're taking these old buildings and breathing new life into them, then it's, 'The church is strong and healthy.' It becomes more attractive to the unreached."
Koop says there's something non-Christians especially seem to like about coming to an older building such as Coastal's. "They like the fact that ours is a heritage building. They like the fact that we kept the pipe-organ. We rarely use it but they like it. They like the pews. They like the mix of the old and the new," he says.
A related issue, as Martens sees it, is that because the assessed value of older church buildings has grown so much over the decades, its members have no mortgage. And so even very small congregations can afford to stay in them, leaving "a whole bunch of public-assembly-zoned buildings in the city that are completely underutilized."
Reality Vancouver itself, by the way, now meets in an older building on East 19th Avenue and Prince Albert Street that it leases from the Anglican Diocese of New Westminster – and with the blessing of its original occupants, the Church of the Good Shepherd.
Burch, meanwhile, is hopeful that there might actually be a way to protect at least some of these older buildings as churches before it's too late.
"There are a handful of investors," he says, "that have come to us and said, 'We would be willing to put up the money to secure these properties.' They could buy a building as a holding property, keep the zoning, and rent it out to whoever until a planter comes into the area, or another church can adopt it and maintain it."
"Let's not lose this very visible ground," Koop says. "Usually they're strategically located, and there's been a lot of prayer and giving that made these churches happen. So the more we can hold on to them, the better it is for our churches."
CBC's The National had a feature on Religion in Canada / Are We Godless? May 13 which included images of Reality Vancouver baptisms at Kits Beach and Westside Church's large new home, originally known as the Ford Theatre.