Late last year, Full Gospel Assembly sold its building on Capitol Hill to a Sufi school. A Salvation Army-owned building on 1st Avenue in East Vancouver is now on the market, very possibly destined for commercial use.
Over the Christmas holidays I decided to check out how many church properties have been lost to the Church of Vancouver over the past quarter century.
Twenty-six years ago I edited the 1989 Christian Info Resource Directory, which billed itself as "a comprehensive guide to Christian churches and agencies" in Greater Vancouver and the Fraser Valley. In 1991, the second edition covered the whole province. (By including all Protestant, Catholic, Orthodox and independent churches together, listed by city, I was trying to make the point that Christians should be linked more by proximity than by denomination.)
Looking just at the City of Vancouver (not Metro Vancouver) I found that 20 Vancouver church properties listed in the directories have been sold off by a range of denominations. Some of the buildings are intact, now housing mosques, temples, gurdwaras and synagogues. Others are long gone, replaced by houses or apartments. In some cases, the congregation carried on in another location. In others, the group merged with another congregation or disbanded.
Some might say the loss of 20 church properties over a quarter of a century isn't very significant. Three related factors help to put the situation into perspective.
First, most church buildings house at least one or two other congregations (often ethnic) along with the owners. These too were displaced when properties were alienated.
Second, as far as I know (this is harder to confirm) there have been relatively few new church properties added over the same period of time – maybe half the number that have been lost.
And third, the population of Vancouver grew from 471,644 in 1991 to 603,502 in 2011 (census data from Statistics Canada).
(See the end of the article for a list of the 20 properties.)
Do we really need all these churches?
Does it matter if we lose a few church buildings? That's a subject for several articles, but the short answer is yes. I believe revival is coming to Vancouver, and we'll need many more church buildings.
Even if that doesn't happen, Vancouver's population continues to grow and we have a very active church planting movement in the city. More than a year ago, we published the article Church plants are thriving, especially in the downtown core and a more recent article described how several churches are sharing one building in Strathcona.
The latter story illustrates new ways of working cooperatively and being creative in common space – but also reminds us how hard it is to come up with suitable church spaces these days. Church planters face many challenges, and in Vancouver finding a place to meet – let alone purchase – is high on the list.
A CBC news story from last year – Rise in new city churches bucks secular trend – interviewed two of the key sociologists who specialize in church trends. Joel Thiessen said there are "pockets of urban church growth," though most of that relates to basic population growth. According to the author of the article, Amber Hildebrandt, Reg Bibby "argues that Canada is undergoing a shuffling of the religious marketplace, with evangelical and Roman Catholic churches winning new adherents while many others suffer from declines."
The issue of how many church buildings we need in Vancouver is a complex one, and this article only sets out to raise the issue. I'm not out to point fingers at the churches or denominations which have sold their buildings. Not only do I not know enough about any individual situation, but I also understand there are many plausible and even compelling reasons for having taken that action.
Here are a few of the issues that might play into congregations selling their buildings.
1. The church is not a building
How many times have I heard that over the past few years? And of course it's true; congregations do not need buildings in order to worship God, disciple followers or serve the community.
Pastor Humphrey Tio and Full Gospel Assembly came to the conclusion that they would sell their building and move to a more house church (or simple church) model. They wrestled with whether it was appropriate to sell to a Sufi (Muslim) group, but in the end decided it was. (They received minimal interest from Christian churches.)
Could their building have been used to benefit their neighbourhood? Maybe; not all are suitable for such use. But there are certain activities that require space and certainty in order to flourish.
Jonathan Bird of City Gate Leadership Forum puts it more strongly: "The surging interest in parish/missional church and in Christian place-making pushes against this presumption that "the church is not a building." That's like saying Jesus doesn't need a physical body to be human. The church is indeed necessarily a building of some kind – all encounter takes place, literally requires it.
"The bigger question is what kind of place(s)? I think a recovery among Protestants of truly sacred space – places that are inhabited by congregations over generations, incrementally augmented using a cohesive aesthetic in creative response to God and neighbours, buildings and grounds that are no mere containers for spiritual activity but are environments which communicate and indeed invite participation in the story of divine encounter unfolding in their locales – gives the church great power to shape public imagination about what the genuinely good life looks and feels like."
2. Churches can build or re-purpose
There are a few examples of churches which have created new buildings in Vancouver over the past 25 years: Evangelical Chinese Bible Church and Fraser Lands Church (both down by Marine Drive in the southeast corner), Vancouver Chinese Evangelical Free Church (at Broadway and Rupert) and St. Francis Xavier Chinese Catholic Centre on Great Northern Way come to mind.
Others have taken over buildings: Westside Church moved into the Ford Theatre, Coastal Church bought First Church of Christ, Scientist (admittedly, already seen by the city as a church), Breakthrough Church of God, I believe, took over a store on East 41st.
However, the process is not an easy one. A quick call to Zoning and Building Inquiries at city hall confirmed that zoning itself is not a major issue – churches are allowed in most areas, except for industrial areas and Southlands.
The real problem comes when a congregation applies for a building permit, which is required even if they simply want to take over a building already in use.
They will need an architect, I was told, and the Church Guidelines are "quite stringent." Any change to those guidelines would have to go through city council.
(I hope, with the help of Frank Stirk, to talk to some pastors about the challenges they have faced as they have settled – or tried to settle – their congregations in new church spaces.)
3. Other faith groups need buildings too
Followers of other faiths naturally want their own buildings. As I drove around to visit the sites of the lost churches, I was impressed with the way in which the Gurdwara Sahib Khalsa Darbar (formerly St. Luke's Anglican Church) uses its building. People are coming and going all the time (I've passed by there more than once), clearly using the building all week long.
So, although I am suggesting that the Church of Vancouver ought to hold onto its properties, I am not suggesting we ought to ignore the needs of our new neighbours.
In this situation, following the Golden Rule might involve working in concert with Muslims, Buddhists, Sikhs, Jews and others for less stringent Church Guidelines. (The City of Vancouver apparently regards any type of religious building as a church.)
4. Are churches good for the city?
This should be a no-brainer. Most churches do good works, whether with youth clubs, ESL lessons, community meals, counselling services, refugee support, hosting AA groups, etc. But there is much room for improvement. The question, sometimes, is whether the congregation actually cares about the community.
I remember, years ago, stopping in on an evangelistic service in East Vancouver. The small church was full, the people well dressed and attentive, and the preacher delivered a solid meat and potatoes gospel message. I hung around for 15 minutes or so after the message, hoping to chat with someone from the church. Not a nibble – though I was clearly the only outsider.
That was an extreme example, of course (and the congregation has since disbanded, having sold their building, fortunately to another church). But we all know of churches which have precious little impact on their community.
Sometimes the potential of a church can be seen most clearly once it is gone. St. James United Church in Kitsilano is now St. James Community Square. And consider St. John's United Church in the West End: as soon as the church was sold, neighbours were clamouring for a community centre in the lovely little wood building – but instead it was demolished and they have yet another highrise tower in its place. (There are only nine churches in the West End, with its population of about 45,000; two are church plants with no buildings, with several other plants in the Downtown core.)
Civic politicians might want to see proof of church contributions to the city before loosening up their Church Guidelines. Fortunately, there are examples to follow in Canada; groups such as Cardus have led the way in Calgary and elsewhere on such issues.
5. Needing money for other ministry
Many of the 20 churches I have referred to were sold so their denomination could start – or buttress – other ministries. Churches cost a lot of money to keep up.
The building on 1st and Commercial seems to fall into that category. There hasn't been a Salvation Army congregation there for some time, and their tenant (Vancouver East Vineyard) has been able to find a comfortable new home a little further to the northeast. The building is old and would need significant renovations for serious church use. On the other hand, money from its sale will go to support the development of a new church in Mount Pleasant.
Churches selling their buildings often hope that another church will purchase their building (and as I drove around checking out the 20 'lost' properties, I was heartened to see how many other buildings have been passed on from one congregation to another over the years). But often those church plants or ethnic churches which want to buy the property don't have enough money, so it goes to other bidders.
Challenges
Those five issues barely scratch the surface when it comes to creating more space for the church in Vancouver. I don't have any answers for this situation, except to suggest that leaders in the Church of Vancouver meet and pray together about what God wants for the good of the city.
On the one hand, the Church of Vancouver will have to become even more creative than it already has been, with congregations sharing buildings, renting public spaces, denominations re-planting declining churches (as Ed Stetzer urged in recent a CT article), private citizens buying buildings for church use (as in Strathcona), meeting in homes, taking church to the streets . . .
On the other hand, one hopes there will be increased cooperation between churches to shepherd, and increase, the stock of church properties that are already available. How could that happen? Better communication with other churches when selling is being planned, considering reduced rates in certain cases, making representations to city hall about opening up new sacred spaces, ideally in a multifaith coalition . . .
God does not need church buildings to bring about his purposes (see the inspiring story of Hudson Taylor posted along with this one!), but it is hard for me to imagine why God would not want the Church of Vancouver to use effectively the tools we have already been given or have the potential to acquire for the good of the kingdom in Vancouver.
I would very much welcome any thoughts on any of these issues, particularly from those who know about, or have participated in, creating a new church space over the past 25 years.
Properties lost to the Church of Vancouver between 1989 and 2014
This is the list I came up with over the Christmas break. I'd love to hear if people know of churches I might have missed:
* formerly: Apostolic Faith Church; now: apartment block
3014 Kingsway (at Rupert, had a neon cross)
* formerly: Church of God of Prophecy; now: housing
2295 Newport Avenue (east of Victoria, even with 60th)
* formerly: St. Luke's Anglican Church; now Gurdwara Sahib Khalsa Darbar
7749 Prince Edward Street (east of Fraser at 61st)
* formerly: Christian Apostolic Church; now: Bao Lam Buddhist Association
6025 St. George Street (east of Fraser at 46th)
* formerly: Basel Hakka Lutheran Church; now: being renovated for housing
823 Jackson Street (on Prior Street, east end of Georgia Viaduct)
* formerly: St. John's United Church; now: apartment tower
1401 Comox Street (centre of West End)
* formerly: Concordia Lutheran Church; now: Providence Maitreya Temple
3495 East Hastings Street (just west of Boundary)
* formerly: Grace Chinese Mennonite Church; now: Masjid Omar Al-Farooq Mosque
1659 East 10th Avenue (just west of Commercial)
* formerly: Associated Presbyterian Church; now: private home? studio?
3092 Fraser Street (just north of Kingsway)
* formerly: Highland Church; now: Or Shalom Temple
710 – 10th Avenue (on Fraser)
* formerly: Holy Trinity Anglican Church; now: apartment building
2601 Pine Street (west of Granville at 10th)
* formerly: Salvation Army: Kitsilano; now: housing
2309 West 10th Avenue (west of Arbutus)
* formerly: St. James United Church; now: St. James Community Square
3214 West 10th Avenue (between Macdonald and Alma)
(Note, Feb 24, 2016: I was mistaken here; the church was leased, but not actually sold, until February 11, 2016 Go here for details.)
* formerly: Kitsilano United Church; now: apartment block
1824 Larch Street (at 2nd, west of Arbutus)
* formerly: Kitsilano Bible Church; now: housing
1415 Maple Street (north of Cornwall, in Kits Point)
* formerly Prince of Peace Lutheran Church; now: P.T.T. Buddhist Society
514 Keefer Street (east edge of Chinatown)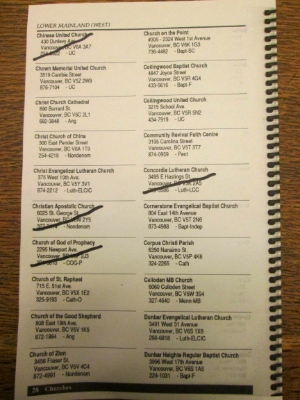 * formerly:
Chinese United Church
; now: apartments
430 Dunlevy Street (Chinatown)
* formerly: Evangelistic Tabernacle; now: condo housing
85 East 10th Avenue (just west of Main)
* formerly Mount Pleasant Baptist Church; now: apartment block
2600 Quebec Street (kitty corner to Evangelistic Tabernacle)
* formerly: St. Matthew's Anglican Church; now: housing
3019 East 23rd Avenue (between Renfrew and Rupert)
* formerly: Full Gospel Assembly; now: Sufi school
140 Esmond Avenue (this one is just into Burnaby)