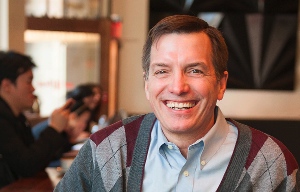 The founder of Vancouver's favourite home-brewed coffee empire will talk about why he thinks mentorship is so important during a dinner meeting at the Vancouver Club on Wednesday (November 6).
In 1996, John Neate Jr. founded JJ Bean, starting with two stores and 12 employees; he now has a team of 200 staff serving in 13 stores.  
John's enthusiasm for coffee runs in the family. His grandfather and father started Neates Coffee, which was purchased by Nestle in 1990. In turn, he and Melanie – his wife of more than 30 years – have passed on their passion for coffee to their children, some of whom have joined the family business.
John will address the question: "Why is mentorship invaluable for leaders today?" and look at how to find the best mentor or coach for specific situations.
The event is sponsored by LeaderImpact, which "offers an uncommon opportunity for marketplace leaders to explore how they can reach their full potential while leading lives of balance and significance." The evening includes drinks, appetizers and a light dinner. 
 You know there's something a little bit different about Midland Tarp & Canopy Company (and Midland Liquidators) when you look at its website.
On the top bar, along with 'About Us' and 'Shipping & Returns,' you'll find 'Help Us Change Our World.' Click on that button and you'll discover that Midland supports Hope Academy in Liberia, Hope For the Nations in Ukraine, Mission Possible in the Downtown Eastside and Youth Unlimited. Then, under 'Contact Us,' you'll learn that the business is closed on Sunday.
Ken McAllister owns Midland, which opened in 1984 on the corner of Kingsway and Commercial, and is now just west of Knight Street, still on Kingsway. Several years ago, an incident in the workplace almost destroyed the business, and threatened the commitments he had made to hundreds of orphaned children.
Ken will tell the story of how God strengthened his faith during the time of rebuilding, this Friday morning (November 8) at the Vancouver Club.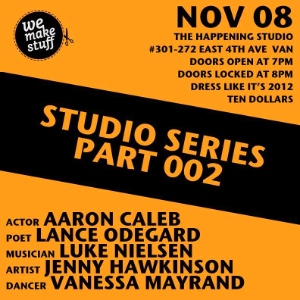 WeMakeStuff, Part 002
The folks from WeMakeStuff are back, with Studio Series Part 002, featuring a great line-up of artists, and plans for a second book. Join them this Friday night (November 8) at The Happening, a dance studio located in the heart of Mount Pleasant.
Featured will be Aaron Caleb (actor); Lance Odegard (poet); Luke Nielsen (musician); Jenny Hawkinson (artist); and Vanessa Mayrand (dancer).
The event starts at 7 pm, but take note – doors willed be locked at 8 pm. Tickets are $10.
Nov 2013
Christian Advocacy Society of Vancouver: Autumn Dessert Banquet
– November 4, 2013 at 7:00 pm - 9:30 pm
Vancouver Pastors' Prayer Fellowship
– November 6, 2013 at 10:30 am - 12:30 pm
Business By the Book: Jeremy Nickel
– November 6, 2013 at 12:00 pm - 1:00 pm
Mentorship - Don't Lead Without It: A Special Evening with John Neate (founder of JJ Bean)
– November 6, 2013 at 6:00 pm - 8:00 pm
Chancellor's Lecture Series: 20th Century Catholic Theologians - Archbishop Michael Miller on Karol Wojtyła and Joseph Ratzinger
– November 6, 2013 at 7:00 pm - 8:15 pm
Christianity Explored
– November 6, 2013 at 7:00 pm - 9:00 pm
Medieval Vespers
– November 6, 2013 at 7:30 pm - 9:00 pm
There's Truth and There's The Truth with Braden Douglas
– November 7, 2013 at 7:00 pm - 9:00 pm
Francis Gabuka: Forgiveness Following the Rwandan Genocide
– November 7, 2013 at 7:30 pm - 9:30 pm
Canadian Youth Workers Convention
– November 8, 2013 - November 10, 2013 at All Day
City in Focus Monthly Breakfast with Ken McAllister: The Rebuild
– November 8, 2013 at 7:30 am - 8:30 am
WeMakeStuff: Studio Series Part 002
– November 8, 2013 at 7:00 pm - 10:00 pm
Rob Des Cotes: Belonging to Life
– November 9, 2013 at 10:00 am - 4:00 pm
War and Peace: Poetry and Piano
– November 9, 2013 at 5:00 pm - 6:00 pm
Laura-Lynn Tyler Thompson: Beyond the Glitter
– November 9, 2013 at 7:00 pm - 9:00 pm
International Day of Prayer for the Persecuted Church
– November 10, 2013 at All Day