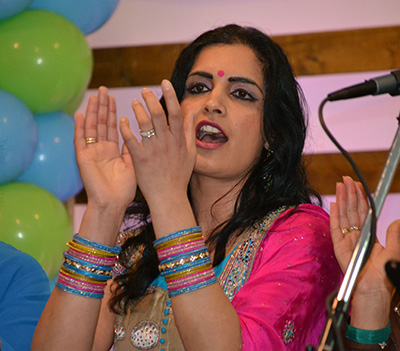 Sunday, March 9 was a big day for the Punjabi Masihi Church. After almost a decade in the planning and building stages, the 160-member church dedicated its new $2 million church, located on 72nd Avenue, west of Newton Town Centre in Surrey.
Affiliated with the Pentecostal Assemblies of Canada (PAOC), the church had small beginnings in the Indian and Pakistani communities in Metro Vancouver. Most of the original members were part of Delta Church, located in North Delta, which shares a boundary with Surrey, home to one of the largest communities in Canada.
I spoke with Balbir Sheena, one of the church's pastoral leaders. A telecommunications engineer by profession, he is responsible for the congregation's charity work. Another pastor, Jagpal Dhaliwal, focuses on spiritual development of the congregation and the core leadership team is rounded out with Dr. Mathew Koshy.
Balbir says the congregation places much emphasis on lay leadership. His own 'portfolio' involves encouraging church members to assist in an East Vancouver feeding program spearheaded by the Salvation Army, and relating to Surrey's own NightShift Ministries and Surrey Urban Mission.
He points, as well, to the trend away from the South Asian tradition of large multi-generational families living in one home. Housing costs and economic pressures on younger families mean the church must help them as they navigate the complexities of finding care for their aging parents and grandparents.
Delta Church began seeing quite a few people of Punjabi background around the church in the early 90s. Many of them had come to faith in Christ in the Punjab, on both sides of the India-Pakistan border. If they were from Pakistan, they came from a  Muslim background, if from the India side, they usually had Sikh or Hindu connections.
Often their Christian faith included experiences of healing and the miraculous, so they tended to link with Pentecostal churches in their new country, Balbir notes.
The leadership at Delta could foresee the time when Punjabi Masihi (Christians) would want a church of their own so they could reach out to others who had moved into the area. Six years ago, with the help of Delta Church and the PAOC, they acquired a one acre lot at 14488 – 72nd Avenue (beside the Valley View Funeral Home and Cemetery).
Punjabi Masihi Church operates with a budget of about $250,000 a year and is now pretty much self-sufficient. In 2005, it began a branch in Maple Ridge and more recently another one in Vancouver.
Sunday's dedication service filled the church building nicely. Both national and provincial Pentecostal leaders David Wells and Ken Russell were on hand to pray for and wish the congregants well in their new facilities.