Vancouverites will have several opportunities to grapple with the Doctrine of Discovery and related issues over the next couple of months.
Sarah Augustine
Sarah Augustine will address the matter directly as the second speaker in the Taking Action! speaker series, sponsored by SFU and the Resilience BC Anti-Racism Network, which "features activists from around the world sharing their successes and strategies for effective anti-racism work."
Her topic is 'Dismantling to Rebuild: Replacing the Doctrine of Discovery in the 21st Century.'
Augustine is the author of The Land is Not Empty: Following Jesus in Dismantling the Doctrine of Discovery (Herald Press, 2021).
The publisher gives a good sense of her approach:
White settlers saw land for the taking. They failed to consider the perspective of the people already here.
In The Land is Not Empty, author Sarah Augustine unpacks the harm of the Doctrine of Discovery – a set of laws rooted in the 15th century that gave Christian governments the moral and legal right to seize lands they 'discovered,' despite those lands already being populated by Indigenous peoples.
Legitimized by the church and justified by a misreading of Scripture, the Doctrine of Discovery says a land can be considered 'empty' and therefore free for the taking if inhabited by 'heathens, pagans and infidels.'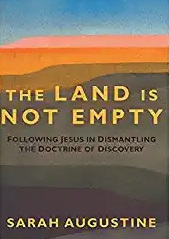 In this prophetic book, Augustine, a Pueblo woman, reframes the colonization of North America as she investigates ways that the Doctrine of Discovery continues to devastate Indigenous cultures, and even the planet itself, as it justifies exploitation of both natural resources and people. . . .
What was done in the name of Christ must be undone in the name of Christ, the author claims. The good news of Jesus means there is still hope for the righting of wrongs. Right relationship with God, others and the earth requires no less.
Augustine is founder and co-chair of the Coalition to Dismantle the Doctrine of Discovery and executive director of the Dispute Resolution Center of Yakima and Kittitas Counties. Augustine has written for Sojourners, The Mennonite and other publications, and is adjunct professor at Heritage University. She and her husband, Dan Peplow, and their son live in the Yakima Valley of Washington.
Sophie Pierre, former chief of ʔAq̓am, St. Mary's Indian Band and former chief commissioner of the British Columbia Treaty Commission, will speak along with Augustine.
Directions for Pope Francis
The Assembly of First Nations (AFN) posted a statement on Dismantling the Doctrine of Discovery in January 2018. It included these words:
How is it possible that any Pope, King or Queen or explorers from Europe could 'discover' lands in the New World if Indigenous Peoples were already occupying such lands, according to our own laws and legal orders?
The Doctrine of Discovery emanates from a series of Papal Bulls (formal statements from the Pope) and extensions, originating in the 1400s.
Discovery was used as legal and moral justification for colonial dispossession of sovereign Indigenous Nations, including First Nations in what is now Canada. During the European 'Age of Discovery,' Christian explorers 'claimed' lands for their monarchs who felt they could exploit the land, regardless of the original inhabitants.
This was invalidly based on the presumed racial superiority of European Christian peoples and was used to dehumanize, exploit and subjugate Indigenous Peoples and dispossess us of our most basic rights.
This was the very foundation of genocide. Such ideology leads to practices that continue through modern-day laws and policies.
An article in the Toronto Star quoted AFN National Chief RoseAnne Archibald before the Indigenous leaders' visit  with Pope Francis in Rome this spring:
There are two "key messages" the AFN delegation will be relaying, said Archibald. The first is to have the Pope revoke the 1493 Doctrine of Discovery or terra nullius. . . .
Archibald is clear that the Pope is not being petitioned for an apology. "It's long overdue and so that's the second key message around his apology," she said.
There will be several more opportunities to learn about the Doctrine of Discovery and other issues related to the Indigenous community over the next couple of months.
Stolen Lands, Strong Hearts
St. Philip's Anglican Church in Dunbar hosted Doctrine of Discovery, Stolen Lands, Strong Hearts, a challenging documentary produced by the Anglican Church of Canada, over five Wednesday evenings in March and April.
Fortunately it is also available online. Here's the description:
Doctrine of Discovery: Stolen lands, Strong Hearts is a film about a devastating decision, made over 500 years ago, which continues to profoundly impact Indigenous and Settler people worldwide. Pope Alexander VI ruled that the lands being discovered by European explorers at the time was "empty" land and its millions of Indigenous inhabitants were "non-human".
Canada's Truth and Reconciliation Commission released 94 Calls to Action in 2015, with many of them referring to the Doctrine of Discovery and calling for its repudiation.
This film is one of the responses of the Anglican Church's Primate's Commission on Discovery, Reconciliation and Justice.  The purpose of this film is to respond to the calls to action by helping to provide education and insight into the racist foundations of many of our property and other laws still in existence to this day.
Indigenous Realities
Ray Aldred, director of the Indigenous Studies Program at the Vancouver School of Theology, is right in the midst of a six-part series on Indigenous Realities in Canada with Tenth Church. You can still join in; three sessions remain: May 16 and 23, and June 6.
Here is some of the outline:
 This course aims at helping build a healthy respect for Indigenous identity, and seeking to become an ally. You'll explore the topics of:
Indigenous spiritualities (Indigenizing theology);
treaties, both ancient and contemporary (Indigenous Story and Land and biblical interpretation);
a brief history of the interaction between the Church and Indigenous Peoples (The Indigenous Christ);
the history of reconciliation in Canada (Indigenous conceptions of identity and evangelism)
The Indigenous Studies Program at VST is holding a Summer School course July 11 – 22.
Spirit of Reconciliation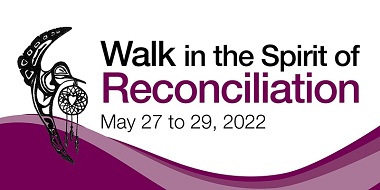 The 7th annual Walk in the Spirit of Reconciliation will take place May 27 – 29.
Organizers say:
We hope you will join us for any/all of the days as we walk in lament and solidarity with our First Nations brothers and sisters whose families have been affected by the residential schools for many generations. As anyone of our human family have been affected, we are all affected.
This is an ecumenical event in partnership with the Christian Reformed Church, Diocese of New Westminster, Jericho Ridge Community Church, Langley Mennonite Fellowship Church, Mennonite Church British Columbia, Mennonite Central Committee BC, St. Nicholas Roman Catholic Church, United Churches of Langley and Willoughby Christian Reformed Church.
Pathways to Reconciliation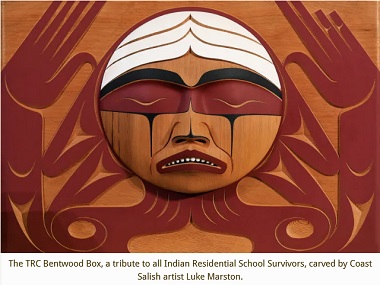 Two Anglican churches – St. Mark's in Ocean Park and Church of the Holy Trinity in White Rock – have combined forces to focus on several issues related to the Indigenous community:
Under the umbrella heading of Pathways to Reconciliation, each of the four gatherings is designed to raise awareness about the history of First Nations, Métis and Inuit and their relationship with Canada.
It is also an opportunity to learn and participate in facilitated discussions about many complex issues with the aim of exploring paths towards reconciliation.
The first event, last October, focused on the Doctrine of Discovery. The final gathering will look at 'The 94 Calls to Action and Resiliency,' June 18 at St. Mark's.
Truth, Reconciliation & Catholics
St. Mark's College at UBC will host Perspectives on Truth, Reconciliation and the Catholic Church July 8. The event is free and open to all.
Here is the description:
Come learn from and be inspired by Deacon Rennie Nahanee as he shares with us his rich experience in fostering reconciliation between Indigenous and non-Indigenous peoples.
A Squamish Nation Elder and Catholic Deacon, Deacon Rennie served as Coordinator of First Nations Ministry for the Archdiocese of Vancouver.
Recently, Deacon Rennie has been working to integrate Squamish language and culture into the liturgy and services at the St. Paul's Indian Church on the Squamish Mission Reserve in North Vancouver, an initiative which has captured local and national attention.
I have written about Nahanee several times.
Ukraine / Doctrine of Discovery
Vida Jaugelis, interim pastor of Gloria Dei Lutheran Church in North Vancouver, has been passionate in her support for the Ukrainian people as they have been attacked by their Russian neighbours.
She wrote an insightful comment for the church newsletter. Here is a portion:
The events in Ukraine touch a deep chord in my own life. Twenty-two years ago, I visited my parents' homeland of Lithuania and met my cousins for the first time.
As we shared meals and conversation we rejoiced at the gains the country had made in 10 short years since shaking off the oppressive yoke of the Soviet empire.
Now, my cousins and their fellow citizens fear the worst – that after Ukraine, they may be next. They fear their hard won liberty and democracy is once again threatened, not by communism, but by Kremlin's kleptocratic ruler. . . .
Even as we condemn the unlawful violation of international law by Russia, we have an obligation to come to terms with another story of conquest – that of the Indigenous peoples of the Americas – and the historical role the church played in that conquest.
 She added that the Synod's Journey to Reconciliation Group was making a study of the Doctrine of Discovery available to them during Lent.
Sho Sho Esquiro

A relevant exhibition at the Bill Reid Gallery of Northwest Coast Art continues until June 5. The gallery says this about Sho Sho Esquiro: Doctrine of Discovery:
The solo exhibition by award-winning designer, artist and activist Sho Sho Esquiro showcases meticulously crafted couture gowns,  textiles, paintings and photographs to celebrate the beauty, strength and resilience of First Nations communities in the face of historical and ongoing trauma.
Curated by Miranda Belarde-Lewis, Sho Sho Esquiro: Doctrine of Discovery inspires conversations around genocidal colonial practices, confronts the theft and murder of Indigenous women and children, and honours activists on the front lines.
"This powerful and vital exhibition of contemporary fashion sheds an urgent light on the devastating impacts of the Doctrine of Discovery, an international law that falsely gave European settlers dominion over the lands and Indigenous peoples of the Western Hemisphere," says Belarde-Lewis.
"Through Esquiro's artful storytelling using materials from her Yukon homelands, patrons are asked to confront challenging truths about Canadian history that still have catastrophic consequences today.
Given the ongoing recovery of Indigenous children at the sites of former residential 'schools' coupled with the ongoing fight against corporate extraction of natural resources, Sho Sho Esquiro: Doctrine of Discovery shares a critical perspective on the lived experiences of First Nations communities."