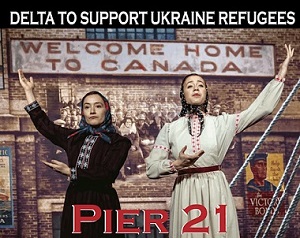 Two South Delta churches are joining with a number of other groups to raise funds for displaced Ukrainians.
A Facebook post by St. David's Anglican Church states:
I know we've all seen what's going on in the Ukraine and how it has affected so many families. We would like to rally the support of our wonderful community in Delta to help two or more Ukrainian refugee families settle in the area.
To raise funds, there will be a live theatre production called Pier 21 written by our own local playwright, Allen Desnoyers, that tells the story of a wave of immigration in the 1940s as refugees fled another war to find safety in Canada.
This presentation of Pier 21 on May 14 is supported by the City of Delta, Delta Chamber of Commerce, local businesses, churches, South Delta Secondary School and others, all taking part in this united endeavour to assist victims of a devastated country. Event proceeds will go to Delta Ukraine Refugee Support.
The venue is South Delta Baptist Church: 7:30 pm, May 14 in Tsawwassen. The actors are all donating their time.
Desnoyers has worked in drama for decades. Ron Reed wrote about an earlier staging of Pier 21, also at South Delta Baptist:
Allen Desnoyers co-founded Pacific Theatre with me, back in 1984. He still appears in Christmas Presence from time to time. . . . But he's pretty busy with his own company, Canadiana Musical Theatre, that tours shows to communities and schools around western Canada.
Go here for tickets.
Apology for coerced adoptions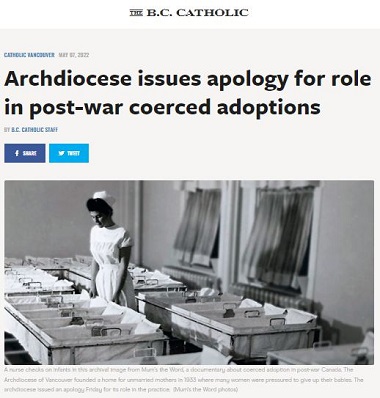 The Roman Catholic Archdiocese of Vancouver released an 'Apology for the church's role in coerced adoptions' May 6, just before Mother's Day.
The apology began:
Introduction
Canadian societal customs from the 1940s through the 1970s did not consider, or recognize, an unwed mother as a responsible parent. To our regret we acted on that conviction.
Our participation in a system that separated a young unmarried mother from her newly born child was, we now acknowledge, a practice that caused great harm and hurt. We are truly sorry for participating in that practice.
History
In 1933, the Catholic Children's Society in the Archdiocese of Vancouver founded the Our Lady of Mercy Home for unmarried mothers under the direction of the Superintendent of Child Welfare of the Province of British Columbia.
The home was located at the corner of 54th Avenue and Oak Street in Vancouver, British Columbia. Unwed pregnant mothers were offered a place to stay, arrangements for medical care, counselling, financial planning and temporary foster care for those who needed time to plan their future and make decisions about the care of their child, including adoption. We now know that many of these mothers faced pressures that adoption was the only choice.
Our Apology 
The Archdiocese of Vancouver apologizes for our participation in the separation of mothers and fathers from their children. Our role in any pressured and coerced adoptions created a legacy of pain and suffering. We contributed to a culture of shame, guilt and secrecy, which often led to pain and isolation.
Go here for the full statement, including sections on 'Moving Forward' and 'Our Continuing Commitment.' An article in The B.C. Catholic also covers the statement.
St. Clement's & Canterbury
St. Clement's Anglican Church in North Vancouver has struck up an unique connection with Canterbury Cathedral in England.
The Rev. Peggy Trendell-Jensen, Deacon at St. Clement's, posted this May 7:
Each and every day since the pandemic lockdown hit England in March 2020, Dean Robert Willis has offered morning prayer from the beautiful and varied grounds of the Canterbury Cathedral deanery.
He 'went viral' early in the pandemic when one of his cats stole the show, and his congregation has grown ever since.
Part of the informal service includes a 'this day in history' reflection or a celebration of a holiday or festival. Listening to a service in February that was infused throughout with music in celebration of the Lunar New Year inspired us at St. Clement's to spend this year paying more conscious attention to the many different countries and cultures in the worldwide Anglican Communion. Saying the peace in different languages throughout Eastertide is one manifestation of that goal!
We let Canterbury know that the Dean's morning prayer sparked this endeavour at St. Clement's and they asked us to submit a piece for their newsletter. We even took a special photo greeting for them, which you can see above. The story was published in time for their Easter edition and you can read it right here!
This piece is on the St. Clement's site, but I found it first on the Anglican Diocese of New Westminster site.
May 5, 2022
Lost and Found
– May 5, 2022 - May 15, 2022 at All Day
May 6, 2022
Parenting Conference (two evenings)
– May 6, 2022 - May 12, 2022 at 7:00 pm - 9:00 pm
May 9, 2022
Share Jesus & In the Harvest Training
– May 9, 2022 - May 12, 2022 at 9:00 am - 8:00 pm
May 12, 2022
A Creature Chronicle: Exhibition & Symposium
– May 12, 2022 - May 21, 2022 at All Day
MCC Spring Banquet
– May 12, 2022 at 6:00 pm - 8:30 pm
May 13, 2022
May Art and Prayer Retreat
– May 13, 2022 at 10:00 am - 5:00 pm
Navigate Bible Conference: The King is Coming – Hearing the Message of the Book of Ruth with Dr. Daniel Block
– May 13, 2022 - May 14, 2022 at 4:30 pm
May 14, 2022
March for Life
– May 14, 2022 at 1:30 pm - 4:00 pm
Congregational Singing Today
– May 14, 2022 at 4:00 pm - 5:30 pm
Sentences & Sentience: C.S. Lewis & the Word, with Dr. Andrew Kaethler
– May 14, 2022 at 5:00 pm - 8:00 pm
SOZO 2022: This is the Kingdom
– May 14, 2022 at 7:00 pm - 9:30 pm
Delta Ukrainian Refugee Support
– May 14, 2022 at 7:30 pm - 8:45 pm
May 15, 2022
United Voices "Arise!" Spring Concert
– May 15, 2022 at 2:00 pm - 4:00 pm
May 16, 2022
Indigenous Realities in Canada, with Rev. Dr. Ray Aldred (six-class course)
– May 16, 2022 - June 6, 2022 at 7:00 pm - 9:00 pm
Lissa Wray Beal: Villains, Heroes & Those in Between – God's Ways & a Broken World
– May 16, 2022 at 7:30 pm - 9:00 pm
May 18, 2022
Kaleidoscope
– May 18, 2022 - June 15, 2022 at All Day
Mission Pastor Roundtable
– May 18, 2022 at 10:00 am - 11:30 am
Faculty Roundtable: Old Testament Difficulties – Violence & Trauma
– May 18, 2022 at 12:00 pm - 12:45 pm
Kaleidoscope: Opening Reception
– May 18, 2022 at 4:00 pm - 7:00 pm
Transform Gala for the Salvation Army's 'Nine Stories of Hope' Campaign
– May 18, 2022 at 6:00 pm - 9:00 pm
Gordon T. Smith: Generation to Generation – the Inter-Generational Dynamic of Vital Christian Communities
– May 18, 2022 at 7:30 pm - 9:00 pm
May 19, 2022
Launch Day: The Sanctuary Course, Revised & Improved
– May 19, 2022 at 7:00 pm - 8:30 pm
Bez Open Mike, with Russ Rosen (Thursday evenings)
– May 19, 2022 - July 14, 2022 at 7:30 pm - 9:00 pm
May 20, 2022
The Mountaintop
– May 20, 2022 - June 11, 2022 at 8:00 pm - 9:30 pm
May 21, 2022
Tax Clinic (Saturdays)
– May 21, 2022 - June 26, 2022 at All Day
Singing Justice
– May 21, 2022 at 4:00 pm - 5:30 pm
May 23, 2022
Mark Noll: What I Have Learned from Studying the History of the Bible
– May 23, 2022 at 7:30 pm - 9:00 pm
May 24, 2022
Religious Responses to Climate Change: An Inter-Religious Conference
– May 24, 2022 - May 26, 2022 at All Day
Rev. Dr. Randy Woodley: Religious Responses to Climate Change (Opening Keynote)
– May 24, 2022 at 7:00 pm - 8:30 pm
May 25, 2022
Faculty Roundtable: Applying Scripture to Life
– May 25, 2022 at 12:00 pm - 12:45 pm
Adrienne Dengerink Chaplin: Art, Conflict & Healing: Case Studies from Northern Ireland, China & Ukraine
– May 25, 2022 at 7:30 pm - 9:00 pm
May 26, 2022
Harnessing Conflict for Change (two-day workshop)
– May 26, 2022 - June 2, 2022 at 9:00 am - 12:00 pm
Raymond Tallis: The Houston Centre Presents – 'Why We're Not (Just) Beasts'
– May 26, 2022 at 7:30 pm - 9:00 pm
May 27, 2022
Walk in the Spirit of Reconciliation 2022
– May 27, 2022 - May 29, 2022 at All Day
Prayer Gathering, by 24-7 Prayer Canada
– May 27, 2022 at 6:00 pm - 10:00 pm
Impact Conference
– May 27, 2022 - May 28, 2022 at 7:00 pm - 2:00 pm
musica intima: NAGAMO (sings)
– May 27, 2022 at 7:30 pm - 9:30 pm
May 28, 2022
Behold Israel
– May 28, 2022 at 5:00 pm - 9:00 pm
Rise Above, with the Amabilis Singers
– May 28, 2022 at 7:30 pm - 9:00 pm
May 30, 2022
Malcolm Guite: A New Orientation – Insights from the Poets on What it Means to Turn to Christ
– May 30, 2022 at 7:30 pm - 9:00 pm
June 1, 2022
Douglas Moo: The Never-Changing Word of God in Ever-Changing Modern English – Perspectives of a Translator
– June 1, 2022 at 7:30 pm - 9:00 pm
June 3, 2022
Nations2Nations Conference
– June 3, 2022 - June 5, 2022 at 12:00 am
Business As Mission Conference 2022
– June 3, 2022 at 8:00 am - 4:15 pm
June 4, 2022
Refugee Support and Volunteer Training
– June 4, 2022 at 8:45 am - 3:00 pm
June 6, 2022
Karen Swallow Prior: The Evangelical Social Imaginary – the Images, Ideas & Metaphors that Made a Movement
– June 6, 2022 at 7:30 pm - 9:00 pm
June 7, 2022
City Impact Tour: Langley, Surrey & Abbotsford
– June 7, 2022 at 9:30 am - 12:00 pm
June 8, 2022
Krish Kandiah: Let Your Light Shine – Changing the Public Perception of the Christian Faith in Media & Politics
– June 8, 2022 at 7:30 am - 9:00 am
June 10, 2022
The 55th Annual British Columbia Leadership Prayer Breakfast
– June 10, 2022 at 7:30 am - 9:00 am
WestCoast Miracle Healing Conference
– June 10, 2022 - June 12, 2022 at 7:00 pm - 8:00 pm
June 16, 2022
City Impact Tour: Vancouver
– June 16, 2022 at 9:30 am - 12:00 pm
June 18, 2022
Pathways to Reconciliation
– June 18, 2022 at 1:30 pm - 4:30 pm
June 24, 2022
Worship Central Conference 2022
– June 24, 2022 - June 25, 2022 at 7:00 pm - 9:00 pm
June 26, 2022
One With Them: A Day for Christian Captives
– June 26, 2022 at All Day
June 27, 2022
Ron Rittgers: 'You Have Torn Away a Piece of My Heart': A Widower's Lament from the Christian Past
– June 27, 2022 at 7:30 pm - 9:00 pm