Union Gospel Mission is a particularly busy place these days. At Summer Connect, on Wednesday (June 18), they hosted 40 other agencies offering a variety of free services, and next Wednesday (June 25) they will open their newly renovated building for women.
Princess Street was blocked off for Summer Connect, to make room for tents housing a wide range of groups which provided, at no charge, legal assistance, support for housing, employment assistance, wheelchair and bicycle repair, pet care, medical foot washing and more. Lunch was served all day, and there was a live band.
The purpose was to allow people struggling with poverty, homelessness and addiction the chance to take care of tasks which are necessary to survival and well-being. UGM wanted to reduce financial, geographic and other barriers.
Next week, UGM will hold an official opening ceremony for their newly renovated building at 616 East Cordova Street.
"For many women," says UGM, "children are the drive behind the desire to overcome addiction and live clean and sober." The Sanctuary Program, in the newly renovated Women and Families Centre, consists of two Stabilization Programs for women seeking a recovery-centred life. Phase One, a gap-filling and housing program for women in between recovery and detox, was announced in March; and on June 25, Phase Two will  be announced.
The cost of renovations and seed funding to run the program for the next three years is $2,526,000; just over $2.3 million has been raised to date.
Voices Together (2015)
Voices Together is going ahead; but not until next year. You're on your own for Canada Day this year, but prepare for another massive expression of Christian unity July 1, 2015.
Organizers of the Voices Together movement hosted lunches at Coastal Church in Vancouver (June 18) – which I attended – and Calvary Worship Centre in Surrey (June 19), in order to bring the assembled pastors and ministry leaders up to date with plans.
"For those who might be feeling a little bit disappointed," said Giulio Gabeli, senior pastor of Westwood Community Church in Coquitlam, "there is a deeper and broader gathering that we need to be working on."
Both he and Dave Carson, vice chair of Hope Vancouver, recalled the inspiring and worshipful Voices Together gathering attended by more than 10,000 people at Rogers Arena last year. Dave described it as a great opportunity "to lift high the name of Jesus" and "to show the credibility of the church."
He added that "God is giving us 12 months to really get our act together." He said the Voices Together team is considering the Pacific Coliseum for next year, though Rogers Arena is also a possibility. And he echoed Darrell Johnson of First Baptist Church, who had predicted that we will be gathering in BC Place before too long.
Dave Koop, senior pastor of Coastal Church, said, "The primary object is to lift up Jesus, but if we can come together we can speak into our city . . . unity is very attractive." Ken Shigematsu, senior pastor of Tenth Church added, "It's great to have a band of brothers and sisters around us as we work for the cause of Christ and the good of the city around us."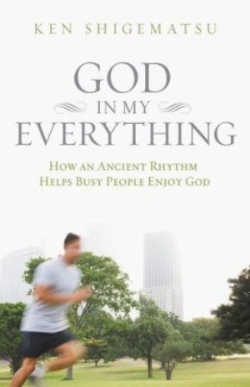 God in My Everything wins award
Speaking of Ken Shigematsu, his God in My Everything has just won the annual Word Guild award for best Christian Living book. Congratulations! The Word Awards Gala took place June 11 at World Vision Canada headquarters in Mississauga, Ontario.
The Word Guild "is a growing community of more than 325 Canadian writers, editors, speakers, publishers, booksellers, librarians and other interested individuals who are Christian."
God in My Everything had its genesis in a sermon Ken preached shortly after his return from a pilgrimage to the holy sites of Ireland. The trip introduced him to the ancient monastic practice of a rule of life, which helped monks develop unique personal rhythms for lives as individuals and a community. 
He began developing a rule for his own life. When he shared the idea with his congregation, he received a steady stream of requests for more information – beyond anything he has ever experienced as a pastor.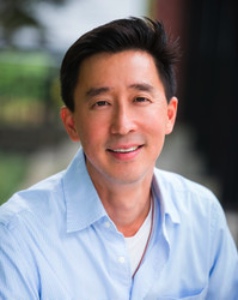 "I don't live in a monastery," he says. "But I have found a way to live out my commitment to Christ in each of my different relationships and roles through a life-giving rhythm, what the ancient monks referred to as a rule of life."
The practice has allowed Ken to cultivate a prayerful attitude and greater sense of freedom in all that he does despite a demanding schedule as a senior pastor of a 2,000-member congregation, a mentor to younger Christian leaders, and a husband and father.
"God in My Everything shares with others the single most life-transforming idea of my life," he says. "I am grateful for its warm reception, which has been beyond my expectations."
God in My Everything has received positive reviews from many quarters. First Baptist pastor Darrell Johnson said, "I have read a lot of books along these lines – a lot – and this is simply best most accessible of them all. I will be passing it on to nearly everyone with whom I work. The book is truly outstanding. I predict it will become the 'go to book' for the church in our time."
I have written about the book here and here.
God in My Everything also received an honourable mention for the prestigious Grace
Irwin Prize, Canada's largest literary prize for Christian writers.
Other award recipients from Metro Vancouver are Kevin Schut of Abbotsford in the Culture category for Of Games and God and Christine Lindsay of Chilliwack for her historical novel Captured by Moonlight.
Shelaine Strom of Abbotsford won for her article in the Personal Experience category, 'Waiting: A Passionate Pause' (Truth Media); Carolyn Arends of Surrey for her series in Christianity Today, 'The Trouble with Cussing Christians' and 'You Probably Won't Be Sent to Egypt'; and reporter Jeff Dewsbury of Langley in the News category for 'Christian Law School Proposal Raises Discussion' (Faith Today).
Three local ministries win Stronger Together grants

Stronger Together 2014 announced June 16 that $503,000 has been awarded to 12 Christian charities from across Canada in this year's round of grants. Among those winners are three groups from Metro Vancouver:
* The Wellspring Foundation, which is "a catalyst for transforming education for hundreds of thousands of African children and fostering vibrant communities that address poverty in all its forms."
Wellspring was granted $45,000 "to launch a leadership institute for 20 selected educators and an annual summit for 200 sector leaders in Kigali, Rwanda."
* WorldServe Ministries, describes its work this way: "By supporting church planting pastors, offering Christian leadership training and distributing Bibles – as well as providing practical helps, such as famine relief, micro business projects, caring for needy children and community health initiatives, we are seeing communities change and the influence of the local church grow."
WorldServe will receive $40,000 "to train 100 Chinese Christian students to be factory evangelists, provide musical instruments for a music store and cover salaries for 15 church planters for one year."
* Kinbrace Community Society "welcomes people in Canada's refugee protection system by providing housing, orientation, accompaniment and education. Our work is rooted in relationships and hospitality."
Kinbrace was granted $9,400 "to adapt a Vancouver refugee hearing preparation guide for use in Toronto and Montreal, to translate the guide into six languages and to disseminate it to 10,000 claimants."
Stronger Together says: "For four years now, granting partners have committed annually to this initiative that has seen more than $4m in grants being awarded to over 170 Canadian Christian charities.
"Stronger Together is not a formal organization but a group of private individuals and foundations gathered in goodwill to advance charitable philanthropy. Stronger Together exists to coordinate our individual giving for maximum impact."
Why Vancouver? Why You? essay contest

"Tell us your story! Whoever you are, wherever you're from, how do you and Vancouver know each other? The city is the place, but 
your 
place in it is what matters. You may be a professional or amateur writer. Suggested topical avenues might be: why you live in Vancouver or what you love here. Tell us about yourself, your family, friends, work or community."
The
Why Vancouver? Why You?
essay contest is sponsored by Vancouver Westside realtor Ken Wyder "to support writers in their craft, encourage civic engagement and help build community by sharing interesting local stories and personalities with others."
Prizes are $1,000 for first place, $500 for second and $250 for third. The length is 500 – 1000 words of unpublished material, non-fiction only. You may submit more than one essay. There is no entry fee. The deadline in July 15. For more info go
here
. Direct all questions to:
[email protected]
Christian Seasons Calendar seeking artwork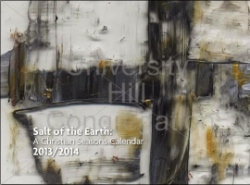 Artists are invited to participate in the upcoming issue of Salt of the Earth: The Christian Seasons Calendar for 2014/2015. This unique and beautiful calendar is produced by University Hill Congregation; view a sample of the current Christian Seasons Calendar here.
"Interested artists are encouraged to offer artwork that interprets scripture readings and themes within the Christian Year. A list of the scripture readings used in Year B of the Revised Common Lectionary can be found here.
"There is one page available for an image for each of the following seasons: Advent, Christmas, Epiphany, Lent, Holy Week and Easter. There are five pages available for art in the Season after Pentecost. On these pages we seek images that portray Pentecost, All Saints Day and the Reign of Christ as well as images particular to biblical texts included in the lectionary readings during this season of growth in discipleship."
The deadline for submission is June 30. Check out pastor Ed Searcy's Holy Scribbler blog for more information.