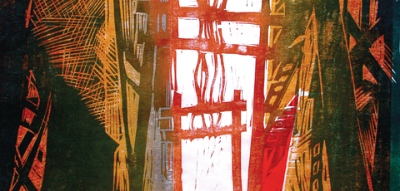 Regent College wants to introduce its community to the work of Richard Tetrault; thus the Lookout Gallery's From the Urban Landscape show, running from September 10 to October 3 (an opening reception runs from 4:30 – 7:30 pm on the 10th).
The exhibit will be well worth the trip, but it is not the only place to see the popular local artist's work. Not only has he just concluded a show at the Van Dusen Gardens, but Time & Place will be held at the Ferry Building Gallery in West Vancouver this month as well.
In his artist statement, Tetrault says:
From the Urban Landscape links early work from the Downtown Eastside with a recent series of woodcuts centred on the motif of alleys and waterfront. Time and Place focuses on recent works on Mylar and paper, incorporating print and graphic elements extrapolated from impressions of my immediate urban environment. Graphite drawings delve into condemned corners of the city . . .
In fact, his influence can be seen throughout the city, on the streets. The highest profile work is a collaborative project, Through the Eye of the Raven, which he describes as "a six storey high mural developed with the urban Aboriginal community of Vancouver . . . that expresses the historic intersection of three cultures: Japanese, Chinese and Aboriginal." The mural is on the west wall of the 55-room SRO Orwell Hotel at 456 East Hasting Street, run by the Vancouver Native Housing Society,
Carlyn Yandle, in her rather fascinating public-art-around-Vancouver blog, describes Tetrault's work in The Pretty and the Pretty Awful Make it into Eastside Murals:
There's a humble history of mural-making in East Vancouver, but well-known Strathcona-based artist Richard Tetrault has taken it to new heights. . . . His work is about layers: the often conflicting layers of histories of Vancouver's distinct communities and the layers of translucent colour that identify his painting style.
The very-Vancouver images of construction cranes, crows and hydro wires take on symbolic meaning in his murals. But behind the expansive visuals on the sides of buildings or retaining walls is a whole other skill area: working with Eastside communities to create the content that is often contentious but necessary, he says, in moving forward. . . .
Tetrault is heavily influenced by his own early-adult years in Mexico, absorbing the social art murals by the likes of the big three – Orozco, Rivera and Siqueiros – whose large-scale public artworks were created to speak to a largely illiterate indigenous population.
 Yandle also points out, helpfully, that Tetrault's murals can be seen in the flesh with the help of the interactive maps in this self-guided Eastside Mural Tour.
Looking ahead, the Lookout Gallery will feature one of Tetrault's partners on the Through the Eye of the Raven mural next month: Jerry Whitehead: Inspirations will run from October 9 to November 13.
Li Guijin at Trinity Western

Over at Trinity Western University, the School of Arts, Media and Culture (SAMC) is hosting The Art of Li Guijin: Prints and Drawings. Li is a professor and graduate supervisor of Tianjin Normal University in China, and is director of Tianjin Artists Association; his work has been exhibited across Asia, Europe and North America.
From the SAMC site: "Professor Li's prints and drawings are full of passion and dignity, showing strong national and local character. His works are grounded in Chinese tradition while drawing inspiration from modern painting and exploring new techniques in printmaking."
In an odd coincidence, which could be put down either to lack of coordination or the burgeoning of arts activity in the Christian community, the opening reception and artist talk is being held September 10, from 4 – 6 pm – in other words, at exactly the same as the opening reception for Richard Tetrault at the Lookout Gallery.
Graydon Nicholas: Lieutenant Governor, Aboriginal leader

The Lieutenant Governor of New Brunswick, Graydon Nicholas, will speak at two events this week. On Thursday evening, (September 11) he will address A Call to Leadership: A Faithful Journey at Regent College. The next morning, at A Fascinating Life, he will be interviewed by Tom Cooper of CIty in Focus at the Vancouver Club, with tickets available here.
Nicholas was born and raised on the Tobique First Nation. He is the first Aboriginal person to hold the office of Lieutenant Governor, as well as the first to be appointed as a Provincial Court judge, and the first in Atlantic Canada to obtain a law degree.
He has spent much of his career working in the field of Indigenous political development at the regional, national and international levels and maintains a keen interest in those areas.
Nicholas has a strong connection to the Jesuits. He and his wife are involved in group of lay people living Ignatian spirituality. The Jesuits of Vancouver are co-hosting Nicholas, along with City in Focus, a Christian ministry dedicated to 'caring for the soul of the city.'
"He is someone who has such a gentle, measured approach to life," said Father Robert Allore, SJ in The B.C. Catholic. "When you recognize all the leadership roles he has had, and has in Canadian society right now, you realize that gentle people can get things done."
Ministry Leadership Summit: Vancouver and Surrey

Missions Fest Vancouver is teaming up with Worship Central to present their annual fall leadership seminars "to encourage motivate and inspire Christian leaders as they join God in his mission."
The two Ministry Leadership Summit events will take place next Tuesday (September 16) at Tenth Church in Vancouver and Wednesday (September 17) at Cedar Grove Church in Surrey.
The guest speakers are:
* Sue Cockburn of Growing Social Biz: Branding and Social Media: How it Fits with the Local Church
* Anthony Brown of Forge Canada: Mission of God and the Mission of the Church
Sep 2014
The Art of Li Guijin: Opening Reception and Artist Talk
– September 10, 2014 at 4:00 pm - 6:00 pm
Opening Reception of Richard Tetrault's Exhibit: From the Urban Landscape
– September 10, 2014 at 4:30 pm - 7:30 pm
Walking the Camino: Six Ways to Santiago
– September 10, 2014 at 5:00 pm - 7:00 pm
Kyiv Symphony Orchestra and Chorus
– September 10, 2014 at 7:00 pm - 9:00 pm
A Call to Leadership: A Faithful Journey
– September 11, 2014 at 7:00 pm - 8:30 pm
Kyiv Symphony Orchestra and Chorus
– September 11, 2014 at 7:00 pm - 9:00 pm
Somerville Lecture: Rabbi Dr. Laura Duhan Kaplan - Mystics and the Mind: Towards an Understanding of Interfaith Spirituality
– September 11, 2014 at 7:00 pm - 9:00 pm
MCC Festival for World Relief
– September 12, 2014 - September 13, 2014 at All Day
Talks With Tom: A Fascinating Life - An Interview With Graydon Nicholas
– September 12, 2014 at 7:30 am - 8:30 am
Kyiv Symphony Orchestra and Chorus
– September 12, 2014 at 7:00 pm - 9:00 pm
2014 Annual Cycling for Seafarers
– September 13, 2014 at All Day
Prayer Canada: Prayer Breakfast
– September 13, 2014 at 8:00 am - 9:30 am
Walking the Camino: Six Ways to Santiago
– September 13, 2014 at 1:15 pm - 3:15 pm
Kyiv Symphony Orchestra and Chorus
– September 13, 2014 at 7:00 pm - 9:00 pm
BC Teen Challenge Event
– September 14, 2014 at 10:15 am - 12:00 pm
We Make Stuff Volume 2 Kick-off Party
– September 14, 2014 at 6:00 pm - 9:00 pm
Kyiv Symphony Orchestra and Chorus
– September 14, 2014 at 7:00 pm - 9:00 pm