Shad will take over as the new host of Q on CBC Radio next week (April 20). His arrival is a good news story, both for him and for CBC.
He is already a successful musician, winning a Juno Award for best rap album of the year in 2011, for example, and receiving very positive reviews from the critics with each new album; his new role will make him a significant shaper of Canadian culture.
Shad was one of several candidates when he guest hosted the arts and culture show for a week earlier this year. Asked how he thought he'd done, Shad answered with characteristic humility: "Probably not great." And some listeners agreed. But he is keen to improve his interviewing skills as he goes along, and few would debate the fact that he has the quick wits of a good rapper, along with an enquiring mind and a good education.
CBC, for its part, is welcoming Shad as a breath of fresh air in the wake of the unpleasant exit of Q's previous host, Jian Ghomeshi, who is now facing several counts of sexual assault.
In a 'welcome to the family' interview with Shad last month, soon-to-be-fellow-host Anna Maria Tremonti (The Current) said, ". . . the very fact that you believe that it is worth coming on board here at CBC speaks to a lot of us on the inside, makes us proud. And one of my producers said yesterday, 'He likes us.' Because you know the CBC has been under fire . . . so your decision to come here is a big deal."
Pointing out that Shad already has a well established music career, Tremonti asked why he wanted to become a host on Q. Shad said he already felt his mission was to be a servant of the public, adding that he wants "to make a contribution to culture and to people's lives that's positive and that's unique to me, and this opportunity came up, to do that and to make an impact."
Shad's heritage
When Tremonti asked about his music, he said, "I've always tried to ground my songs in some kind of personal experience; I feel like that's where the power comes from."
She wondered what it was like growing up in his home, referring to the fact that he used a poem written by his mother Bernadette Kabongo in his song 'I'll Never Understand,' about the Rwandan genocide. (Shad's full name is Shadrach Kabongo; he was born in Kenya after his parents were forced to flee Rwanda due to persecution in the late 1950s.)
This brief excerpt from 'I'll Never Understand' (from When This is Over) gives a sense of the faith, the concern for justice and the commitment to forgiveness that Shad has inherited from his family.
(Bernadette)
I untied the chains
Letting go of those who converged on my dad
Beating, pounding
Leaving him dead
I untied the chains
Letting go of those who propelled the grenade
Scattering my brother's brains
I untied the chains
Letting go of those who knifed my sister's throat
Leaving her begging for a better death
I untied the chains
Painfully, purposefully
Knowing the one who said to do it Seventy times seven
Totally understands the depth of my pain . . .
(Shad)
I'll never understand how people can go on and live
The miracle of finding the strength to forgive
To resurrect peace, to close up wounds so deep
They pierce souls beneath heart beats 
To be a willing slave to a loving God's commands
The key to a freedom that I'll never understand
A brief exchange
Flyn Ritchie: Can you say something about your Christian faith. Were you brought up as a Christian?
Shad: I grew up in the church and it's been a pillar in my life.
FR: Would you like to say anything about Grandview Calvary Baptist Church? [Grandview Calvary in East Vancouver was, he has said, one of the inspirations for his latest album Flying Colours]
Shad: I've been there for the past five-plus years. Wonderful community of people. Grounding and inspiring.
FR: I know you are passionate about social justice. Can you say something about how those issues relate to your beliefs?
Shad: In a lot of ways. The spiritual teachings I've received have always pushed me to look beyond myself – to see those around me and also the rest of the world. It's also been a positive sort of challenge and reminder that 'the path to peace is peace,' as they say; if you want to change the world you have to start simply and humbly with changing yourself and caring for the people right in front of you.
Two more insights

Here are three ways of getting a better sense of Shad's music, his faith and his commitment to justice: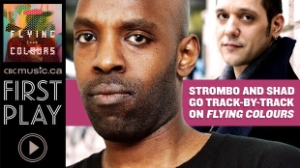 Interview with George Stroumboulopoulos
For those of us who may not listen to a lot of rap or hip hop, I recommend the October 8, 2013
CBC interview
with George Stroumboulopoulos, who goes through
Flying Colours
song by song with Shad. The music is strong, and Shad is articulate, intelligent, humble and engaging, as an interviewee. Bodes well for his new role as host of
Q.
Interview with Relevant
As to his faith, here is part of his interview in the November/December 2010 issue of Relevant Magazine.
"Making music has been a big part of my spiritual life," he says. "You are trying to express something profound all the time, and so you are constantly engaging with that part of your life. There are parts of it that are prophetic, for lack of a better term. You are saying things and putting them out into the world, so, spiritually, it is powerful." . . .
It's Christ's example that Shad says challenges him the most in how to live. "You read some of the stuff Jesus said, and it's like, 'That's intense.' It's a call, really, that your life is not your own, and you got to live for other people. I think it comes down to that challenge, and it flies in the face of a lot of what we know and live."