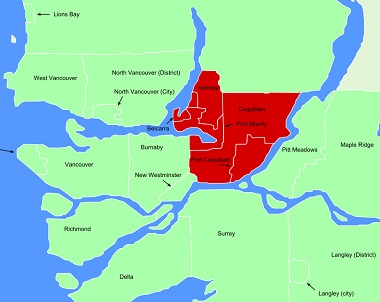 Peter Biggs of The Light Magazine is researching one Metro Vancouver / Fraser Valley municipality each month, and producing a focus on each one. The June issue features the Tri-Cities.
The Coast Salish people were the first to live in this area, and archaeology confirms continuous occupation of the territory for at least 9,000 years.
Coquitlam, Port Coquitlam and Port Moody together are commonly referred to as the Tri-Cities. To the west, North Road separates Coquitlam from the Lougheed area of Burnaby. Although separate municipalities, they share resources such as a single school board and local newspapers.
Population & ethnicity
The Tri-Cities have a total population of 234,500, according to 2016 Canada Census. (Coquitlam: 139,284; Port Coquitlam: 58,612; Port Moody: 33, 551. Nearby villages Anmore and Belcarra have 2,210 and 643 respectively.)
Coquitlam's population growth from 2011 to 2016 rates as one of the highest in Canada at 9.8 percent, only behind Surrey and Langley. Port Moody only grew 1.6 percent, and Port Coquitlam 4.7 percent.
Ethnically, Coquitlam is visibly more diverse than Port Moody and Port Coquitlam with 50.2 percent of its population from a visible minority (predominantly Chinese, Korean and South Asian at 33 percent).
Shopping
Coquitlam Centre is the main commercial and retail neighbourhood for the area. There are 200 stores, which attract people from as far away as Pitt Meadows and Maple Ridge. It covers 715 hectares (1,767 acres) and contains the highest concentration of high-rise condominiums in the Tri-Cities and eastern Metro Vancouver.
Parks
With mountains to the north and the Fraser River to the south, views and rural parkland are never far away.
Coquitlam's Town Centre Park has a 1.2 km lakeside trail around Lafarge Lake, which was named Canada's best public space in 2017 by the Canadian Institute of Planners. The lake is regularly stocked with trout for urban fishing.
Mundy Park is a 400-acre coastal rainforest with an extensive trail system. Como Lake Park's small lake is a popular spot for fishing, canoeing and kayaking.
Skytrain's Millennium Line now serves the Tri-Cities, since the completion of the Evergreen Extension in December 2016. It passes through the southwestern part of Coquitlam into Port Moody and central Coquitlam, terminating at Lafarge Lake – Douglas Station. 
The West Coast Express is a unique surface rail service which runs from Downtown Vancouver to Mission. It stops at three Tri-Cities stations: Port Coquitlam, Coquitlam Central and Port Moody.
Homelessness
Emergency shelter and housing for persons homeless in the Tri-Cities is available at 3030 Gordon Avenue, Coquitlam.
The facility, operated by RainCity Housing, includes 30 emergency shelter beds, 30 transitional housing suites and 30 extreme weather beds in a dormitory setting during periods of severe winter weather.
The Tri-Cities Homelessness & Housing Task Group has had foundational involvement from church leaders.
Hope for Freedom
Based in Port Coquitlam (but with houses also in Mission and Maple Ridge) Hope for Freedom Society (HFFS) provides a total of 85 beds (including 15 for women in Mission). The ministry has been operating for 20 years and specializes in long-term recovery, from seven months to a year in duration. 
They also have an assisted living staffed house. 
Staff at HFFS have seen a great openness to spiritual things. "Last year we saw 107 people become 'followers of Jesus,'" said managing director Rob Thiessen. "So far this year we've baptized 18!"
Thiessen estimates that about 40 percent of residents have mental illnesses, often concurrent with addictions. HFFS is Christian and uses the 12 step program along with other courses for issues such as anger management.
Thiessen added, "We are supported by the Assisted Living Registry, however the actual costs involved for each person require us to raise funds."
HFFS alumnus Dwayne Higgins shared his experience:
I came into Hope for Freedom a broken and lost soul, I had destroyed and ruined anything of value in my life, my addiction took me to the pits of hell. I had no hope or future, but by the grace of God there was a place I could go to save my life.
Hope for Freedom introduced me to God and a 12 step program which saved my life. Within the year I spent at HFFS I accomplished four months of program and seven months of Bible college. After completing the program and Bible college I went to Africa to serve for six months. None of this could have been accomplished if it were not for the staff and program that HFFS offered. Thank you HFFS.
Tri-Cities Ministerial
Durwin Gray (pictured on the far right) is lead pastor at Hillside Church and has been in the Tri-Cities for over 20 years. He is the ministerial's facilitator.
Gray laughed, "The one time you visit and we got a lot of guys away this month!"  He estimates that 12 – 15 pastors make up the core of the ministerial.
Reflecting on the past he said:
Back around 2000 we saw some incredible initiatives. For instance, around 20 churches came together for prayer walks on every street and for every home! 
More recently we rallied around the Wet Weather Mat program for the homeless. Five churches, over five months, hosted the homeless every night, organized by Hope for Freedom Society.
Another annual initiative is the annual Tri-Cities Prayer Breakfast for local politicians. "We have around 30 leaders and 30 pastors come," Gray said.
In recent years in the ministerial we have emphasized care for one another as pastors, rather than big strategic initiatives – encouraging being a lifeline of authentic caring relationships.
He also mentioned that a number of churches are sponsoring Syrian refugee families.
Northside Church
Northside is one of the larger churches in the Tri-Cities. With about 650 weekly attendees, up to half the congregation are from visible minorities.
Executive pastor Joel Conti said:
We had a meeting, 70 people were there but they came from 35 nations! North Coquitlam has high numbers of Persian, Chinese and Koreans. Port Coquitlam less and Port Moody less again. We run an ESL program for around 150 participants a year and have Chinese and Korean Bible studies.
Northside has done the Alpha Course some 40 times – "130 people did Alpha last year, and 20 – 30 became Christians," Conti said.
As part of the Foursquare denomination, Northside regularly prays for the sick.
There are lots of people who display a distinct encounter with the Lord as we pray for them. One woman who spoke no English, and likely wasn't a Christian had a badly injured shoulder. We heard [through a translator] that during the worship she realized her shoulder was being healed!
Conti observed that many Chinese people new to Canada are very open and receptive.
Hillside Church            
Bill Ballard, associate pastor of Hillside Church, has lived in Coquitlam since 1966. He said:
I find the city very affluent and self-sufficient. That said we have just begun to host the Food Bank at the church; it's run by Share. Last week we saw some 90 families come, and feel this is a God-given opportunity to connect with people outside of the church. We're currently planning ways we might add some further supports and help to these folks.
Hillside runs a school breakfast program and has sponsored a family of four from Syria.      
Coquitlam Alliance Church
Senior associate pastor David Wood describes how the area has transformed and grown in population over the last 20 years: "We have become very multicultural and our congregation's make up reflects that too."
Coquitlam Alliance Church (CA Church) sees around 1,500 attendees each week, along with a  young adult service Sunday evenings that draws 250-plus.
Wood said:
Most weeks we see someone come to Christ, perhaps 50 – 60 conversions each year. Tri-Cities does not have a large arena but every summer over 2,000 come together from many churches for a Sunday morning joint service – Church at the Lake at Lafarge Lake. It will be July 22 this year.
"Coquitlam is very different from Port Moody and PoCo, it is much more multi-ethnic. In our congregation almost 50 percent are from places like Mainland China, South Asia, Korea, Russia. Most of our people do live in the Tri-Cities, but many have recently moved out from Burnaby and Vancouver.
Pastor pitches love for community
Coquitlam Alliance Church youth pastor Dave Jonsson made the front page of May 22's Tri-City News. Quoting from the article:
Jonsson is the driving force behind Love My City, a week-long celebration of connection and community. His vision is to solicit a shopping list of small community projects in each of the cities – park or creek clean-ups, street beautification or fence painting – then dispatch teams of volunteers from different backgrounds to execute them. The effort will culminate with a celebration July 21 at Coquitlam's Town Centre Park featuring live comedy and music at the outdoor amphitheatre.
Jonsson is contacting various community organizations as well as officials from the three municipalities to join in.
BC Christian Academy
There are four Christian schools in Tri-Cities. BC Christian Academy currently has 350 students from kindergarten to grade 12.
Principal Ian Jarvie says, "We've doubled in size over the past eight years, and now have six portables."
The school has ambitious plans to deal with the growth, with land they hope to rezone facilitating a whole new campus. This will accommodate 600 – 700 students, representing two classes per grade.
Jarvie said:
We very much reflect our community, with students from 40 different countries. We do provide ESL. Our school is very 'evangelistic,' we invite youth pastors from around 30 different churches to visit. . . . Every morning staff come together for a devotional time.                   
Every year the school provides a pastors appreciation luncheon.