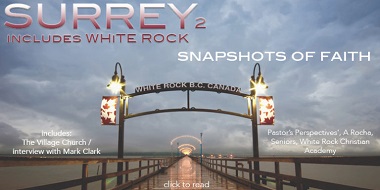 Peter Biggs of The Light Magazine is researching one Metro Vancouver / Fraser Valley municipality each month, and producing a four page feature. The October issue features South Surrey / White Rock.
In the 1950s, White Rock residents began to feel isolated from the then–District of Surrey, where development was being concentrated elsewhere, particularly in North Surrey and Cloverdale. On April 15, 1957, a special warrant from the Government of British Columbia created the City of White Rock within its present boundary.
Also in the 1950s, Peace Arch Hospital opened and continues as a major employer in the area and a main health facility for the region.
Development of White Rock was concentrated near the waterfront until the 1960s and 1970s. Many small cliffside dwellings were affordable to those unable to pay the cost of living closer to Vancouver. White Rock gained a reputation for being a retirement centre.
The development of Highway 99 and the opening of Deas Island Tunnel (now George Massey Tunnel) created a second boom for the White Rock area, providing a more convenient commuter route to Vancouver. No longer dependent upon the railway, development crept up the hillside. The Semiahmoo Mall opened in Surrey on the north side of 16th Avenue (the south side of which is North Bluff Road, within White Rock).
Two cities, one community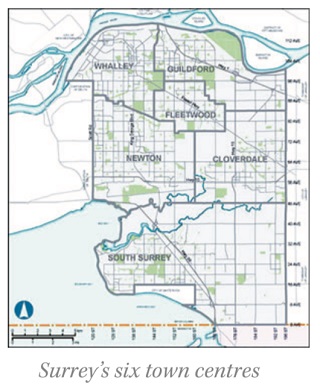 In the 1980s, the City of Surrey designated South Surrey as a town centre (comparable to Whalley / City Centre, Guildford, Newton, Fleetwood and Cloverdale).
Indeed a look at the map indicates the distinct and separate cluster of neighbourhoods that surround the City of White Rock south of 40th Avenue, largely separated from North Surrey by agricultural land.
The population of the area is 124,000 (South Surrey 104,051, White Rock 19,399).
The climate is moderate year-round; meteorological statistics show that White Rock does, in fact, receive 20 percent more sunshine than Vancouver. This and the accessibility to attractive beaches has made the area desirable and real estate prices are high.
South Surrey has the largest concentration of people over the age of 60 in all of Surrey's town centres. Its population is predominantly Caucasian, although local pastors are agreed that this is changing, with newcomers often being young visible minority families.
South Surrey has several neighbourhoods: Elgin Chantrell, Grandview Heights, Morgan Creek, Sunnyside Park and Ocean Park. Perhaps the most distinct neighbourhood is Crescent Beach, with its beachfront walkway and views.
Like neighbouring Surrey, the car is king in White Rock. Highway 99 is a freeway linking the White Rock area with Interstate-5 (across the US border at the Douglas border crossing) to the south and Vancouver to the north. King George Boulevard (Highway 99A) links the Douglas border with Surrey and New Westminster. Johnston Road (152nd Street) links White Rock to Guildford and the Trans-Canada Highway (Highway 1).
Peninsular Pastors Network
Peter Klenner, pastor of All Saints Community Church, also heads the Peninsular Pastors Network representing the churches of South Surrey / White Rock.
"We have over 30 churches in our community with about half of them actively involved with the network, meeting twice a month. We can see between three and 20 come out!" he says.
"My goal is that we have no lonely pastors – or churches – but there are still lots out there."
Dean Cooper, pastor of administration at Peace Portal Alliance Church expressed his belief that churches are coming together and collaborating.
"We saw the need for a community dinner," he says. "A neighbouring church, Gracepoint, already did one. So, instead of doing another one, we decided to financially support Gracepoint's dinner."
Gracepoint provides a weekly meal for the marginalized and sees over 200 people come every Sunday evening. Pastor Rick Bayer emphasizes the value he feels in the Peninsular Pastors Network: "I'm committed to it and try to see the 'John 17 church' as one."
Klenner and Cooper recently met with White Rock Mayor Wayne Baldwin.
"We asked him, 'What can we do as churches to serve the city?' He was very responsive," Klenner says. "Of late there have been two devastating fires in White Rock; the mayor called us to see if the churches could provide support."
[Klenner, Cooper and several other pastors from all over Surrey have also met with Surrey Mayor Linda; see story here.]
A Rocha: caring for creation
A Rocha is a unique ministry. It has bases in a number of countries, and their main centre for Canada is in South Surrey. The vision for A Rocha is "the transformation of people and places by showing God's love for all creation."
A Rocha Canada is involved in hands-on conservation projects, environmental education programs and sustainable agriculture initiatives across the country.
Beginning in 2000, they established the first Field Study Centre on a target area of the Little Campbell Watershed where it runs from Langley in the east, through South Surrey and White Rock before entering Semiahmoo Bay.
In addition to restoration and conservation work on the river, the work focuses on research, community agriculture, sustainable living and environmental education programs. They host more than 2,000 students every year. Their home base – Brooksdale Environmental Centre (16th Avenue and 192nd Street) – trains 30 interns every year and is a living classroom where people come from all over the world to get their hands dirty in creation care.
Attractive for seniors
The community of South Surrey / White Rock is thought to have the highest per capita seniors population of any region in The Lower Mainland. One of the many seniors residences is Westminster House.
Gord McNaughton, general manager of Westminster, says. "The needs our new residents arrive with are more complex than would have been the case a few years ago,"
Pastor Walter Opmeer says, "The typical stay may only be 12 – 18 months." Pastors are on site six days a week and offer services such as Sunday nondenominational church services, Bible studies, hymn sings, breakfast devotionals and pastoral visitation.
Opmeer also described the complexity of emotional and spiritual care needed for individuals: "We are also very aware of how common depression can be. People have endured many losses; their home, health, mobility, friends who have died and overall purpose in life. I am often so encouraged that with skilled care, people lift out of depression and engage in the community here."
White Rock Christian Academy
Started in 1981, White Rock Christian Academy (WRCA) now offers junior kindergarten to grade 12.
"Our target audience is Christian families that are looking for a second home for their kids," says head of school David Michel.
More than 30 churches are represented in the student body, with over 500 enrolments for 2017/18. The school is in the midst of a building program that will eliminate the 16 portables and replace current buildings.
"We see our optimum size as 600 students – that is two classes per grade," Michel says.
The school has enjoyed a partnership with a Japanese high school for many years. Up to 20 Japanese students enrol each year, and a number of WRCA students visit Japan annually.
Go here for The Light's complete South Surrey / White Rock profile and here for the north Surrey profile.