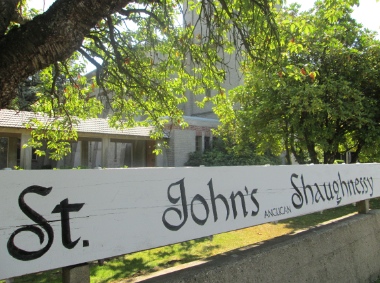 Two British Columbia Anglican groups which were in conflict earlier this century are moving ahead in their work and ministries with an eye to the future, rather than the past.
One, the Anglican Church of Canada's Diocese of New Westminster, will move its head office, next week, from a downtown office tower onto the property of what was, before that conflict, the home of its largest church. (The diocesan archives, formerly housed at the Vancouver School of Theology, on the UBC campus, have already been moved there.)
St. John's Shaughnessy / St. John's Vancouver

Meanwhile, that former largest church, a 700-strong congregation of the Anglican Network in Canada (ANiC), worships in three services each Sunday in facilities shared with Oakridge Adventist Church, a long-established Saturday-worshipping congregation.
The church's director of administration, Krista Friebel, has high praise for the "generous and friendly" relationship that Oakridge Adventist has extended through the years of sanctuary-sharing.
At the same time, she notes, "we would love to have a church of our own." And she hopes that this particular news story will trigger some interest beyond the congregation in helping that desire to come true.
The congregation in question is St. John's Vancouver Anglican Church (SJV). For many years, it thrived at the corner of Granville Street and Nanton Avenue, just south of King Edward Avenue, in the city's old-established mansion-dotted Shaughnessy neighbourhood. (Today, the portion of the congregation that remained in the original building is still known as St. John's Shaughnessy Anglican Church.)
St. John's became known as a major centre of evangelical Anglicanism in the 1970s when the late Harry Robinson was its rector. The church grew in numbers as people who were attracted to both the Anglican liturgy and evangelical preaching filled its services.
Two of its best known personages were renowned Regent College theologian and author James I. Packer (who retains the title of honorary assistant) and popular former mayor Philip Owen, whose family – including his father, the late British Columbia lieutenant-governor Walter Owen – had been part of the church for several decades.
The former mayor often allowed himself to be quoted in various stories about St. John's during Robinson's tenure, as having been stimulated to a deeper faith and greater sense of social responsibility through Robinson's preaching and Bible study emphases. His quotes often reflected the language of spiritual rebirth by such Anglican evangelical greats as John Stott and Michael Green, both of whom spent significant blocks of time in teaching stints around Vancouver, at such places as Regent, along with Packer.
Packer moved on with St. John's Vancouver, while Owen remained at St. John's Shaughnessy.
Following different paths
In the early years of the 20th century, some local Anglican churches, with St. John's Shaughnessy in the forefront, opposed New Westminster Diocese moves to allow the blessing of same-sex unions. In addition, they pressed for a more conservative/evangelical view of biblical authority.
As time passed, the group of dissenting churches moved toward realignment with more conservative groups outside the diocese. That led to these churches affiliating with the Anglican Network in Canada (ANiC), which in turn became a diocese of the Anglican Church in North America.
In due course, the theological and sexual issues became property issues. In June, 2011, the Supreme Court of Canada refused to hear an appeal by St. John's and three other churches. The BC Court of Appeal had determined, the previous year, that the four properties belonged to the diocese rather than to the congregations.
Later that year, the great majority of the St. John's Shaughnessy congregation vacated their church home at Granville and Nanton, entering a shared use arrangement with Oakridge Adventist Church, a few kilometers southeast. The vacating congregation became St. John's Vancouver Anglican Church.
Anglican Network developing
Ontario-based Bishop Charlie Masters is head of the ANiC, which now has a total of 70 congregations across Canada (and New England). Of that number, 24 are in British Columbia, with 17 between Hope and Squamish.
Masters shares leadership responsibilities with Suffragan Bishops Trevor Walters and Stephen Leung, both based in this area. (Leung also serves as rector of Church of the Good Shepherd, a Chinese congregation that owns the former Metropolitan Tabernacle building in Vancouver's Mount Pleasant neighbourhood.)
Notes Masters: "We thought legitimately to defend [keeping the Nanton site]. When we lost that, we knew we lost it. We are proud of St. John's Vancouver." (The rector of SJV is Australian-born Canon David Short, who succeeded Robinson following his retirement in 1992. Short and his staff of 15 have provided much of the energy for its continued growth.)
Masters notes that most ANiC congregations are still quite small (local exceptions include St. John's Vancouver, St. Peter's Fireside in the downtown core and Saint Matthew's in Abbotsford), and that only seven have buildings of their own.
ANiC priorities
But Masters is quick to point out that the ANiC movement is focused on five ministry priorities (as stated on their website):
Bold witnesses: Every member of every ANiC church will personally have responded to Christ, as well as know how to share the gospel and invite others to come to Christ.
Biblically grounded: Every church of ANiC will be known for its strengths in the Bible and expository preaching. Parishioners are able to handle accurately the Word of Truth.
Loving children: Every church in ANiC will have a vital ministry to children and youth, leading them to Christ and helping them grow as disciples of Jesus.
On mission: We each are intentionally and actively engaging in our communities, nations and world, focused on showing and sharing the love of God and fulfilling the Great Commission.
Planting and growing churches: Every congregation is focused on planting another congregation out of their church family. We are working to plant a church in every major community across Canada. 
That western strength of the movement will be recognized this fall when the ANiC holds its eighth Synod in Vancouver; Good Shepherd Church will host the event and a pre-Synod clergy conference October 20 – 23.
The ANiC is a diocese of the Anglican Church in North America (ACNA), an ecclesiastical 'province' which developed in the United States at about the same time as the fissures were occurring in Canada. Most of its churches – which number close to 1,000 – were formerly members of The Episcopal Church in the United States and the Anglican Church of Canada.The ACNA held its Provincial Council in Vancouver last month.
Diocesan offices, archives
Meanwhile, the Diocese of New Westminster offices and archives are moving into the church hall / administration centre on Nanton Avenue. The diocese represents 66 parishes between Hope and Powell River.
Randy Murray, communications person for the diocese, confirmed the denomination's move to the Nanton Avenue property – with an appraised valued of around $20 million – last week, noting that the actual move-in will take place next week. (There are actually two church addresses at Nanton Avenue, 1410, the church hall and 1490, the church.)
He pointed to several press releases on the diocesan website as containing the relevant information: January 5, June 9, June 17, June 25 and July 14.
An earlier release noted the sale of Vancouver School of Theology's Iona building to UBC for $28 million, two years ago. The Iona building, with its iconic central tower, housed the diocese's archives. UBC is now developing the former VST landmark as the university's School of Economics.
That was the impetus for the moving of the diocese's archives. Those archives were moved into a specially renovated lower floor site at 1410 Nanton, last month, after being in storage at St. Mary's Kerrisdale Church, a few blocks southwest, for four months.
Then, weighing the costs of downtown rent against other factors relating to diocese stewardship of building resources, Anglican leadership wrestled with the question of whether to move the diocesan offices to 1490 Nanton, behind the church building. The decision was to move; the full rationale and cost/benefit information relating to the move of both the archives is found here.
Bishop Melissa Skelton, who came to Vancouver in early 2013, after serving several years as rector of St. Paul's Episcopal Church in Seattle, will have her office in the new suite, along with a diocesan staff of about a dozen people.
While the St. John's Shaughnessy offices are located in the church building, itself, at 1490 Nanton, some meeting areas at 1410 will be shared by diocese and parish.