When, if ever, can church membership or discipline decisions be reviewed by the courts? That is the question the Supreme Court of Canada (SCC) was called on to answer in its judgment, released [May 31], in Highwood Congregation of Jehovah's Witnesses v Wall.
The Court found that church membership decisions can only be reviewed in extremely narrow circumstances: when the decision involves an underlying legal right, such as a property or contractual right, and does not require the court to adjudicate questions of theology.
Background
The case involved a Jehovah's Witness, Mr. Wall, who was a member of the Highwood Congregation of Jehovah's Witnesses, a church with about 100 members in Calgary. In 2014, the elders of the congregation became aware of allegations against Mr. Wall, including drunkenness and abuse, and he was brought before a "Judicial Committee" of the Congregation (a group of at least three elders), who urged him to repent. When they determined that he was not sufficiently repentant, they "disfellowshipped" him from the congregation.
This disfellowshipping had a particularly negative effect on Mr. Wall. He was a real estate agent, and many of his clients were fellow members of the congregation. Mr. Wall alleged that, as a result of being disfellowshipped, church members no longer did business with him, and he lost a huge portion of his clientele.
Mr. Wall appealed the decision to the national branch of the congregation, the Watch Tower and Bible Tract Society of Canada, who confirmed his expulsion from the congregation. Thus, with no further avenue of appeal within the church, Mr. Wall turned to the civil courts, initiating an application for judicial review in the Alberta Court of Queen's Bench of the Highwood Congregation's decision to disfellowship him.
The judge in that court allowed his application, finding that the courts had jurisdiction to review his expulsion. The Highwood Congregation appealed to the Alberta Court of Appeal, a majority of whom agreed (with one judge, Justice Wakeling, writing a strong dissent). From there, the Highwood Congregation appealed again to the Supreme Court of Canada.
The Supreme Court's decision
The Supreme Court unanimously allowed the Highwood Congregation's appeal. Justice Malcolm Rowe, who wrote the judgment, gave three reasons why Mr. Wall's expulsion from the congregation could not be reviewed by the courts.
Judicial review
First, the Court explained the purpose and extent of judicial review. Judicial review is a means by which someone can apply for a court to review a decision made by the government or a state actor. It exists for the supervision of the administrative state by the courts.
The "administrative state" includes ministries of the Crown, tribunals and other public bodies. It does not include private actors. For a decision to be amenable to judicial review, it must meet two requirements: it must be an exercise of state authority, and it must have a sufficiently public character.
The Highwood Congregation of Jehovah's Witnesses is not a public body. Private parties, such as Mr. Wall, cannot seek judicial review to solve disputes between them and other private parties. Justice Rowe criticized some previous decisions by lower courts which made judicial review available to decisions of private actors on the basis that their decision impacts a broad segment of the public.
The fact that a decision affects the public does not make the decision-maker a state actor. Judicial review, Justice Rowe repeats, is about the legality of state decision-making; it is not to be used to review decisions made by non-state actors, including churches.
Voluntary associations
Second, the Court stated that there is no free-standing right to procedural fairness with respect to decisions taken by voluntary associations. Courts do not have jurisdiction to review membership decisions unless there is some underlying legal right (such as a property right or a contractual right) which has been harmed. While Justice Rowe recognized that Mr. Wall had experienced a loss of business as a result of the disfellowshipping, he had no legal right to maintain his clientele.
Certain situations may give rise to legal rights. Sometimes, members of an association will enter into agreements or contracts with the association, which would entitle them to have those agreements enforced. In previous cases involving religious groups which have lived communally, sharing property, the courts have interfered to protect the property rights of an individual member.
However, in this case, no such legal relationship existed. Church membership, on its own, does not create a legal relationship between the member and the church.
These two points, Justice Rowe writes, are sufficient to dispose of the appeal. However, he makes a very important third point: theological issues are not justiciable.
Theological issues
Justiciability refers to the question of whether or not a question is an appropriate one for the courts to decide. There are many considerations which go into answer that question: for instance, whether it would be an economical and efficient investment of judicial resources, or whether there would be an adequate presentation of both parties' positions. In general, the court is asking whether it has the "institutional capacity and legitimacy" to adjudicate the matter.
Some questions are clearly not justiciable; as Justice Wakeling stated at the Court of Appeal, courts cannot resolve a dispute "about the greatest hockey player of all time, about a bridge player who is left out of his regular weekly game night, or about a cousin who thinks she should have been invited to a wedding."
Similarly, it is never appropriate for the courts to answer questions of theology. The fact that a dispute has a religious aspect does not immediately make it non-justiciable. But as the Supreme Court has repeatedly affirmed, the courts do not have the legitimacy nor institutional capacity to deal with theological questions.
And, as Justice Rowe points out, questions of procedural fairness, like Mr. Wall raised in this case, can often be theological questions. The Jehovah's Witnesses, like many churches, rely on the instruction of Matthew 18:15–16 when disciplining a member. The courts are not in a position to determine whether Jesus's instructions in the Gospel of Matthew have been applied correctly. As Justice Rowe states: "courts should not decide matters of religious dogma."
Finally, Justice Rowe reiterates that the Charter does not apply to private litigation. Both parties had made significant submissions on ss. 2(a) and (d) of the Charter (freedom of religion and association).While the Charter can illuminate the development of private law, it does not apply directly to this dispute between two private actors.
Analysis
For churches and other religious associations, the Wall decision is an important vindication of their autonomy as non-government bodies. It reflects the concept that freedom of association implies freedom of dissociation, and provides reassurance that decisions to expel a member will not be second-guessed by the courts. It continues the Supreme Court's strong history of refusing to adjudicate questions of religious dogma.
Churches can rest assured that they are free to continue their practices of church discipline and expelling and admitting members, for whatever reasons, and using whatever procedure (within the confines of the law) they believe their doctrine compels them to do.
However, the Supreme Court's decision – rightfully so – is not a carte blanche for churches to abuse their members' legal rights. Churches and their members often enter into legal relationships – employment relations or other contractual agreements, loans or other property agreements, etc. In those cases, courts will still intervene to protect the legal rights which arise from those relationships.
Furthermore, the Court indicates that, while church membership on its own is not enough to create legal relations, certain actions may:
Unlike many other organizations, such as professional associations, the Congregation does not have a written constitution, by-laws or rules that would entitle members to have those agreements enforced in accordance with their terms.
In other words, it seems that associations with a more advanced organizational structure may fall under more scrutiny, and may be held accountable to the terms of their governing documents. However, to the extent that that structure is a matter of theology, the courts may still decline to interfere.
Church members, on the other hand, must realize that the ability to do business with fellow parishioners is a privilege, not a right. Many church members may derive significant financial benefit from being part of a church and doing business with its membership, but that benefit does not give rise to any legal rights on the part of the member.
Perhaps what is most significant, however, is the humility reflected in the decision on the part of the Supreme Court. Justice Rowe recognizes that there are limits to the state's authority and the court's jurisdiction. He recognizes, for example, that courts lack institutional capacity and legitimacy to adjudicate certain issues (such as religious doctrine), and that certain levels of court scrutiny should apply only to government decisions, not private groups such as churches.
"In the end," he concludes, "religious groups are free to determine their own membership and rules; courts will not intervene in such matters save where it is necessary to resolve an underlying legal dispute."
In an age where churches and religious associations feel the pressure of the state on every side, it is refreshing to see the Supreme Court of Canada upholding one aspect of church autonomy. The Wall decision sets a strong precedent which religious groups will rely on for years to come.
Written by Derek Ross, Christian Legal Fellowship (CLF) executive director and general counsel, and Ian Sinke, a CLF law student intern.
Christian Legal Fellowship intervened in the case, advocating that religious communities should be free to determine their own internal rules and membership criteria without state interference. To read more about their work in the case, click here.
This comment was originally published on the Christian Legal Blog (c) 2018 Christian Legal Fellowship and is re-posted by permission. (The contents of the Christian Legal blog are intended for general information purposes only and under no circumstances are they intended for, nor can they be relied upon, for legal advice.)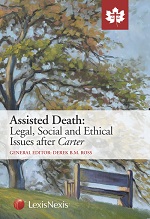 Derek Ross has edited a new book: Assisted Death: Legal, Social and Ethical Issues after Carter.
The collection originates from a symposium on the Supreme Court's decisions in Carter v. Canada hosted by Christian Legal Fellowship and sponsored by LexisNexis Canada in September 2017.
The symposium was attended by delegates from across Canada representing numerous law faculties and professional disciplines, including law, medicine, social work and dietetics.