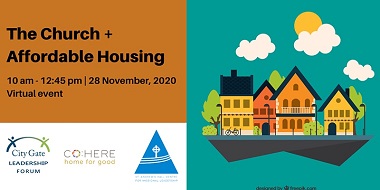 What if the churches of the Lower Mainland could help to significantly reduce homelessness and provide affordable housing?
That is the question organizations like Co:Here Housing, the Nest and Catalyst have been asking over the past five years.
As director of CityGate Leadership Forum, I am leading our organization's partnership with Co:Here Housing in an effort to dream with churches about developing their often underutilized land assets to create affordable housing and social purpose real estate.
We believe the development of affordable housing not only can contribute towards addressing the unaffordability of housing – one of the primary social issues in our city – we also believe creating housing can be a way of re-rooting churches in their neighbourhoods.
Join the conversation
To further explore those opportunities, CityGate, Co:Here and the Centre for Missional Leadership are co-sponsoring a virtual gathering – The Church and Affordable Housing, November 28, 10 am to 12:45 pm.
We intend to explore three different housing projects, including residents of a shared city block, Kinbrace housing for refugee claimants, and Co:Here Housing, a mixed housing project built over top of a church parking lot.
Co:Here is the culmination of more than a decade long effort by the church, along with Salsbury Community Society and the Co:Here Foundation to provide housing for people with low incomes in an independent home with a smattering of other folks who are choosing intentionally to live in this type of community. The result, as one BC Housing representative said, "works better than I expected."
Kinbrace has for more than 20 years provided affordable housing and an array of supports for refugee claimants – one of the more vulnerable population groups in our nation – upon their arrival in Vancouver. The shared housing in a common city block is an example of how individuals can both provide housing for folks without secured housing and develop a shared common life.
Exploration process
Part of the aim is to highlight projects that already exist, along a scale from responses of individuals or families towards a whole community endeavour. At this virtual gathering, Dave Harder, the principal consultant of Parish Properties in Ottawa, will talk about how to overcome typical barriers that emerge in seeking to develop a church's land assets.
I will discuss the housing situation here in Vancouver and why it is vital that we develop a theology of place.
Michael Guenter and Rebecca Pousette will conclude by exploring with communities and churches some steps that they can take in their own exploration process.
We hope church members will sign up as a team so this gathering will further their own internal conversations around housing and home. If you sign up as a cohort, the cost is only $40 total.
Housing crisis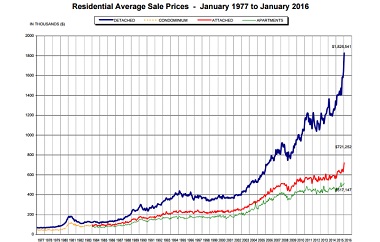 To say that we have a housing crisis the Lower Mainland is to state the obvious. Finding a home in Vancouver is a costly endeavour, whether you are renting or buying.
This chart gives a visual representation of the meteoric rise the selling prices of homes from just under $400,000 in 2001 to $1,826,541 in 2016.
Scarcity of land in a beautiful region bounded by a national border, an ocean and a mountain range have contributed to rising prices – but these are not the only reasons for the crisis.
David Ley, a retired UBC geography professor who has been studying Vancouver's housing situation since 1972, argues that the rapid rise in Vancouver's housing market was fueled by many government decisions.1
These provincial government actions included a large-scale international marketing effort after Expo '86 to attract capital and immigrant investors, the government formation of a powerful "growth coalition," the deregulation of private institutions and the under-resourcing of public agencies working in real estate – all of which worked to provide the government with huge increases in revenue..
The effect of these actions was to create an "animal spirit" that led to land speculation for profiteering by mostly domestic buyers and for money laundering from overseas buyers. Public pressure caused our provincial government to change some of these policies, but not until 2016.
Federal housing policy
Another factor contributing to the crisis was that the federal government had no housing policy between 1994 and 2017, which resulted in a severely declining stock of social housing.
I have seen the results of these realities in Grandview-Woodland, my East Van home for more than 30 years. Whereas the neighbourhood was once a landing spot for refugees or students and a place for working families to buy homes, that has all changed. Now about the only way these groups can afford to live here without extended family help of equity or savings is if they hit the jackpot and land a social housing apartment.
The housing crisis in Metro Vancouver has been very damaging. While all sectors of our population, from families with small children to seniors, have experienced harmful physical, mental and social consequences, many younger adults are simply being driven away from the city.
Make an impact
I believe that the church can make a significant social impact in this crisis. Here are three steps I recommend as a response:
For those churches that own land, consider redeveloping your land to build affordable housing. For those churches with a surface parking lot (like Grandview Church, which offered its land for Co:Here Housing), the fact that underground parking is a much smaller percentage of the total cost for a project and that municipal governments have relaxed requirements for parking for social housing both make this kind of project viable for many churches. The City of Vancouver just allotted $50 million towards the development of social housing. That is in addition to sizeable federal and provincial dollars over the last four years.

For those of you who have an empty bedroom or two, consider welcoming a vulnerable person or persons – refugees, single mothers, students or persons with disabilities – to live with you.

Advocate for and support government decisions and policies that view housing as a basic human right rather than a commodity for profiteering
Imagine how the public perception of the church would shift in the Lower Mainland if people of faith took these three steps. That opportunity is before us. Let's take it!
1 David Ley, A Regional Growth Ecology, A Great Wall of Capital and a Metropolitan Housing Market, in Urban Studies, (Newbury, California, Sage Publications, January 27, 2020).