Canada Cares
is working hard to "bridge the gap between Canadians' charitable actions and government support."
Organizers describe themselves as "Canadians who care about the charitable sector."
Several partners are based in Metro Vancouver and the Fraser Valley, including Journey Home, Kinbrace, JustWork, Youth Unlimited Greater Vancouver, Power to Change / Global Aid Network, Communitas, Food for the Hungry, Acts for Water and Cyrus Centre.
Stating that "the Canadian charitable sector needs our help," organizers write: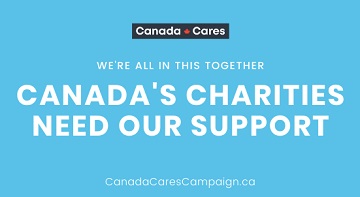 Times of crisis are when charities shine, responding nimbly to the unique needs of their immediate communities. Canadians, charities and the government are working together to support those in need during COVID-19.
We're calling for the federal government to implement a 1:1 donation matching program to sustain the charitable sector across the country. A matching fund has the capacity to double the impact of donations made by ordinary Canadians, empowering the charitable sector to survive COVID-19.
We're asking Canadians from coast to coast to coast to raise their voices, share their stories, and call for a sustainable future for the charitable sector.
Go here to join the campaign.
Brian Dijkema, vice president of external affairs with Cardus, is spokesperson for the Canada Cares Coalition. Back in March he co-authored a Call to Action which had some of the same goals.
There are also some opportunities to help out more immediately; several ministries are holding fundraisers over the next little while.
Mission Central (formerly Missions Fest), for example, is holding a Variety Fundraiser. The event itself will be held December 5, but they need participants to register by November 15.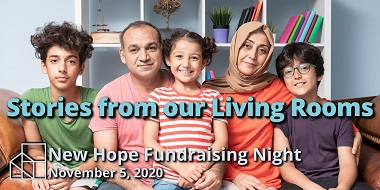 Here's the concept:
If you have a talent, now is the time to share it with the world. We'd love to see it, no matter whether its balancing a bottle on your nose or singing opera.
A variety fundraiser is different than a talent show…it's more like a bike-a-thon, only more fun. We're looking for people with a talent to donate it (in video form) to Mission Central.
We are then asking friends, family, and the general public to tune in to the Variety Fundraiser on Saturday, December 5th at 6:30 pm to "like" our participants with a donation. Funds raised will go towards Mission Central's ongoing commitment to helping to grow missional disciples.
Other fundraisers coming up soon:
MP has landed!
Mission Possible will no doubt report on their successful move during their upcoming Gala.
They moved just across the street – they're now on the south side of east Hastings in the Downtown Eastside, just across from Union Gospel Mission – but there's more space and they've completed some major renovations.
Financial support for that move came from a wide range of sources, including Vancouver First Church of the Nazarene, which initiated the work in 1992.
Mission Possible is a community economic development agency. Here is some of what they do:
Mission Possible addresses barriers to employment by providing supportive, transitional employment for those who are ready to enter, or re-enter, the workforce. For those overcoming homelessness, poverty, addiction, incarceration, and physical and/or mental disability, it can be difficult to build a sustainable livelihood. Through its Employment Readiness Program and two social enterprises,
Mission Possible transforms lives by helping people experience a renewed sense of dignity and purpose through meaningful work.
Mission Possible currently runs two social enterprises, MP Maintenance and MP Neighbours, that employ an average of 90 individuals per year in transitional jobs. Our work can be summed up in the phrase "Empowerment Through Opportunity."
Go here for more background.
Extreme Weather Response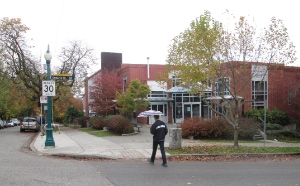 Tenth Church is hosting an Extreme Weather Response (EWR) shelter from November 1 – March 31, available seven days a week whenever an alert for extreme weather is issued:
We believe being "with God and for others" involves a commitment to hospitality and generosity, especially for those in need, because we believe that God has first shown this to us.
In Scripture, God's intention for the caring of the outcast, needy, and stranger are borne out of His own love, welcome and generosity toward His people (e.g. Exodus 19:34-37) – who are ultimately made into God's family through Christ (e.g. 2 Corinthians 8:9).

We are honoured to partner with The Lookout Housing and Health Society as we open our doors to serve as a site for BC Housing's Extreme Weather Response (EWR) Program this winter. The EWR program supports community-based services that provide temporary emergency shelter spaces during periods of extreme winter weather which threaten the health and safety of individuals experiencing homelessness.
With almost 50 years of experience in providing emergency shelter services and long-term housing solutions, Lookout Housing and Health Society will lend their expertise in operating EWR shelter services at Tenth.
The Tenth site points to Homelessness Services Association of BC, which lists other groups offering shelter, including Christian groups such as First Baptist Church, Westminster Bible Chapel and several Salvation Army locations.
Nov 2020
Virtual Book Launch: 'Sarah's Laughter: Doubt, Tears & Christian Hope
– November 5, 2020 at 7:00 am - 8:00 am
REVEAL webinars
– November 5, 2020 at 5:00 pm - 6:15 pm
Stories from Our Living Rooms: New Hope Fundraising Night
– November 5, 2020 at 7:00 pm - 8:00 pm
A Taste of Dignity: JustWork's 14th Annual Fundraiser
– November 5, 2020 at 8:00 pm - 9:00 pm
Jordan Klassen: Tell Me What to Do
– November 5, 2020 - November 7, 2020 at 8:00 pm - 10:00 pm
A Seat at the Table: An Event for Men & Women
– November 6, 2020 at 8:00 am - 2:00 pm
Community Immersive Leadership Training (3 weeks, Tuesday & Friday evenings)
– November 10, 2020 at 6:00 pm - 8:15 pm
Journey Discipleship Course (Tuesday evenings)
– November 10, 2020 at 7:00 pm - 9:30 pm
Fertility and Faith: A Conversation with Philip Jenkins
– November 12, 2020 at 12:00 pm - 1:00 pm
Being Missional in a Pandemic
– November 12, 2020 at 3:00 pm - 4:00 pm
A Rocha Talks: Earthkeeping in the City – From backyard composting to electric vehicles
– November 12, 2020 at 5:00 pm - 6:00 pm
Canadian L'Abri Lecture Series: Josh Darsault, "The Medium and Message of the Bible"
– November 13, 2020 at 7:00 pm - 8:30 pm
Friday Night Reads: Falling: A Wake by Gary Kirkham
– November 13, 2020 at 8:00 pm - 9:30 pm
Faith and Freedom in China
– November 14, 2020 at 11:00 am - 12:00 pm
ELO Forum Online
– November 16, 2020 at 8:30 am - 12:30 pm
Discernment in Hard Times (Tuesday mornings)
– November 17, 2020 at 9:00 am - 10:30 am
Remembering Dr. J.I. Packer
– November 18, 2020 at 12:00 pm - 1:30 pm
Dialogue on Aging: Sleep Health for a COVID-19 World
– November 18, 2020 at 1:00 pm - 3:00 pm
Remembering Dr. J.I. Packer – in Conversation
– November 18, 2020 at 1:45 pm - 2:45 pm
John Owen: Protecting Democracy from the Outside
– November 18, 2020 at 4:00 pm - 5:00 pm
Global Apologetics Conference
– November 19, 2020 - November 21, 2020 at 3:00 pm - 6:00 pm
Arresting the Darkness: A Himalayan Life Virtual Gala
– November 19, 2020 at 7:00 pm - 8:30 pm
Canadian L'Abri Lecture Series: Clarke Scheibe, "The Birds and the Bees, Take 2, Part 2: Biblical Worldview"
– November 20, 2020 at 7:00 pm - 8:30 pm
Friday Night Reads: The Blood Knot by Athol Fugard
– November 20, 2020 at 8:00 pm - 9:30 pm
MCC@100: Centennial Celebration
– November 21, 2020 at 5:00 pm - 6:00 pm
Night with the Persecuted Church
– November 22, 2020 at 4:00 pm - 5:30 pm
EFC Webinar: Understanding the Proposed Conversion Therapy Ban
– November 24, 2020 at 9:00 am - 10:00 am
Alpha Webinar: Opportunities for Invitation This Christmas
– November 25, 2020 at 9:00 am - 10:00 am
Ideas that Matter: Malcolm Guite – Poetry Pushes Back: The Practical Power of Poetry to Rebalance Our Lives
– November 25, 2020 at 12:00 pm - 1:30 pm
TWU Live
– November 25, 2020 at 4:00 pm - 6:00 pm
SENT Conference 2020 (Wednesday evenings)
– November 25, 2020 at 7:00 pm - 8:30 pm
Broken Signposts: A Conversation with N.T. Wright
– November 26, 2020 at 12:00 pm - 1:00 pm
Peoples of African Descent & Canadian Churches: A Cross-Canada Conversation
– November 26, 2020 at 4:00 pm - 5:30 pm
Prayer Night for Bold Climate Action: November edition
– November 26, 2020 at 5:00 pm - 6:00 pm
Darrell Johnson: Discipleship and Ministry in this Temporary New Normal
– November 27, 2020 at 12:00 pm - 1:00 pm
Canadian L'Abri Lecture Series: Donna Hornibrook, former head coach of field hockey at Cornell, "Sports and Faith"
– November 27, 2020 at 7:00 pm - 8:30 pm
St. Hildegard's Sanctuary Annual ILLUMINATE Gala
– November 27, 2020 at 7:00 pm - 9:00 pm
Friday Night Reads: The Mountaintop by Katon Hall
– November 27, 2020 at 8:00 pm - 9:30 pm
The Church and Affordable Housing, by CityGate Leadership Forum
– November 28, 2020 at 10:00 am - 12:45 pm
P2C's Global Missions Night
– November 29, 2020 at 7:00 pm - 8:30 pm
Fall Online Forum: For the Love of Creation
– November 30, 2020 at 4:30 pm - 5:30 pm
Dec 2020
12th Annual Mission Possible Gala
– December 2, 2020 at All Day
Alpha Webinar: The Power of Invitation
– December 2, 2020 at 9:00 am - 10:00 am
Engaging in Ministry with the New Normal
– December 2, 2020 at 10:00 am - 11:15 am
Together at Midday: Elizabeth Sung
– December 2, 2020 at 12:00 pm - 12:30 pm
Who is My Neighbor, Abrahamic Dialogue During the Time of COVID
– December 3, 2020 at 8:00 am - 9:00 am
EFC Webinar: The Church and Covid
– December 3, 2020 at 11:00 am - 12:00 pm
Why You Should be Concerned about Euthanasia Bill C-7
– December 3, 2020 at 12:00 pm - 1:00 pm
Sanctuary's Virtual Christmas Gala: Heart Mind & (Soul) Sole
– December 3, 2020 at 7:00 pm - 8:00 pm
Canadian L'Abri Lecture Series: Liz Snell, The Moral Foundation of Freedom
– December 4, 2020 at 7:00 pm - 8:30 pm
Postponed: Friday Night Reads: The Messiah by Patrick Barlow
– December 4, 2020 at 8:00 pm - 9:30 pm
Refugees and Borders: Remapping the World We Think We Know
– December 5, 2020 at 2:00 pm - 4:00 pm
Together Project: A Conversation on Canada's Global Engagement
– December 8, 2020 at 11:00 am - 12:00 pm
Singalong (At Home) Messiah 2020
– December 8, 2020 at 7:00 pm - 9:00 pm
Ideas that Matter: David Leong – Reimagining Belonging: Race and Place in Christian Communities
– December 9, 2020 at 12:00 pm - 1:00 pm
Cardus: Foundations for a Post-Pandemic World
– December 9, 2020 at 1:00 pm - 2:00 pm
WROL (Without Rule of Law)
– December 10, 2020 - December 13, 2020 at All Day
Rowan Williams: A public lecture to mark the 850th anniversary of the murder of Saint Thomas of Canterbury
– December 10, 2020 at 9:30 am - 10:30 am
Human Rights Day Webinar: Forgotten Fundamental Freedoms Panel
– December 10, 2020 at 11:30 am - 1:00 pm
Planning for the Post-Pandemic City
– December 10, 2020 at 3:00 pm - 5:00 pm
Dr. Iain Provan: Seeking What is Right – the Old Testament and the Good Life
– December 14, 2020 at 12:00 pm - 1:00 pm
St. James Music Academyu 14th Annual Christmas Concert
– December 14, 2020 at 7:00 pm - 8:30 pm
LifeCanada presents 'The Culture Call'
– December 15, 2020 at 4:00 pm - 5:30 pm
Pro-Life Outreach Opportunity in Vancouver (Application Deadline)
– December 17, 2020 at All Day
Christmas with Chor Leoni
– December 18, 2020 - January 1, 2021 at All Day
Online Conversation with Malcolm Guite
– December 18, 2020 at 10:30 am - 11:30 am
Lessons & Carols: From Coast to Coast to Coast
– December 18, 2020 at 5:00 pm - 6:00 pm
Christmas Presence at Home
– December 19, 2020 at All Day
North Shore Community Christmas Dinner
– December 19, 2020 at All Day
musica intima: ceremony of carols
– December 19, 2020 at 7:30 pm - 9:00 pm
Brian Doerksen: Christmas at Our House
– December 20, 2020 at 12:00 pm - 1:30 pm
Hope is Born: A Christmas Special
– December 20, 2020 at 7:00 pm - 8:30 pm
Phoenix Chamber Choir: Rejoice & Sing
– December 20, 2020 at 7:30 pm - 9:30 pm
Christmas with the Bach Choir 2020: Digital Edition
– December 22, 2020 at 7:00 pm - 9:00 pm
Hope Alight
– December 24, 2020 at All Day