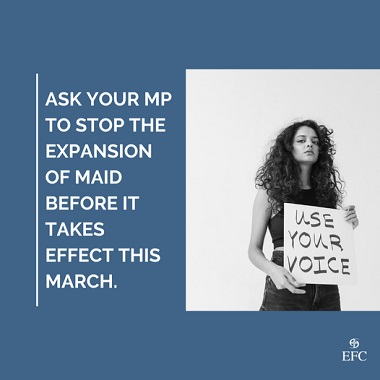 This statement was posted October 1 on the Evangelical Fellowship of Canada (EFC) site.
Prostitution laws
The EFC will be in court arguing in support of Canada's prostitution laws this fall.
The current laws, which the EFC supports, are based on the foundational idea that prostitution is inherently exploitative. Our laws, known as the Protection of Communities and Exploited Persons Act or PCEPA, aim to end the marketplace demand for paid sex.
The EFC advocated extensively for this kind of approach to prostitution when new laws were being considered. We support the law and its penalties targeted at pimps and buyers of sex, not those who are being prostituted.
"This law is an essential tool in the fight against sexual exploitation," says Julia Beazley, EFC director of public policy.
However, a group of sex worker advocacy organizations have launched a court challenge of PCEPA. They argue the laws violate their constitutional rights, such as security and freedom of association, and should be struck down.
With your support, the EFC will be able to argue that the current laws should remain in place. Parliament passed these laws because it understood prostitution is inherently exploitative. The objective of the laws, as the government has noted, is to "discourage entry into prostitution and ultimately abolish it to the greatest extent possible, in order to protect communities, human dignity and equality."
We believe in the dignity of each person, created and loved by God. Not only does prostitution exploit those who are prostituted, but it treats a person as an object to be used for another's gratification, and turns sexual activity into a commodity.
The EFC's legal argument (factum) reminds the court that, in passing this law, Parliament sought to protect the dignity and equality of vulnerable populations who are disproportionately prostituted or impacted by prostitution.
The EFC factum goes on to say: "Parliament reasonably concluded that prostitution is not an issue of merely personal, private choices between consenting adults with which the law need not be concerned. Rather, it raises fundamental questions of dignity and equality, and is inseparably tied up with such consequential issues as abuse, coercion, manipulation, assault, trafficking, physical and emotional trauma, harmful beliefs and attitudes about sex and gender, inequality, and more."
Prostitution is a threat to dignity and equality and is inherently exploitative. The EFC has supported law and policy on prostitution derived from this foundational idea at every opportunity and will support and defend this essential legislation again in court this fall, thanks to your prayer and financial support.
Medical assistance in dying
The EFC also continues to be engaged in the discussion around medical assistance in dying in Canada and its planned expansion in the spring of 2023. As of next March, people with mental illness alone will become eligible for assisted dying. We are gravely concerned about this change, and our work is focusing on how it will especially impact people with mental health concerns and those who love them.
As MAiD expands to include mental illness alone, it is increasingly clear that the supports and treatment options for Canadians living with mental health challenges are severely limited – even as the Canadian Mental Health Association reports that by age 40, half of Canadians will have had or still have a mental illness.
This significant expansion of access to MAiD is being introduced into a health care system that is already under extreme stress and underserving the populations that need it the most. Waiting lists are sometimes years long, and treatment options can be expensive. We believe there is significant risk of Canadians dying from MAiD because they feel they have no other options.
There is time now for one final push to reach our Members of Parliament with our concerns before this change takes effect. Ask your MP to reconsider this harmful expansion. Please join us as we stand with Canadians who will be even more vulnerable to MAiD as it grows increasingly common in our country.
How you can help
Fill out and mail the enclosed postcard to your MP. No postage is required. Follow up your postcard with a phone call to the MP's office. Find your MP's contact information at OurCommons.ca
Download the EFC's Action Kit on MAiD for mental illness to learn and to act at www.TheEFC.ca/MaidActionKit.
Please continue to pray for those vulnerable to MAID in our country, that they would know they have options for living.
The EFC posted We Need to Act Now July 18 as an 'action kit on MAiD for mental illness.'
The Catholic Register posted an October 6 article which began with these words:
The Evangelical Fellowship of Canada (EFC) has launched a campaign to stop a federal government plan that would allow Canadians with mental illness as their sole issue to seek death through Medical Aid in Dying (MAiD).