I've been asked by several people whether I have any thoughts, suggestions or guidance on how to vote in the municipal elections coming up this Saturday (October 15).
The short answer is "No way, it's all too confusing." And I'm just talking about Vancouver, where 15 candidates are chasing the role of mayor, 59 people are going for 10 councillor positions, 32 want the seven park board commissioners spots and 31 are seeking nine school trustee positions.
As for the other cities, there are just too many to keep track. I know Mike Hurley has been acclaimed as mayor for lack of opposition in Burnaby; Jonathan Cote in New West Rob Vagramov in Port Moody and Henry Braun in Abbotsford have stepped down; and Doug McCallum is facing a tough battle re-election battle in Surrey . . . that's about it.
All right, so I'm a poor excuse for a citizen. But I have had a few thoughts – somewhat scattergun – based on (fairly) diligent following up on Twitter leads and (sporadic) attention to CBC and other pundits.
1. Are there any Christian candidates?
There must be, but for the most part I don't know who they are. Oddly, announcing what church one attends doesn't seem to make it onto many candidate bios these days.
The one I do know about is Christine Boyle, who is ordained as a United Church minister, and not afraid to include that fact in her bio. She will likely be re-elected, not only because incumbents are usually returned, but also because she is hard-working and popular. She will be seen as too far left by some conservative voters. I'm not too keen on her apparent dislike of cars myself – but I have been impressed by the fact that she has showed up and spoken at events like Missions Fest and the recent WayBase gathering.
One woman who has worked hard for community inclusion has announced herself as an independent candidate for city council, saying:
I'm Amie Peacock, winner of the 2022 Top 25 Canadian Immigrant 'national' Awards and founder of Beyond The Conversation, a global non-profit. Vancouver has been my home for over 30 years. 
Before accolades and accomplishments, my identity is in Christ Jesus the only saviour of the world. I am saved not because I am good, but because He is good and He calls us into an extraordinary life with Him.
Does it matter whether candidates are Christian or not? It's one factor to take into account, but Christians are all over the map politically, so determine where they stand on issues important to you.
2. Mobilization on the right
CBC Radio Early Edition Host Stephen Quinn spoke with reporter Justin McElroy October 12 on the theme that "ABC Mayoral candidate Ken Sim appears to be gaining momentum in his bid to defeat Kennedy Stewart in this Saturday's election."
They agree that this does appear to be the case. This exchange was telling:
Quinn: So, what has to happen in order for [Stewart] to pull this out do you think?
McElroy: Well, the left has to be motivated. We see, generally, an enthusiasm gap right now, or at least over the past few months. People who are voting for Ken Sim and Colleen Hardwick saying, yes, this is extremely important to me.
A lot of people saying they support Kennedy Stewart online going, well I guess that has to change, and they have to get more people out.
Go here for the full interview. Go here for a Province article on poll results.
3. Parents Voice BC
A new political movement began this summer which seeks to mobilize social conservatives – Christians, but also Sikhs, Muslims and others who find their voices overlooked – to run for school board positions around the province.
But not, thus far in Vancouver or the immediate surrounding cities.
Parents Voice BC is stating, "Help take back our schools," and asking, "Who controls your child's education?"
Here is their main focus:
ParentsVoice BC is a new elector organization running 28 independent trustee candidates in eight school districts.
We believe the primary responsibility for children's education lies with their parents, not the state. Further, parents and their community require and deserve full transparency about what happens in local schools.
Increasingly, government bureaucrats are implementing major initiatives around hot-button issues such as sex, race and schools response to COVID-19, with little or no input from parents or the local community.
Those who ask questions or dare to seek clarity are labelled as troublemakers, haters and worse.
Go here for the full statement.
Parents Voice BC founder and president Marc Vella spoke on Zoom with a group of Christian leaders October 12. Describing the new party as "centre right," he said that all 60 school boards around the province are run by liberal/left school boards, even in conservative areas.
He added: "Only the left runs professional-level campaigns at the municipal level:" But Parents Voice BC is running a "fully professional, fully funded, well thought out campaign" this year. He does acknowledge, "I wish we'd started earlier," but said, "from the feedback that I've gotten, this is an idea whose time has come."
He feels some of the group's candidates will perform well this time around and then will do extremely well in the next round of elections. "We're the only party of its kind in BC," he said. "If we're at all successful on Saturday I think we'll be copied like crazy on the left." One way or the other, though, Parents Voice BC is organizing for the long term; Vella expects it to still be active 40 years from now.
Go here for a list of Parents Voice candidates, who are running in Coquitlam, Delta, Surrey, Maple Ridge, Chilliwack and some Interior locations. While Parents Voice BC works extensively with churches, candidates are not all Christians. For example, in Surrey, there are two Sikhs, one Muslim and one Christian.
4. Media bias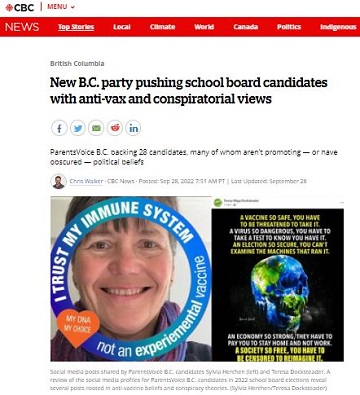 Vella said there have been many "hit pieces" on the CBC and other media about Parents Voice BC – something I had noticed before hearing him speak.
For example, a September 28 CBC News article by Chris Walker was titled 'New BC party pushing school board candidates with anti-vax and conspiratorial views.' It began:
A new political organization with roots in conservative Christianity is endorsing a number of school board candidates across B.C. who have anti-vaccine, anti-government and conspiratorial views. . . .
Many candidates running under the party's banner support political positions inflamed by the pandemic, with rhetoric similar to right-wing groups in the United States – including criticism of public heath policies and school programs about racism, gender and sexuality.
But an in-depth review by CBC of candidates' online material found that instead of promoting their political beliefs, many candidates have tried to obscure them – in some cases by deleting old social media posts.
The Parents Voice BC site now features a 'Response to Media Misinformation' page.
Another dubious media response followed the Vancouver Police Union support for Ken Sim and ABC Vancouver. Many articles questioned the propriety of that act without mentioning the heavy union support for the NDP at every level.
5. Who will I vote for?
Not sure yet, but there are still two days left to decide! I will vote.
Here are a few links I am finding helpful:
* CBC News article by Akshay Kulkarni: 'From housing to transit, here's what mayors and councils in BC can actually do'
* Allen Pike: 2022 Vancouver Election Guide (updated through October 12; see graph above)
* City Hall Watch website (oriented to TEAM, but lots of valuable insights)
* ARPA Canada: 2022 Local Elections