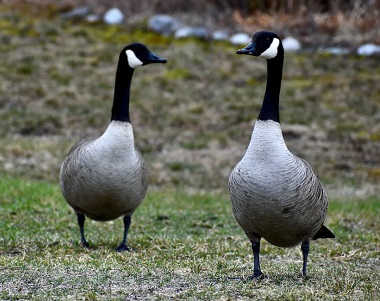 This week while making my way to UBC I came to a brief but dangerous standstill on 41st Avenue.
In the approach to Cambie a driver had straddled two lanes and was stopping, starting, then stopping again and again. What the dickens?!
Then I saw him. A Canada Goose had successfully stopped us. I'm not sure what he was protesting.
The driver in the blue Subaru Forester was trying to shepherd the goose to the side of the road. Like a western cattle rancher he applied force and size to drive it away. But the goose was having none of that. I smiled and nervously watched the approaching traffic in my rear view mirror.
Surely frustrated, the driver finally honked. Success. Something in the horn's tone must have resonated with the goose because he took off in a flash toward Cambie, where he turned right toward City Hall.
The Broadway Plan
Did you hear about the Broadway Plan? It's all the rage as we plan for progress. Dense, denser and densier.
I've been more interested in the minority opinion though. It calls for the Broadway Plan to be rejected.
Expressed by Gabriella Peters and Ruby Langan, who serve as Commissioners with the Vancouver City Planning Commission, they elevate their concerns to life and death. Perhaps it feels to some that they would stop progress, but that's not their point. They want progress to include everyone.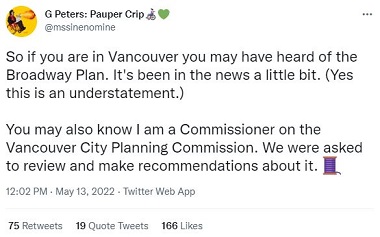 As I surmise, their concerns are three-fold.
1. We are in an emergency. "Disabled people are dying now."
2. The Broadway Plan provides lots of details on density but it doesn't provide specific details for going beyond current inadequate building standards that harm the disabled.
3. The plan does not provide a plan that keeps us from creating a "poor door" out of the city for the current renters.
Here's the dissenting opinion; please read it. Accompanying is a related tweet; go here for responses to the tweet.
Minority reports

Minority reports and dissent seem to stand in the way of progress or at least someone's vision of security. Within the Scripture from which I speak each week, minority reports and dissent are the way of the prophets.
To ignore their voice is to court disaster.
Famously, Joshua and Caleb provided a minority opinion when they urged Israel to trust God and enter into the land on the other side of the Jordan river; the majority said "no we will not go" and so they wandered in the desert for years.
Not so famously, Jonathan son of Asahel and Jahzeiah son of Tikvah, supported by Meshullam and Shabbethal the Levite, opposed Ezra the priest and the assembly who sought to compel the men who had 'foreign' wives to send the wives and children away. Their dissent was noted, but rejected, and so a vision of God's inclusion of people in covenant was reduced to blood lines for a time until Christ.
From within my faith tradition I see land, inclusion and visions of progress and security often contested. The record speaks for itself.
However, I know of a church here in the Lower Mainland that listened to a minority report once. The whole body was voting to sell the land and call it a day at their location. But one child raised her hand and voted no.
They stopped to listen. Imagine that! Progress was stopped by one child. They listened, reconsidered, and voted to stay put. Today this property hosts multiple congregations and is stewarded through a multi-ethnic and multi-congregational board. It's not easy, but it's glorious.
Will Vancouver listen? It's hard for Gabriella and Ruby to be heard. As far as I can tell The Vancouver Sun has not brought their concerns forward to the general public. But the general public is having a hard time on any day to hear, listen and be engaged in the many decisions shaping the future of Vancouver. We've got our heads down and we are trying to make sure our circles of comfort survive.
But at least we have Twitter.
Hear! Hear! I raise my morning coffee to Gabriella and Ruby.
Debate on the Broadway Plan carried on all day at Vancouver City Hall May 18 and will continue as many speakers had yet to have their say.
This comment is re-posted by permission from Craig O'Brien's site, which he introduces in this way:
I'm working out what it is to follow Jesus and love people well by God's grace; He has given me a life.
I'm thankful for the people I live with, especially those in Vancouver, BC, my family, those around the University of British Columbia and with Origin Church.
I am thankful to share this place as a neighbour to the Coast Salish peoples – Sḵwx̱wú7mesh (Squamish), Stó:lō and Səl̓ílwətaʔ/Selilwitulh (Tsleil-Waututh) and xʷməθkʷəy̓əm (Musqueam) Nations who resided here generations before me and continue to this day.
Welcome to my meandering collection of thoughts and prayers.