Kristin Joy Ritchie has been leading worship and writing songs since she was 13. While still in her teens, she released an EP with a friend, and over the last two decades she has sung in churches, in coffee shops and at house concerts.
But following her recent participation in the eight month Worship Central Academy program, she embarked on a new stage in her musical journey by releasing one of her songs May 14.
Kristin began leading worship at her family's churches (Hope Reformed and The King's Way), as well as at Vancouver Christian School.
She continued for many years at New Life Community Church in Burnaby; recently she has joined the worship team at West Coast Christian Fellowship, closer to her home in Vancouver.
Along the way, she was actively involved in Banqueting Table (at Glad Tidings Church), Worship Invasion and Rock Garden, a college-oriented bi-weekly gathering at New Life, featuring Rikk Watts and Iain Provan from Regent College.
During 2019-2020, she was part of Worship Central's eight-month Academy, with almost 40 other students. Worship Central is part of an international movement based in England.
Worship Central Canada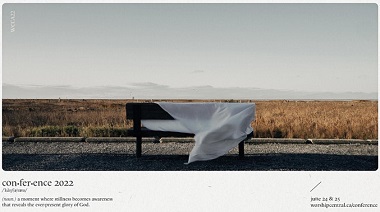 describes its work like this:
The dream is to raise up proficient and God-centred worship leaders. The dream is to increase the worship climate of our cities and empower our beautiful tapestry of local churches.
The Academy's faculty includes several local pastors and worship leaders, including theological mentor Dr. Darrell Johnson, along with visiting and guest instructors. The Academy will soon be taking applications for the 2022-2023 season.
The sixth annual Worship Central Conference will take place June 24 – 25 at the Centre for the Performing Arts (Westside Church) June 24 – 25. Guests include Brooke Ligertwood, Darrell Johnson, Suzie Gamez, Angie Hong, Tim Hughes, Luke and Anna Hellebronth, Nick Herbert and others to be announced.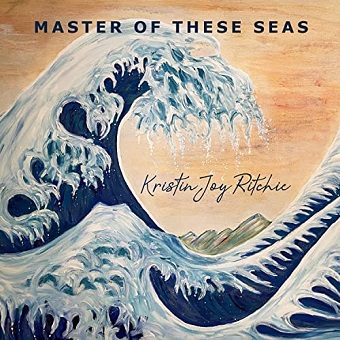 Kristin posted this comment on Facebook:
I'm so excited to share my new single with you this weekend! 'Master of These Seas' is a song about God's sovereignty and a declaration that He is everything that we need.
The verses speak about biblical events that unfold at the sea and then relate them to different circumstances in our lives, reminding us that He is with us through it all.
Here is a portion of the song:
You are my hope
You are my strong deliverer, mighty king
You are the master of these seas
You are my peace
You are the anchor in the storm
My God, you're all I'll ever need
Without you I am drifting
And without you these waters overwhelm me
Without you I am lost but you show me the way
Kristin is very happy with the initial response across several platforms, and is particularly pleased that ChristianMix106.com has already begun playing 'Master of These Seas' – alongside Brooke Ligertwood, Kari Jobe, Francesca Battistelli and other well known artists.
To listen to 'Master of the Seas' go here (Spotify, Apple, iTunes) or YouTube or Amazon.
Joining Kristin on backing vocals is Hayley de Graaf; they were in the Academy together. Other members of her Academy class have also released recordings, including Cynthia Lok and Joseph San Jose.
(Full disclosure: Kristin is my daughter-in-law, and we have been fortunate to have her lead us in worship for many years now.)
24-7 Prayer Gathering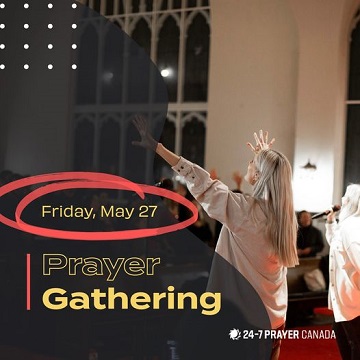 I don't believe there have been too many large events in the large auditorium at Westside Church (across Homer Street from the Central Branch of the Vancouver Public Library) over the past couple of years – but next Friday (May 27) it will be home to the Prayer Gathering.
The event is sponsored by 24-7 Payer Canada, and will feature worship led by The Way Church and a presentation by spiritual leader / justice advocate / peacemaker Danielle Strickland.
Here is how the evening is planned:
5:30 pm Main door open
6 pm Auditorium Doors open
Welcome Host Pastor Chis Karuhije (Coastal Church)
Call to Worship Dorielis Friesen, National Director, 24-7 Prayer Canada
Worship is provided by The Way Church Vancouver
Testimonies – Why Prayer rooms
Intermission
Main speaker Danielle Strickland: Why Pray, Why Now?
The Lord's Prayer examination led by Aaron White, Communities Director, 24-7 Prayer Canada
10 pm Event close
The Prayer Gathering event will also include a prayer room and free prayer resources.
Go here to register for in-person participation, and here to attend online.
CityReach 'maxed out'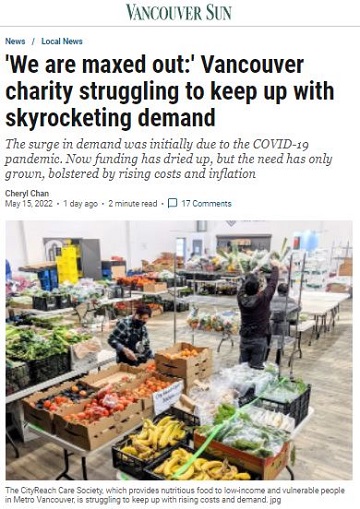 A May 15 story in The Sun and The Province was titled "We are maxed out': Vancouver charity struggling to keep up with skyrocketing demand."
The profile pointed out that CityReach needs more donations and more volunteers if it is to carry on.
Here is a portion of the article:
A tenfold rise in demand has left a Metro Vancouver food bank program struggling to keep going.
CityReach Care Society has been operating its Food for Families program since 2009.
Before the pandemic hit, the non-profit was providing 100 families a week with fresh fruits, vegetables, grains, meat and dairy. Today, it serves 1,000 families a week and has had to turn people away.
"We're feeling the pinch," said executive director Simon Gau. "Every week we have to turn away families who show up, but we are at the point if we give food to a new family, we won't have food for families already pre-registered."
The program uses rescued foods – products near its best-before dates that would typically end up in a landfill – donated by grocery stores and farms and distributes them to low income families in five sites in Vancouver, Surrey and the Tri-Cities. . .
In 2019, CityReach was distributing about $150,000 worth of food a year, said Guo. Last year, they distributed $3.2 million worth.
Go here for the full story which, though very positive, somehow didn't mention that CityReach is a ministry of Broadway Church in east Vancouver
CityReach operates from The Warehouse, just down Slocan Street from Broadway Church.
Business As Mission
Organizers of the Business As Mission Conference coming up June 3 say it's really more than a conference:
It's a movement, a cultural shift, a generational impact.
It's redefining The Great Commission by merging business opportunities with missional initiatives.
Business As Mission will bring together entrepreneurs, investors, business professionals, students and passionate individuals from all over the world, connected by a common cause to create, invest and build businesses with kingdom impact
There are two key keynote speakers:
Rachel Rose Nelson serves as Executive Director of Freedom Business Alliance, a global network creating business solutions to human trafficking. She has a 20-year career as a creative director and business consultant for companies large and small, holds a Bachelors in Graphic Communication from California Polytechnic University, and a Masters in Ministry Leadership from Portland Seminary. She resides with her husband and three children just outside Portland, Oregon.
Mark Wexler helps create businesses that do good, and build non-profit organizations that generate profit.
This way of acting started with the first of many "What the . . . !?" moments nearly two decades ago.
One day while I was living in Durban, South Africa a man approached. He pointed to a large tanker heading out to sea and said, "How many people do you think are on that ship enslaved going somewhere they don't want to go?"
Just one week later, I was told by a friend that he was writing a book on the modern-day slave trade called Not For Sale. This was the odd genesis of my groundbreaking non-profit, Not For Sale, co-founded with friend David Batstone, the author of said book.
Today, in addition to supporting thousands of survivors, Not For Sale works to gain access to communities where trafficking and environmental destruction originates. We then look for economically viable opportunities to be leveraged in the global marketplace; creating healthy jobs in the at-risk communities, and ultimately aiming to inoculate communities from these extreme harms.
This process led me to co-found a beverage company called REBBL.
When launched REBBL was one of the fastest growing natural organic beverages in the United States because it's an amazingly delicious product and its impact grows as the company scales.
REBBL was just the start. Our San Francisco-based incubator, The Invention Hub, helped start or helped scale ten more successful impact ventures around the globe. From Dignita, a wildly successful brunch restaurant and culinary training center for at-risk people in Amsterdam to American Battery Technology Company, a battery recycling company, I am hoping to prove that there are in fact new (and profitable) approaches to doing good.
Business as Mission Conference 2022 will take place at Vancouver Marriott Downtown Hotel. Go here to register.
May 2022
New Roots Fest: Five Works in Process – May 16, 2022 - May 19, 2022 at All Day
A Creature Chronicle: Exhibition & Symposium – May 19, 2022 - May 21, 2022 at All Day
Launch Day: The Sanctuary Course, Revised & Improved – May 19, 2022 at 7:00 pm - 8:30 pm
Singing Justice – May 21, 2022 at 4:00 pm - 5:30 pm
Mark Noll: What I Have Learned from Studying the History of the Bible – May 23, 2022 at 7:30 pm - 9:00 pm
Religious Responses to Climate Change: An Inter-Religious Conference – May 24, 2022 at All Day
A Message for Canada National Tour – May 24, 2022 at 7:00 pm - 9:00 pm
Rev. Dr. Randy Woodley: Religious Responses to Climate Change (Opening Keynote) – May 24, 2022 at 7:00 pm - 8:30 pm
Faculty Roundtable: Applying Scripture to Life – May 25, 2022 at 12:00 pm - 12:45 pm
Adrienne Dengerink Chaplin: Art, Conflict & Healing: Case Studies from Northern Ireland, China & Ukraine – May 25, 2022 at 7:30 pm - 9:00 pm
Digital Evangelism 101 – May 26, 2022 at 9:00 am - 10:00 am
Harnessing Conflict for Change (two-day workshop) – May 26, 2022 at 9:00 am - 12:00 pm
Raymond Tallis: The Houston Centre Presents – 'Why We're Not (Just) Beasts' – May 26, 2022 at 7:30 pm - 9:00 pm
'Everything But the Closet' Sale – May 27, 2022 - May 28, 2022 at 12:00 am
Walk in the Spirit of Reconciliation 2022 – May 27, 2022 - May 29, 2022 at All Day
Prayer Gathering, by 24-7 Prayer Canada – May 27, 2022 at 6:00 pm - 10:00 pm
Impact Conference – May 27, 2022 - May 28, 2022 at 7:00 pm - 2:00 pm
musica intima: NAGAMO (sings) – May 27, 2022 at 7:30 pm - 9:30 pm
Spring Fair at St. David's, Delta – May 28, 2022 at 10:00 am - 2:00 pm
Lion's Gate Brass Quintet Ukraine Fundraiser – May 28, 2022 at 3:00 pm - 4:30 pm
Behold Israel – May 28, 2022 at 5:00 pm - 9:00 pm
Rise Above, with the Amabilis Singers – May 28, 2022 at 7:30 pm - 9:00 pm
The Prayer Walk: Burnaby / Ridge Meadows / Abbotsford – May 29, 2022 - June 4, 2022 at All Day
Vancouver Orpheus Male Choir Concert – May 29, 2022 at 2:30 pm - 4:30 pm
Rejoice! A Performance with The Gallery Singers – May 29, 2022 at 3:00 pm - 6:00 pm
Royal Jubilee Proms Concert – May 29, 2022 at 4:00 pm - 6:00 pm
Malcolm Guite: A New Orientation – Insights from the Poets on What it Means to Turn to Christ – May 30, 2022 at 7:30 pm - 9:00 pm
The Lion, the Witch and the Wardrobe – May 31, 2022 - June 1, 2022 at All Day

Jun 2022
The Artistic Process, with Malcolm Guite & Steve Bell – June 1, 2022 at 12:00 pm - 12:45 pm
Douglas Moo: The Never-Changing Word of God in Ever-Changing Modern English – Perspectives of a Translator – June 1, 2022 at 7:30 pm - 9:00 pm
Blessing of the Bicycles – June 2, 2022 at 4:00 pm - 5:00 pm
Nations2Nations Conference – June 3, 2022 - June 5, 2022 at 12:00 am
Business As Mission Conference 2022 – June 3, 2022 at 8:00 am - 4:15 pm
Refresh Your Leadership Luncheon – June 3, 2022 at 11:30 am - 2:30 pm
Refugee Support and Volunteer Training – June 4, 2022 at 8:45 am - 3:00 pm
The Meaning of 'Magdalene': Mary the Tower – June 4, 2022 at 9:00 am - 10:00 am
Indigenous Realities in Canada, with Rev. Dr. Ray Aldred – June 6, 2022 at 7:00 pm - 9:00 pm
Karen Swallow Prior: The Evangelical Social Imaginary – the Images, Ideas & Metaphors that Made a Movement – June 6, 2022 at 7:30 pm - 9:00 pm
City Impact Tour: Langley, Surrey & Abbotsford – June 7, 2022 at 9:30 am - 12:00 pm
Krish Kandiah: Let Your Light Shine – Changing the Public Perception of the Christian Faith in Media & Politics – June 8, 2022 at 7:30 am - 9:00 am
Creative Mornings: Lance Odegard – June 8, 2022 at 8:15 am - 10:15 am
Alpha Masterclass Premiere with Pastor Dave Koop & Pastor James Fam – June 8, 2022 at 9:00 am - 10:00 am
Union Gospel Mission: Summer Connect – June 8, 2022 at 11:00 am - 3:00 pm
Faculty Roundtable: Puritan Wisdom for Today – June 8, 2022 at 12:00 pm - 12:45 pm
Toast Talks – June 8, 2022 at 4:30 pm - 5:15 pm
Krish Kandiah: The Ukrainian Refugee Crisis – a Practical & Theological Response – June 8, 2022 at 7:30 pm - 9:00 pm
SIMinar: ECWA Hospital Egbe, Rural Medicine Revitalization Project – June 9, 2022 at 5:00 pm - 6:00 pm
The Mountaintop – June 9, 2022 - June 11, 2022 at 8:00 pm - 9:30 pm
The 55th Annual British Columbia Leadership Prayer Breakfast – June 10, 2022 at 7:30 am - 9:00 am
WestCoast Miracle Healing Conference – June 10, 2022 - June 12, 2022 at 7:00 pm - 8:00 pm
The Cleanest Day of the Year – June 11, 2022 at 9:00 am - 1:00 pm
Artist Talk: Kate Miller at the Dal Schindell Gallery – June 13, 2022 at 6:00 pm - 7:30 pm
Kate Miller: Kaleidoscope – June 16, 2022 at All Day
New Roots Festival: Works in Process – June 16, 2022 - June 19, 2022 at All Day
City Impact Tour: Vancouver – June 16, 2022 at 9:30 am - 12:00 pm
Where Are the Churches in China? And Why? – June 16, 2022 at 5:00 pm - 6:30 pm
A Slain Lamb Standing: Remembering The Future of Religion – June 16, 2022 at 7:00 pm - 8:30 pm
The Implications of Bill C-4 on Families and the Church – June 16, 2022 at 7:00 pm - 8:30 pm
Welcome Home: Dessert Night for Neighbours of New Hope – June 16, 2022 at 7:00 pm - 8:30 pm
Nowheresville, BC by Chantal Gallant – June 16, 2022 - June 18, 2022 at 7:30 pm - 9:30 pm
Anton Dolfo-Smith: The Long Goodbye – Opening Reception – June 17, 2022 at 6:00 pm - 8:00 pm
Pathways to Reconciliation – June 18, 2022 at 1:30 pm - 4:30 pm
A Concert for Peace: Fundraiser for Ukrainian Refugees – June 18, 2022 at 7:30 pm - 9:30 pm
VOS 2022 Summer Concert: Our Heavenly Father《天父我神》 – June 18, 2022 at 7:30 pm - 9:00 pm
World Refugee Sunday 2022 – June 19, 2022 at All Day
Juneteenth with Marcus Mosely Ensemble – June 19, 2022 at 7:00 pm - 9:15 pm
SIMinar: Explore Cote d'Ivoire – June 23, 2022 at 5:00 pm - 6:00 pm
The Wolves are Coming for You – June 23, 2022 - June 26, 2022 at 7:30 pm - 9:00 pm
Worship Central Conference 2022 – June 24, 2022 - June 25, 2022 at 7:30 pm - 9:30 pm
Brandon Isaak & the Saints of Swing – June 24, 2022 at 8:00 pm - 9:00 pm
Tax Clinic – June 25, 2022 at All Day
One With Them: A Day for Christian Captives – June 26, 2022 at All Day
KAIROS Blanket Exercise – June 26, 2022 at 2:00 pm - 4:30 pm
AC Literary Expedition: Revelation – The End of the World as We Know it? – June 26, 2022 at 4:00 pm - 6:00 pm
Ron Rittgers: 'You Have Torn Away a Piece of My Heart': A Widower's Lament from the Christian Past – June 27, 2022 at 7:30 pm - 9:00 pm
Faculty Roundtable: Leading in Difficult Times – June 29, 2022 at 12:00 pm - 12:45 pm
Jeffrey Greenman: The Perverse Logic of Evil – Putin's War on Ukraine in Theological-Ethical Perspective – June 29, 2022 at 7:30 pm - 9:00 pm
A Rocha Talks: Responding to the Groaning of Creation in a Changing Climate – June 30, 2022 at 5:00 pm - 6:15 pm