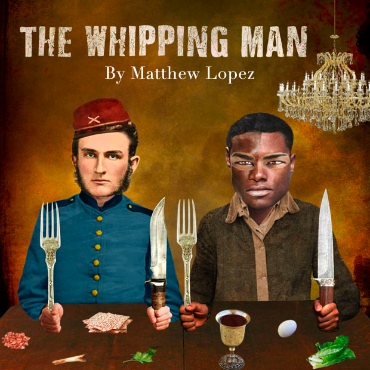 Slavery. Race. Religion. These have been hot button words since very beginnings of the United States and Canada – and they have hardly ever been comfortable dinner table conversation.
But those are exactly the subjects that are wrestled with over a dinner long ago, when a wounded Confederate soldier of Jewish faith returns after the Civil War, defeated, to his ruined home where two of his family's newly freed slaves are waiting.
The three of them sit down to eat together – the Passover meal. The former slaves, having converted to the faith of their masters, prepare the meal that recognizes the emancipation of the Jews from slavery in Egypt.
This is the scene set for The Whipping Man, by Matthew Lopez, a seemingly simple story that looks at deep, complicated social, religious and historical issues. The drama opens February 27 at Pacific Theatre and runs through March 21.
It is directed by Anthony F. Ingram, whom many theatre-goers will remember for his work directing Pacific Theatre's Jessie Award winning presentation of The Seafarer last season). Ingram, who avoids a heavy-handed approach to directing, says his focus is to communicate the play, as written.
"I hope you never go to a show, without knowing I directed it, and after seeing it, say 'Oh, yeah, Ingram must have directed that,' he says of his directing style. "I approach each story on its own . . . I don't really have any hallmarks or signatures that I put on it. It's really about what the playwright's given me."
And in this case, the playwright has given quite a lot to work with. The returning Confederate soldier, Caleb DeLeon has lost his faith somewhere in the four years of bloody battle, while the two former slaves appear to be deepening in theirs as they celebrate their new freedom, which coincides with Passover. And the setting for the story indicates the death of the old, the birth of the new.
"The set will be a very destroyed house," Ingram says. "I think that's a big symbol for these characters – that any reference point they had has been destroyed."
In that ruined structure, the three men wrestle with the societal roles and deep issues that have defined their lives: slave and master; white and black; defeated and victorious. But if you're thinking this is a story simply told through a historical lens (and fittingly, the play opens at the end of Canada's official Black History Month), you might want to think again – this time about life in Vancouver, 2015.
"We like to think that we are divorced from our history and that these things are in our past because we don't have slaves anymore. But nonetheless we carry these things around with us in the Lower Mainland where the demographics are changing so rapidly," Ingram says.
He relates a story from this past Christmas, when he ventured out, for the first time engaging in Boxing Day shopping and realized that as a white guy, he was a visible minority in the malls.
"And in our culture, me being white, I am still somehow privileged and it's because of our history . . . That's something we need to grapple with and yet we refuse to. At some point, we as a culture are going to have to come to grips with how we treat other people from other cultures and other ethnicities."
Pacific Theatre's presentation of The Whipping Man stars Carl Kennedy (well known for his Jessie Award-nominated performance in Jesus Hopped the 'A' Train at Pacific Theatre); Tom Pickett and Giovanni Mocibob.
This article is reprinted by permission from The Light Magazine.
Post-show 'talkbacks: Human trafficking
Noting that "slavery is not just a historical issue" and that "Vancouver is, unfortunately, a hub for human trafficking and the current slave trade that primarily exploits young women," Pacific Theatre will host three post-show 'talkbacks' with local organizations working to fight that trade:
Deborah's Gate – March 4
Deborah's Gate is a specialized program with the Salvation Army designed to provide support and shelter to women who have been trafficked.
The RCMP – March 5
The RCMP is Canada's national police force and has a Human Trafficking National Coordination Centre to help combat human trafficking on all levels, including investigation, awareness, prevention and intelligence both locally and internationally.
REED – March 12, 18 & 19
REED (Resist Exploitation Embrace Dignity) provides outreach and assistance to women caught in human trafficking as well as influencing social change through education and legal influence.