Is Vancouver a happy city? Charles Montgomery is surely the person to ask, and he will no doubt touch on the issue during his Soul and the City presentation June 22.
The Vancouver-based author wrote Happy City to wide-spread acclaim from environmentalists (David Suzuki), urban experts (Richard Florida) and many others. The New York Times review was good.
Montgomery's actual topic is not limited to the happy city, per se – you can see that in his Vancouver TEDx talk.
The event organizers – City in Focus – point out the breadth of his work:
He helps planners, city builders and regular people find new ways to see and change the world around them. He and his team also create participatory programs where people use their own cities as laboratories.
Here's what he will talk about:
At this event we will explore ways in which our urban landscape shapes and defines our spirit and relationships with one another. Vancouver has a reputation for being a lonely and a sometimes isolating city.
Charles Montgomery will address these issues through the lens of urban design, architecture and behavioural economics. Our hope is that attendees will be challenged and inspired to reflect on ways in which they can create community and connectedness in their own lives.
I don't know much about Montgomery, but a couple of things appeal to me thus far:
1. View-Based Urbanism
I enjoyed Montgomery's four-page section on Vancouver's 'View-Based Urbanism' in Happy City; he knows the city well:
Here's the remarkable paradox: the more crowded Vancouver gets, the more people want to live there and the higher the city has risen on international surveys ranking the world's best places to live. . .
The city's new downtown was  shaped to a large extent by the local obsession with views. . . .
The [unique podium-and-tower] form is so popular – and so profitable for developers – it has spawned a noun: Vancouverism. . . .
. . . Vancouver municipal planners enjoy broad discretionary power when considering new development. They use that power to squeeze massive community benefits from developers in exchange for the right to build higher. . . . The result is that as the city gets denser, its residents enjoy more public green space. In Vancouver's downtown neighbourhoods you are never more than a few minutes' walk to a park or the spectacular seawall that wraps the entire peninsula.
It's that kind of description, no doubt, that caused Suzuki to enthuse: "Charles Montgomery deftly leads us from our misplaced focus on money, cars and stuff to consider what makes us truly happy." And Alan Erenhalt, in his (overall positive) New York Times review, to observe: "Others will object to the boosterish way Montgomery presents some of his evidence, and the messianic tone of his concluding chapters. . . ."
So, while there might be room to question some of Montgomery's conclusions, there is no doubt that the evening will be a lively one. Book early, if you're interested, because the event takes place in the unique but not very large Rennie Collection at Wing Sang in Chinatown.
2. The Melanesian connection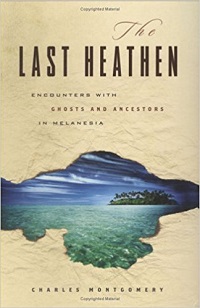 Soul and the City will probably not dwell much on Montgomery's great-grandfather's missionary endeavours, but I like the fact that he followed that trail in his 2004 book The Last Heathen.
From the Amazon blurb:
In 1892, the Bishop of Tasmania set sail for Melanesia with the intent of rescuing islanders from lives of fear, black magic and cannibalism. Over 100 years later, his great-grandson, Charles Montgomery, followed the bishop's route through the South Pacific . . .
I'm pretty sure he and I would not see eye to eye on the Great Commission, but he's the one who has written a fascinating book about a missionary – and he clearly has a wide range of interests.