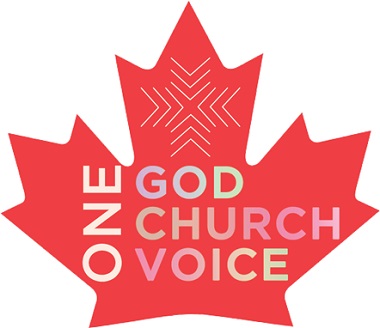 Three key events will draw the city church together over the next month: Voices Together, a chance to worship together on Canada's 150th birthday; Catholics & Evangelicals: What Can We Learn from Each Other?; and One City, One Message.
Voices Together
The fourth Voices Together gathering will take place on Canada Day (July 1); at least 10,000 people are expected to come together at Pacific Coliseum. But in the meantime, there are two key events to help move the process along:
Informational Brunch
This Saturday morning (May 27), the Voices Together team is hosting an Informational Brunch for pastors and leaders at International Full Gospel Church on Kingsway, just east of Boundary, to welcome those who have not yet become involved and to update those who have.
City Wide Prayer
A week later (June 4), Granville Chapel will host City Wide Prayer: "Join us as we lay a foundation in prayer for what God is doing in this city. All are welcome. We'll be interceding for our city, province and nation and also lifting up Voices Together to the Lord."
Rev. Wayne Lo, executive director of the Christian Social Concern Fellowship and part of the Voices Together leadership team, said this about Voices Together in the latest issue of The Light Magazine:
On Canada Day this year, Christians citywide will have the opportunity of celebrating the nation's 150th birthday through the effort of Voices Together. As with the last [Voices Together], two years ago, it will be a joyful time of public witnessing of the children of God's kingdom in Metro Vancouver. It will be a good occasion for all Christians to also invite their friends and relatives, so that even non-believers have the chance to see how Christians love and care about their country.
Christians know how to be thankful for what they enjoy in this wonderful land. . . . here in Metro Vancouver, we believers of Jesus Christ should be awakened to the need to celebrate unity in the Lord despite our differences in ethnic origin, in social upbringing and theological details. (Galatians 3:27-28; John 17: 20-23)
Voices Together will be free this year; it begins at 5 pm, July 1 at the Pacific Coliseum.
Catholics & Evangelicals
Project 17:21 is hosting Catholics & Evangelicals: What Can We Learn from Each Other? June 10. Following is the outline of the event:
Discover what we have in common and how we can build on that foundation "so the world may believe" (John 17:21).
Discover the different gifts God has given to our two streams of Christianity and how sharing those gifts with each other enriches our experience of our Saviour Jesus Christ!
Discover how Evangelicals and Catholics can cooperate in our shared mission to the world
Come and hear Christian leaders who have brought Catholics and Evangelicals together in Christ in a ground-breaking project that started right here in Canada in 2011! And hear from university graduates – Catholics and Evangelicals – who worked and worshiped side by side while earning their degrees at Trinity Western University and Redeemer Pacific College [now Catholic Pacific College] in a unprecedented cooperative venture in higher education.
Project 17:21 describes its focus in this way:
The mission of the Fellowship of Catholics and Evangelicals (FCE) is to help build relationships of mutual enrichment between Evangelicals and Catholics for: the strengthening of lay Christian witness to the world, Christ-centred service to the societies in which we live, and the proclamation of the Gospel to the people within them.
In John 17:21 Jesus prays that all Christians would be in fellowship with one another "so the world may believe" that the Father has sent Him. Accordingly, the FCE's purpose is to help build Christian fellowship between "ordinary" Evangelicals and Catholics for the sake of the proclamation of the Gospel and for mutual enrichment of our lives in Christ.
A key mover behind the event is Thomas Hamel, who founded Redeemer Pacific College on the campus of Trinity Western University. One speaker is Gordon T. Smith, from whose new book – Evangelical, Sacramental & Pentecostal – I posted an excerpt a few weeks ago.
A very positive review of his book in Christianity Today included these words:
What Smith offers is no airy-fairy ecumenical project. His point is not simply that we can learn from different traditions, but rather that we need each other to survive and thrive in the modern world. To navigate such global challenges as fundamentalism, pluralism, secularism and globalization, the church will need the unified witness for which Christ so fervently prayed.
Go here for a full list of the speakers and their topics. The conference will run from 1 – 6 pm, June 10, at Christ Covenant Church in Langley, not far from Trinity Western University.
One City, One Message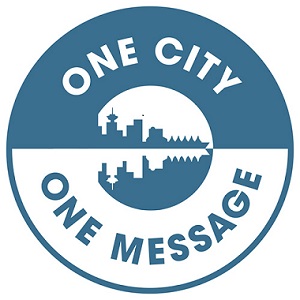 The idea for One City, One Message – to be marked June 11 – came as a friendly but passionate challenge from Vancouver City Councilor Andrea Reimer during the panel discussion among civic leaders at the City Summit last November.
Taking a cue from the Vancouver Public Library's longstanding annual initiative "One City, One Book," she encouraged us to use our moral authority to catalyze public conversations that matter by promoting an agreed-upon topic in our various congregations one Sunday each year.
Those of us who attended the Summit, and more at a follow-up meeting in February, embraced the suggestion as the first of numerous action items proceeding from the Consultation, selecting the following theme and tagline:
theme: Welcoming the Stranger
tagline: I was a stranger and you invited me in. (Matthew 25:35)
Welcoming the Stranger is a timely theme: research by the Vancouver Foundation in 2012 revealed that Vancouverites are experiencing a crisis of social isolation. The topic of divine hospitality can go in many different directions – from settling refugees to sheltering the homeless to befriending the isolated elderly to peacemaking and reconciliation.
Participating in One City, One Message can take any form you like. For instance, you may decide to:
preach on a specific passage of scripture
post the tagline on your church's signage
have people in your congregation share how they welcome the stranger or have been welcomed
host a local "town hall" discussion or community potluck/BBQ
get creative with your congregation's already well-developed gift of divine hospitality or use the time to brainstorm together how to get better at it.
Please let Jonathan Bird of CityGate Leadership Forum ([email protected]) know how you are planning to participate. (He, along with other ministry and social service leaders, are continuing conversations with Andrea Reimer, and looking forward to follow-up initiatives this fall.)