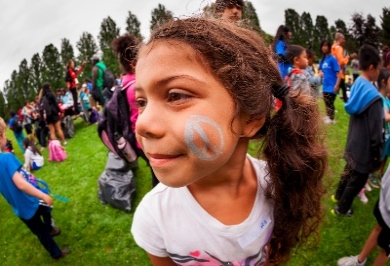 On February 7, two dozen or so children from Whalley, just up the hill from the Fraser River in Surrey, gathered in the chancel area of a neighbourhood church. There, they spent half an hour with Sidewalk Cellist Clara Chandler as she shared her interest in "using her music to bring people together and inspire new ways of learning."
That quote comes from Karl Sanden, director of Camp Hope, one of the many UrbanPromise daily after-school events and summer day camps scattered across North America and throughout less-developed parts of the world.
Sanden said Chandler had her young audience clapping, stomping and beat-boxing, But they also sat very still, entranced, when she treated them to a Bach prelude.
Chandler's performances, as her nickname implies, often take place on city sidewalks. But on February 7, she was in the banner-bedecked sanctuary of Whalley Presbyterian Church, in the chancel where the worship band usually appears on Sunday mornings.
The setting for Chandler's action was no accident. Sanden notes that it gave the children – many of whom would normally have little opportunity for enjoying musical events or attending at worship – a chance to experience "concert etiquette."
Camp Hope is one of two such UrbanPromise (UP) daily conclaves in the Vancouver area. The other, Camp Peace, takes place at First Christian Reformed Church in East Vancouver, on Victoria near Broadway. Both have enrolments of around 25 students, drawn mostly from the elementary and junior middle school levels. StreetLeader recruitment come from senior middle school and high school ranks.
Other UP sites, in the past, have been at First Baptist in Vancouver's West End, Grandview Calvary Baptist, on First Avenue near Commercial Drive and Culloden MB, on Vancouver's south slopes not far up the hill from Knight Street Bridge.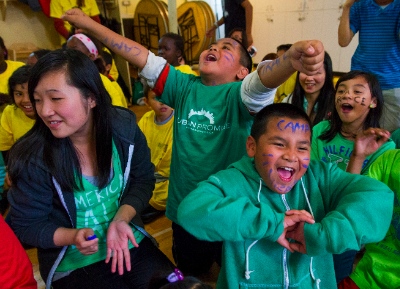 Sanden explains that as community resources become more available, through schools, churches and other social service agencies, UP will also allocate resources elsewhere. For now, Camp Hope in Whalley and Camp Peace in East Vancouver have their attention.
In both cases, the churches hosting the camps donate their premises. The activities include after-school homework help, Bible lessons, crafts and individualized learning experiences. Healthy snacks are all part of the agenda. In addition, nearby parks are used for outdoor recreation. (The day I visited Camp Hope, there was a half-hour 'bear hunt' in the 'Big Forest,' a heavily-treed area in a park across the street from the host church.) 
Sanden says the children registered in the program are almost all from families "at risk" as a result of various social, economic and psychological challenges. Parents or donors pay up to $60 a month to help finance the program. It is meant to be more than just after-school child care. The values shared, rooted in the Christian faith, form the basis of the program.
On the afternoon of our visit, Avaleigh Nonkes, the intern, was teaching a Bible lesson at the communion table in the church. She pointed out that they were going to examine some quotations from the book of Psalms, originated by King David of Israel.
One of the youngsters, as closely as I can recall, piped up: "My uncle's name is David, and he is no king!"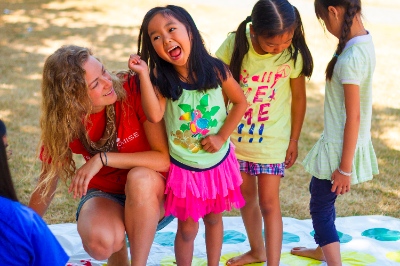 UrbanPromise was developed a few decades ago in Camden, New Jersey by UP president Bruce Main (originally from Vancouver), with encouragement from Tony Campolo, the well-known evangelical sociologist and emeritus professor at Eastern University in Philadelphia.
Across the river from that city, in Camden, New Jersey, there was a large community in total social meltdown. Main and Campolo convinced a number of young leaders that through the practical social application of the gospel there might be hope for kids in those neighbourhoods.
Fast forward to British Columbia. World Vision and a Vancouver-based foundation have provided much of the support base for past and current UP ventures. World Vision aids in leadership development and the foundation provides the vans used in the camps. (A list of all the corporate sponsors is included on the UP Vancouver website.)
In the same vein, besides hosting Camp Hope, the folk at Whalley Presbyterian help support Camp Gracia, a UP project in Honduras.
Permeating the programs is an emphasis on developing relationships that will build confidence into the lives of the young participants – relationships that are shaped by spiritual, social and recreational experiences. 
All photos by Joel Krahn