Several Vancouver-area women made a recent list of 100 fantastic Canadian Christian women leaders.
They are Barbara Mutch, professor at Carey Theological College; Shaila Visser, CEO of Alpha Canada; Janis Ryder, executive director of human resources at Trinity Western University; Brenda Pue, co-founder of Arrow Leadership Ministries; Cheryl Bear, singer/songwriter;speaker;  Joyce Rees at The Bridge Church in Abbotsford; Leah Kostamo, an earthkeeper, storyteller and author of Planted; Andrea Soberg, dean of the school of business at Trinity Western University; Rhonda Berkheim, lead pastor of Life Design Foursquare Church in New Westminster; Sally Start, ambassador for Alpha Canada; and Doris Olafsen, executive vice president of Opportunity International.
The list is the brainchild of Mark Petersen, executive director of Bridgeway Foundation. However, he is quick to give credit to Rachel Held-Evans,.who "recently posted a list of (mainly American) Christian women speakers in response to her dismay over the realization that women were mostly represented at conferences/events in a token way.
"In seeing her list, I was challenged to create a list of 100 fantastic Canadian Christian women leaders in hopes of highlighting and cheering on female leadership in our world . . . they represent various streams in Canadian Christianity: evangelical, mainline Protestant, Roman Catholic, charismatic and emergent."
Mark acknowledges the list is not perfect. "I'm the first to declare this list is very limited. It contains many charity leaders. It is also heavily academic/theological with few professionals named. It is Toronto-centric, which will irk the rest of Canada."
But it's a great start, and inspiring to read. Thanks Mark!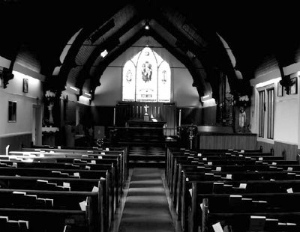 St. David of Wales closing its doors
An Anglican church in East Vancouver will be holding its final service February 23. A statement on St. David of Wales' website says: "This has been a very difficult decision to make because it marks the end of 109 years of Christian worship and ministry in our building, and also because we are aware of the impact that this decision will have on many of our neighbours. This decision was taken because there are no longer enough active parishioners to maintain the life of the parish.
"Although St David's is closing as a worshiping community, the church building is still a worship site of the Diocese of New Westminster and will be managed by the Diocese of New Westminster. Diocesan Council will make decisions about the future use or repurposing of the property located at 2475 Franklin Street." (The church is just northeast of Hastings and Nanaimo.)
St. David's is a parish of the Diocese of New Westminster, Anglican Church of Canada. Rev. Michael Batten has been parish priest of St. David's for several years; he also chairs the Ecumenical Advocates, a group of church leaders who played a significant role in supporting Reconciliation Canada and the Truth and Reconciliation gathering in Vancouver last fall.
I'm not sure what will happen to the 14 Stations of the Cross pieces which have been on permanent display at St. David's since the church commissioned Chris Woods to paint them in 1994. "Woods took on the challenge to place this series in a contemporary setting. The figures enact the trials of Christ on his march to the crucifixion in downtown Vancouver."
In another part of the Anglican Diocese of New Westminster, St. John's Port Moody and St. Margaret's of Scotland (Burnaby) merged February 14. The new community is known as St. John the Apostle.
Central Presbyterian has big plans
Central Presbyterian Church
has a large vision for its strategically placed property, which is located just a block or so from the corner of Burrard and Davie in the downtown core, The church welcomed 150 visitors to an open house February 3 to introduce the project.
Speaking with Carlito Pablo of
The Georgia Straight
, Rev. Jim Smith said response to the model of the proposed 22-storey residential tower was positive.The church will be located on the lower floors, along with community, commercial and retail spaces. Above these will be 45 units of non-market rental apartments owned by the church. Bosa Properties, their "construction partner," will own 168 market rental units on the top floors of the tower.
"What we're doing is leveraging the value of the land that we're on, which is worth a fair amount," Smith said. "For us, it's not about the building. It's about what we can do with the building, and that's a subtle but powerful difference."
Church of God has plans too
Up on 60th and Cambie, the Church of God in Vancouver also has big plans. If their proposal is accepted, their modest church will be replaced by two six-storey buildings. The rezoning application consists of 138 market rental units, 3,500 square feet of church space and 90 parking spaces.
A community open house was held February 13. The rezoning application is being considered under the Cambie Corridor Plan and the Secured Market Rental Housing Policy.
Downtown Eastside Local Area Plan
There has been some concern that the draft plan did not refer much to the role of faith-based organizations – which are ubiquitous in the area. Following an informative 'Learning Session'  held at Carnegie Centre earlier this month (one of six), the presenter told me they had heard several such comments and that further drafts would take that into account. Time will tell. A
similar plan for the West End
made almost no reference to churches or other faith groups.
In the meantime, this is city hall's suggestion for those still wanting to be heard: "The Downtown Eastside Local Area Plan is expected to go to City Council on March 12. We invite you to:
email
your comments directly to Council for consideration;
sign up
to speak to Council on March 12 after the staff presentation."
Prostitution law consultation
The Evangelical Fellowship of Canada has put out this notice: "The Government of Canada is inviting public input on the reform of Canada's prostitution laws. The online consultation is open until March 17, 2014. You can find details
here
. You can find the EFC's report and recommendations
here
."