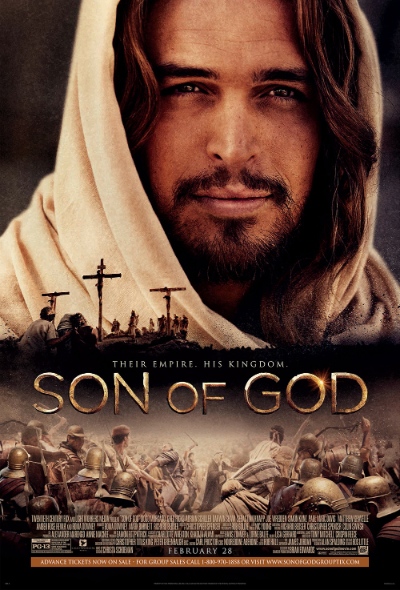 Son of God is not exactly a local phenomenon, but it will be opening here this Friday (February 28), at the International Village Cinemas, as it is all over North America. And there actually are some nice local links as well.
First, Vancouver was the first city in Canada to see a pre-screening of the movie (November 15), while producer Mark Burnett was in town participating in the Entrepreneurial Leaders Organization conference.
Second, the leader of the Word Evangelical Alliance is close friends with husband-and-wife Son of God producers Mark Burnett  and Roma Downey, and has spent the last couple of years promoting the movie. Geoff Tunnicliffe lives here in the Vancouver area, at least when he's not at his New York office or travelling the world on behalf of the WEA.
Third, at least one local church – Coastal – is hosting a pre-screening, on the 27th.
Mark Burnett (best known for producing Survivor and several other hit reality shows) and Roma Downey (of Touched By an Angel) created the hit TV miniseries The Bible last year for HISTORY. Some of the footage for Son of God comes directly from that series.
Reviews have been mixed. Many Christian leaders, from Rick Warren to T.D. Jakes and Cardinal Donald Wuerl of Washington, give it great reviews. Others  viewers are less enthusiastic, but even those tend to give it some credit. 
For example, Randy Myers says, "what this well-intentioned film lacks in poise and polish, it makes up for in what faith-based audiences so hungrily seek: a passionate and compassionate interpretation for family viewing that portrays the Christ story with reverence."
It's hard to say whether Son of God will be a hit in the short run – though watching it would be a good way to prepare for Easter – but I think it will have some staying power, because it does a very credible job of telling the world's most important story. This Christianity Today article does a good job of putting the phenomenon in perspective.
Lookout Gallery: Women of Substance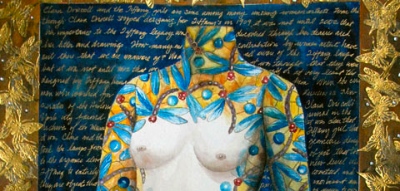 Women of Substance is an exhibition by Sharalee Regehr, "dedicated to honouring women who have made incredible contributions to society and history. This body of work contains hundreds of paintings and represents over 10 years of exploration. Using modern images, she juxtaposes colours and text reminiscent of medieval manuscripts and tapestries while addressing current issues."
The timing of the exhibition, which runs from February 27 – March 27 at Regent College's Lookout Gallery, takes note of the fact that March 8th is International Women's Day. It's very short notice, but the opening reception takes place on Thursday (the 27th) from 4:30 – 7:30 pm.
Sharalee has been a professional touring musician, interior designer and teacher; most recently, she was professor of art at Trinity Western University for 10 years. She works from her 1,400 square foot studio in Abbotsford.
WeMakeStuff: Studio Series Part 004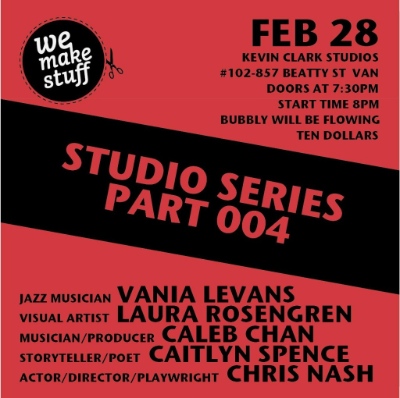 As WeMakeStuff gears up for a second book featuring creative Metro Vancouver Christians, they have held several events to showcase the talents of some of their community members.
"The Studio Series events arose to stir the creative community in the Vancouver area; making space for local artists and appreciators to meet, dialogue, conspire and be inspired."
They are inviting creative types – and I know from experience that those of us with minimal talent can sneak in as well – to Kevin Clark Studios in Yaletown for an evening (Friday, February 28) of music, storytelling and visual art.
Studio Series Part 004 will feature Vania Levans (jazz musician), Chris Nash (actor/director/playwright), Laura Rosengren (visual artist), Caitlyn Spence (storyteller/poet) and Caleb Chan (musician/producer).
Feb 2014
The Art of Wayne Eastcott: A Retrospective
– February 24, 2014 - March 1, 2014 at 8:00 am - 4:00 pm
Free Workshop: Nutrition Planning for Food Charities
– February 25, 2014 at 7:00 pm - 9:00 pm
Meeting of the Minds: Genetically Modified Humans
– February 25, 2014 at 7:00 pm - 9:30 pm
Fatherheart Ministries 'A' School
– February 26, 2014 - March 2, 2014 at All Day
Is it Too Late for Christians in the Middle East?
– February 26, 2014 at 7:00 pm - 9:00 pm
Merton of Times Square: Last of the Urban Hermits
– February 26, 2014 at 7:00 pm - 9:00 pm
Darrell Johnson: Wearing Jesus' Easy Yoke – The Heart & Soul of Pastoral Ministry
– February 27, 2014 at 9:00 am - 3:00 pm
Free Workshop: Nutrition Planning for Food Charities
– February 27, 2014 at 2:00 pm - 4:00 pm
Sharalee Regehr: Women of Substance - Opening Reception
– February 27, 2014 at 4:30 pm - 7:30 pm
'Son of God' Movie Launch
– February 28, 2014 at All Day
MinistryLift
– February 28, 2014 - March 1, 2014 at 8:30 am - 4:30 pm
Chapel
– February 28, 2014 at 7:00 pm - 9:30 pm
Journey Together Heal Together
– February 28, 2014 at 7:00 pm - 10:00 pm
Trappist Trickster Remakes the World
– February 28, 2014 at 7:00 pm - 9:00 pm
We Make Stuff Studio Series 004
– February 28, 2014 at 8:00 pm - 10:30 pm
Mar 2014
Connect! Effective Speaking, Preaching, & Teaching
– March 1, 2014 at 9:00 am - 12:30 pm
Bible in a Day
– March 1, 2014 at 9:30 am - 3:30 pm
Conversations About Worship
– March 1, 2014 at 9:30 am - 4:00 pm
Consecration and installation of Melissa Skelton as the 9th Bishop of New Westminster
– March 1, 2014 at 1:00 pm - 5:00 pm
Hallelujah Praise Three! Third Annual Gospel Music Workshop and Concert
– March 1, 2014 at 3:30 pm - 5:30 pm
Faith Night With the Vancouver Giants
– March 1, 2014 at 5:00 pm - 9:30 pm
Celebrate the A Rocha Story
– March 1, 2014 at 7:00 pm - 9:30 pm
Henry Purcell
– March 2, 2014 at 3:00 pm - 5:00 pm
Hallelujah Praise Three! Third Annual Gospel Music Workshop and Concert
– March 2, 2014 at 3:30 pm - 5:30 pm