I can't remember anyone ever mentioning Vancouver Day, and I've lived here all my life. Proclaimed in 1929, it was at one time celebrated on June 13 – the day Captain George Vancouver sailed into our harbour in 1792, and the day the Great Fire of 1886 destroyed most of the newly incorporated city.
So kudos to The Province for bringing it the city's attention with their recent story: Here's a picture-perfect way to join us in celebrating Vancouver Day this Friday.
Here's their pitch: "The Province believes Vancouver Day deserves to be celebrated, and we are asking for your help. When you're out and about in the city on Friday, June 13, snap a photo ­– or two, or three – and help us create a portrait of a day in the life of Vancouver.
"From sunrise to bedtime, we're looking for photos of people who call the city home and the places and activities that fill their lives.
"Whether you're in a cubicle, classroom, conference room or perhaps a crane operator's seat with a birds-eye view of the city; whether you're getting married at Holy Rosary, running at Pacific Spirit Park or enjoying a coffee on Commercial Drive; whether you're stuck in a nightmare commute during rush hour, feeding your backyard chickens or getting soaked in an unexpected spring downpour – tell us in pictures what Vancouver looks like for you on that day.
"On Instagram or Twitter, you can tag photos with #vancouverday. On email, you can send them to [email protected]. We'll display your Instagram photos on Friday at theprovince.com/vancouverday."
One of the small number of people who have kept the memory of Vancouver Day is Rebecca Bollwit, who wrote this appreciation of the City of Vancouver Archives a couple of years ago.
I'm hoping Vancouver Day will catch on again; maybe we'll even get the day off in the end!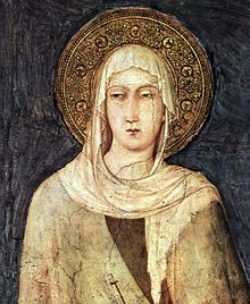 St. Clare at St. Clare
St. Clare Parish in Coquitlam is celebrating the life of the nun whose name they have taken. This Friday (June 13) they will host Meet St. Clare of Assisi, "a theatre play reading, followed by a visual tour through her Assisi and . . . a taste of her active spirituality and what it can offer to us 1,000 years later!"
St. Clare (1194 – 1253) was one of the first followers of St. Francis of Assisi, in Italy, She founded a monastic religious order in the Franciscan tradition, usually referred to today as the Poor Clares.
Organizers say: "St. Clare fought passionately with the church hierarchy, gave generously to those in need and  helped to end a 300 year war with the world's first peace movement, while struggling with the restrictions of being a medieval woman."
A play about St. Clare, at St. Clare Catholic Church, might appear to be something of an insiders' affair, but I'll bet the good parishioners would be glad to welcome curious visitors.
Mosaic's National Aboriginal Day Street Party
This Saturday afternoon (June 14), Mosaic Church and Hummingbird Ministries are hosting the 6th annual National Aboriginal Day Street Party. Join them for a salmon barbecue, music, dancing and more,. from 1 – 6 pm.
The event arose out of their desire to affirm First Nations brothers and sisters, and to facilitate stronger friendships between the church and Aboriginal people.
As in previous years, they will be closing off the block between 3rd and 4th Avenues on Columbia Street, and inviting leaders from the Aboriginal community, churches, neighbours, politicians and artists to experience an Aboriginal celebration and to consider what deeper reconciliation could look like.
I went last year; it's worth dropping by, for all the reasons stated above.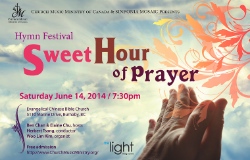 Sweet Hour of Prayer at ECBC
Lloyd Mackey has written about the ongoing popularity of hymn-singing in another article this week, but it's still worth giving a little bit of special attention to Sweet Hour of Prayer.
Church Music Ministry of Canada "regularly organizes hymn-singing festivals with the purpose of reviving congregational singing in the Christian community. The particular goal of these festivals is to creatively bring hymns to all Christians in a cross-cultural and inter-generational setting for worshipping our Lord."
If you do go to Evangelical Chinese Bible Church this Saturday evening (June 14), you'll be moved – at least I have been when I have taken part.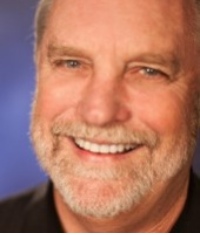 C2C Spring Cadre: Larry Osborne on Sticky Church
Next Tuesday (June 17) C2C Network Canada is hosting Larry Osborne as he discusses Sticky Church: Creating a Culture of Hospitality and Assimilation. C2C is a church planting movement, but many of their speakers are as much concerned with how to assure longevity of churches as they are with their establishment.
Again, from experience I can say that these cadres are well worth the time and money expended by participants. The event is at Westside Church in The Centre, just by the Main Library.
Jun 2014
Tenth Convention of Lutheran Church-Canada
– June 6, 2014 - June 9, 2014 at All Day
Good News Gospel Choir: Auditions
– June 9, 2014 at All Day
Speaking Out on Human Rights: Debating Canada's Human Rights System
– June 9, 2014 at 7:00 pm - 10:00 pm
Gordon Smith: The Ecology of Grace: Can We Be Pentecostal, Evangelical and Sacramental?
– June 9, 2014 at 7:30 pm - 9:30 pm
Espresso
– June 9, 2014 - June 14, 2014 at 8:00 pm - 10:30 pm
#BoldAction: The Moral Call for Climate Justice
– June 10, 2014 at 7:00 pm - 9:30 pm
Dr. Austen Ivereigh: Catholic Social Teaching, Pope Francis and The Call to Action
– June 10, 2014 at 7:00 pm - 9:00 pm
Mennonite Brethren Gathering 2014: Mobilizing for Mission
– June 11, 2014 - June 14, 2014 at All Day
Vancouver Concert Band
– June 11, 2014 at 7:00 pm - 9:00 pm
Matthew Milliner: Visual Heresy - Imaging God the Father in the History of Art
– June 11, 2014 at 7:30 pm - 9:30 pm
David Lyon: Survellance After Snowden
– June 12, 2014 at 7:30 pm - 9:30 pm
Vancouver Day
– June 13, 2014 at All Day
Talks With Tom: Street Talk
– June 13, 2014 at 7:30 am - 8:30 am
Meet St. Clare of Assisi
– June 13, 2014 at 7:00 pm - 9:00 pm
Spiritual Direction and the Journey of Faith with Gordon T. Smith
– June 14, 2014 at 9:00 am - 12:30 pm
Boundaries For Today Fraser Valley Conference
– June 14, 2014 at 9:30 am - 4:00 pm
Mosaic's National Aboriginal Day Street Party
– June 14, 2014 at 1:00 pm - 5:00 pm
Lauren Mann and the Fairly Odd Folk / CBCMusic.ca Festival
– June 14, 2014 at 2:00 pm - 4:00 pm
Praise Dance Workshop to Support Water Well Project
– June 14, 2014 at 3:00 pm - 5:00 pm
Hymn Festival: Sweet Hour of Prayer
– June 14, 2014 at 7:00 pm - 9:00 pm